Originally published in The Batavian August 13, 2016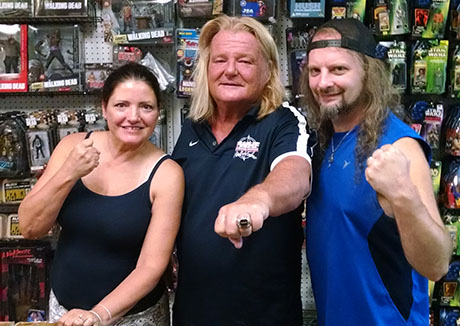 For the sixth-anniversary celebration of Foxprowl Collectables, wrestling legend Greg "The Hammer" Valentine made a guest appearance at the store yesterday afternoon.
Pictured with Valentine are Joy and Bill Hume.
Bill Hume said Valentine was really appreciative of his career and "really down to earth."
When Foxprowl opened on Ellicott Street six years ago, it was just one storefront but has expanded into a back part of its building, and even that space is getting tight, so Bill Hume said he's planning to move the business next month to the former Genesee Bank building at the corner Main Street and Jackson, giving Foxprowl greater visibility and putting it in walking distance of other retail stores Downtown.
Submitted photo.