Originally published in The Batavian June 4, 2015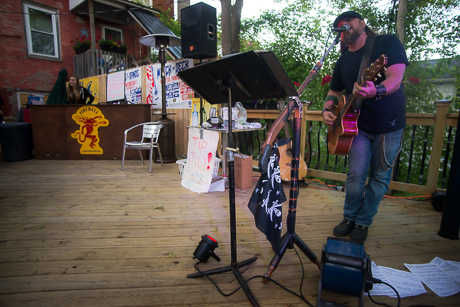 The Smokin' Eagle BBQ & Brew in Le Roy kicked off a summer series Battle of the Bands on Wednesday night.
For each of the next 10 weeks, 10 bands will compete to move on to the next round. One band each Wednesday is playing from at least 8 to 9 p.m. (the period of judging, the bands may play longer).
The series kicked off with a performance by JP Shaggy, from Syracuse.
There will also be bands in the competition from the local area as well as Buffalo and Rochester, said Jimmy B, from Jimmy B entertainment, who is organizing the event with Smokin' Eagle co-owner Jon Marcello.
There is a panel of five judges. They will judge the bands on stage presentation, time management, sound quality, band synchronization, band enthusiasm, and attitude and audience response.
The top six bands move onto the semi-finals. Round 2 will be three weeks of two bands each week, top seed vs. bottom seed.
The finalists will compete Sept. 19, which is a Saturday, from 2 to 10 p.m. That event will be a fundraiser for a charity yet to be selected. There will be other entertainment along with raffles and drawings.
JP Shaggy is Jason Krueger. To find out more about him, visit his Facebook page.