Originally published in The Batavian June 9, 2011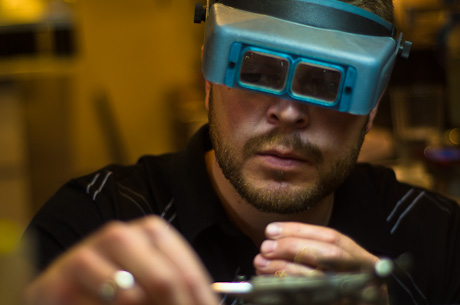 As a third-generation Valle working in the family business, Stephen Valle says he's really come to understand what time and jewelry mean to each other.
Valle helps many first-time customers select the perfect diamond ring, a ring that may get passed down from mother to daughter, as well provide the service needed to preserve memories for customers who bought what has become a family heirloom from Stephen's grandfather, Dominic Valle.
"I see the sentimental value of a piece of jewelry and it gives me a respect for the business, maybe one I didn't have when I first started," Stephen said. "You might have an older lady who received an engagement ring from grandpa in 1967 or 1958 and she's bringing in her grandson to buy a ring. Slowly and surely I've come to appreciate how long the business has been around."
Dominic Valle first opened the doors of Valle Jewelers May 3, 1951, in what was once the Carey Mansion (now torn down, but used to be across the street from City Church on East Main Street).
At one time or another, pretty much every member of the Valle family has worked in Valle Jewelers over the past 60 years, and it was the birth of a new generation of Valles that kept the family from celebrating the store's 60th anniversary in May, so they're doing it this month.
Though all of June, there is a storewide sale -- with some items discounted as much as 60 percent. But the big celebration is Saturday when store guests can register for prize drawings (no purchase necessary on many of the prizes), with refreshments throughout the day, hot dogs and hamburgers for lunch and a live broadcast from the store by WBTA from 10 a.m. to noon.
"I think most importantly the anniversary is a tribute to my father-in-law and my family and how a family can survive through difficult financial times," Mary Valle said. "We've been so blessed, but it's because of the community. We've been trusted and patronized by customers and friends."
Mary's husband Dom Valle, Dominic's son, said his dad, who passed away in 2005, was probably attracted to the jewelry business because he always liked the finer things in life. As a soldier stationed in Cairo during World War II, while his comrades sent home war souvenirs, Dominic Valle was buying things like Persian rugs and sending them back to Batavia.
"We still have a few of those rugs in the family," Dom said.
After the war, Dominic went to work for Reed Jewelers in Niagara Falls. A couple of years later, he returned to Batavia to work for Ways Jewelry. He then worked for local jeweler Herb Brenner about a month before deciding to open his own store.
The store has been in several locations through the years -- 90 E. Main St., 122 E. Main St., the Genesee Country Mall and starting in 2000, its current location at 19 Jackson St., Batavia.
At each step of the way, the business has grown, Dom said.
"For as much as a white elephant the mall turned out to be, our business did really good there," Dom said. "The mall has always had its drawbacks from day one to the present. But strangely enough, our business improved every year we were there. Not by leaps and bounds, but we were blessed to say that we had even just a little increase every year."
In 1999, when the building on Jackson Street came up at auction, the Valles decided to put in a bid, and it was a good thing they got the building at a good price, Dom said, because they've put "a ton of money" into its restoration.
But it's proven to be a good business move, Dom said, and Valle Jewelers has continued to prosper on Jackson Street.
"There was nothing pushing us out of the mall," Dom said. "We just wanted a change of scenery."
With the move to Jackson Street, Mary Valle, who had a 26-year career as a registered nurse, started working in the store.
In 2003, Stephen Valle decided to enter the business. Like his father, he went to school to learn goldsmithing and diamond setting, and to become a GIA certified diamond grader. He then returned to assume a spot on the repair bench right next to Dom.
"My father got to see the third genration come in and that made him happy," Dom said. "Futurewise, what I would hope for Stephen is that some day he'll have a son and a fourth generation will go into the business. That would be pretty nice."
Like father like son -- both Dom and Stephen were attracted to the business because they were around it and saw what their fathers' did.
For Dom, it was coming in after school and helping out by sweeping the floor or cleaning windows.
But when his father needed heart surgery when he was in eighth grade, it was really impressed upon him that Valles was a whole family business. While Dominic recovered, Dom's sisters pitched in and his uncle ran the store.
As he grew older, there was just no question Dom would follow Dominic into the jewelry trade.
"I've always been happy to be in the business," Dom said.
Even though it hasn't always been easy -- especially with the long hours required in retail and the demands of raising a family -- Dom said, he found a way to make it work.
"I always say I broke the cardinal rule of retailing to take Saturdays off to go to Stephen's hockey games," Dom said. "I always said I wasn't going to let these times pass me by, so I didn't work on Saturdays."
Over the years, Stephen has worked with aunts, cousins, and sisters. And with each family member getting a say in how the business is run, there isn't always total agreement, but he wouldn't have it any other way.
"At end of the day, we have lot of family and sometimes it's a little too many chiefs, but we all have the same goal," Stephen said. "We may not always see things the same way every day, but at the end of every month it seems to work out."
The future of the business is in the hands of Stephan and his sister, Carrie Lawrence, and Mary feels pretty good about that.
"I actually feel that he is capable of taking it to even a higher level than we have," Mary said. "I believe that his motivation and passion, and with the help of his sister, with her business background, her good taste, organization skills and leadership, the two of them can make it even a better place than it's been through all of these years."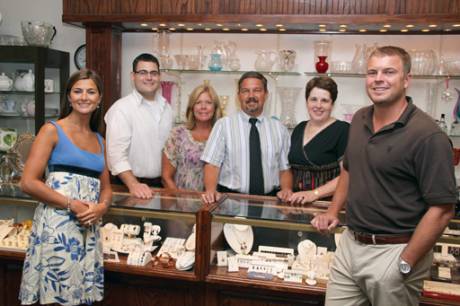 Photos of Stephen Valle working at the bench by Howard Owens. Bottom photo submitted by Valle Jewelers. Pictured are Carrie Lawrence, left, staff member Adam Luckenbach, Mary Valle, Dom Valle Jr., office manager Mary Louise Fridmann and Stephen Valle.