Originally published in The Batavian March 16, 2015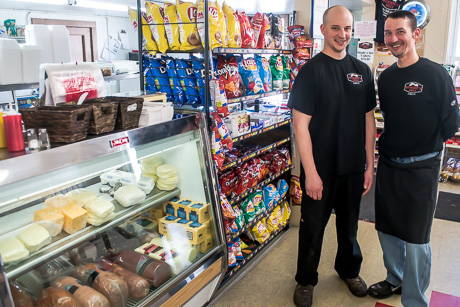 It's a bit of a challenge, even for an experienced cook, admits Brian Canalie, to take over somebody else's menu and make it your own.
But just as he and his partners Shane Burger and his wife Melissa decided to keep the name Woody's Deli when they took over the corner market in Le Roy, there was too much good in the menu to just toss it out.
"Right out of the gate, we're concentrating on the food and service, because we have a different approach," Burger said. "The previous owners (Lisa and Justin and Hayward) did a fantastic job, but we want to be here forever. Given our backgrounds in food, we have a little different philosophy on how some things can and should be done. I think that's probably the most important thing. We've added some new things, like homemade cannolis, our chicken tenders are battered here, not frozen, and we've expanded the Mexican menu. We didn't want to do too much too fast because we already have an established clientele in a successful business."
Burger has been a food services manager for the Creekside Inn, Holiday Inn and Batavia Downs, and most recently was manager at Smokin' Eagle BBQ & Brew.
He and Canalie have been friends for 15 years. Burger said he's the only person he could think of that he would want as a partner in business. They've worked together before, with Canalie also coming over from the Smokin' Eagle, where he was a cook.
"I like that this is right around the corner (from his home)," Canalie said. "I've been a cook almost my entire life, but I've always wanted to own my own place, to be my own boss. It's a chance to show off my chops and what I've learned along the ways."
Already, patrons are getting a different flavor from the new owners. The pizza is now entirely handmade, with a homemade flavor. There's nothing pre-made or frozen. Everything is fresh and made to order.
To move beyond the basics of a deli, the new owners took over the back apartment attached to the building so the kitchen could be expanded, not just the physical space, but the culinary options.
Canalie actually has a place to cook and create now.
"It's been some work, but a good time to do it this time of year," Burger said. "With the winter we've had, most places have been struggling, but our business has been steadily increasing. Our sales increase in February was significantly over the previous year, and the feedback has been fantastic. We're offering homemade soup every day and specials every day and they've been well received."
Growing up in Le Roy, Burger was also attracted to the corner market concept. He said the same business in even a town as close as Pembroke wouldn't have been as attractive as a place as deeply rooted in his hometown as Woody's (the location has operated under various other names for decades).
"I'm used to very large facilities," Burger said. "Outside of the Eagle, it's all been a more corporate setting. This is kind of the last ma-and-pop store in Le Roy. Kind of? It is. There used to be Rabino's and Malone's and lots of little stores like this in the village. They're not here anymore, so being part of the community is probably the biggest draw for me."
Nothing says community more than the parade of kids into the market.
"One of the things I really love about it is the kids that come in," Burger said. "It's very kid friendly ... kids ride their bikes down, get ice cream, candy. It's not always about how much money you're making off each transaction. It's rewarding in that respect, at least for me."