Originally published in The Batavian on August 30, 2010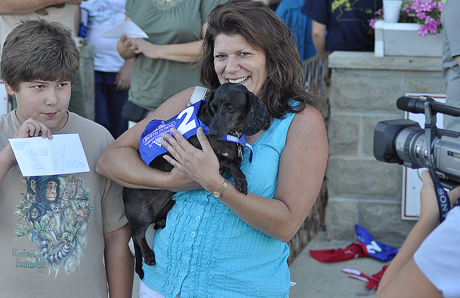 "Jake Arnold" is one fast dachshund.
For the second year in a row, the 3-year-old owned by Jane Smart has won the prestigious Wiener Dog Races at Batavia Downs.
"Jake Arnold" beat out 52 other entrants, some of whom never even crossed the finish line, before a packed house of 3,850 race fans.
Taking second and third in the final heat of Sunday's races were Ron Schiller's "Rudy" and Michael Tyrpak's "Sahlen."
From the Batavia Downs' press release:
While there's no doubt "Jake Arnold" loves bacon treats, the key to success is he simply gets nervous when Jane Smart isn't around.
"Since he's been a pup, as soon as he sees me, he runs as fast as he can towards me," said Smart, the winning dog's owner.
Thanks to "Jakes" good work, she received $100 to spend in the casino. And yes "Jake Arnold" will definitely be back next year.
For second-place finisher "Rudy," this may have been his final appearance at the Genesee County oval. Definitely a champion, "Rudy" won the 2008 races and has finished second behind "Jake Arnold" the last two years.
"He'll be 8 next year, we'll have to see how's he's doing," owner Ron Schiller said, but knowing Rudy, he'll be back.
"We want to thank everyone for coming out and Petco for sponsoring the races," said Todd Haight, promotional marketing specialist for Batavia Downs Casino and Western OTB. "It's amazing how big this event has grown since its inception in 2005. It was definitely great to see such a large crowd."