Originally published in The Batavian on August 29, 2011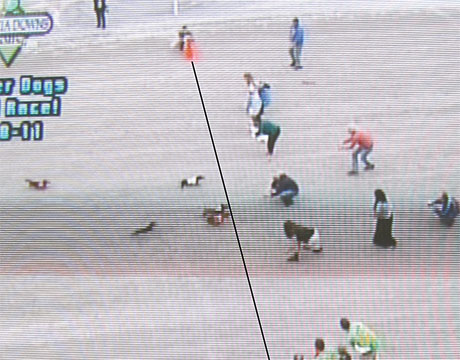 It's official -- it's a tie.
Batavia Downs officials announced late this afternoon that, after spending hours reviewing all available pictures and video of the 2011 Wiener Dog Race, the final match ended in a dead heat.
Lindsay Ryan, owner of first-year runner Gordon, will receive $200 in free play at the casnio. 
After Sunday afternoon's race, when Jake Arnold, owned by Jane Smart, was declared the winner, Smart received the $200 in free play prize.
Hours after the race, evidence began to surface suggesting that Jake Arnold wasn't a clear-cut winner, leading Batavia Downs officials to delay certifying the race results.
A rematch is in the works, tentatively set for Sept. 24. Officials are waiting from confirmation from the Jake Arnold camp.
"It's simply too close to call," said Todd Haight, general manager of live racing. "I know there is video out on the Internet that appears to show Gordon in front, but our official photo-finish camera shows both dogs hitting the line simultaneously. So in all fairness a dead heat was the right way to go."
The rookie Gordon came a breath away from upsetting defending champion Jake Arnold.
In a statement released by Batavia Downs, Lindsay Ryan said, "We came to the dog races because we wanted to get my friend's mom, who has cancer, out of the house. We knew Gordon would run his heart out for her and he did. She had so much fun. I am so happy with how things turned out."