Originally published in The Batavian October 11, 2014
Press release: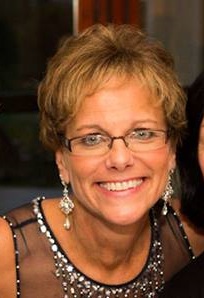 Batavia Downs Gaming is pleased to announce that Laurie Napoleone is the historic racetrack's recipient of its annual Italian-American of the Year award. Napoleone will receive her award on Oct. 13, Columbus Day, with a special trackside ceremony after the seventh race. Mr. Joe Gerace, the first recipient of this award, will act as Master Ceremony.
She'll also be joined by other past award winners, Chuck Zambito, Ray Cianfrini, Joe Teresi, Charles Ruffino and Russ Romano.
Laurie (Pero) Napoleone is the wife of Mark Napoleone and the proud mother of four children, Mark Jr., Ashley, Christen, and her angel, Michael. She is the daughter of the late Charles and Marien Pero, and the sister of Charles, David and Adelyn Pero.
Laurie earned her bachelor of science in Nursing from Niagara University in 1982 and started working as a registered nurse after graduation at Strong Memorial Hospital in Rochester. After her marriage to Mark in 1983, she returned to her hometown and began working at St. Jerome Hospital, where she stayed for 15 years. After playing a role in the initial stages of the merger between St. Jerome Hospital  and Genesee Memorial Hospital, she decided on a career change into a school setting.
She worked for the Batavia City Schools as a school nurse / teacher at Robert Morris Elementary School. She earned a master's in Nursing from the University of Phoenix in 2004. Laurie then took her love for healthcare as well as teaching, and is currently employed by the Genesee Valley Educational Partnership. There she is an instructor in the Health Careers Academy, a program for high school seniors who are interested in pursuing a career in healthcare while gaining college credits.
Along with her husband, Laurie is the co-founder/member of the Michael Napoleone Memorial Foundation. After the passing of their youngest son, Michael, at the age of 8 to Burkitt's lymphoma, (an aggressive form of blood cancer) the Napoleones created a foundation in Michael's memory. It  helps families facing the challenges of a pediatric cancer diagnosis, supports research efforts in pediatric blood cancers, and assists youth sports and youth activities in the community.
Laurie speaks on behalf of the foundation and is a strong advocate for the families; has lobbied in Washington for more support of research efforts; and is passionate about the Foundation's mission.
In her free time, Laurie enjoys entertaining with family and friends, Zumba, and writing.
Batavia Downs Gaming is proud to honor Laurie Napoleone as its 2014 Italian-American of the Year.