Originally published on The Batavian August 24, 2015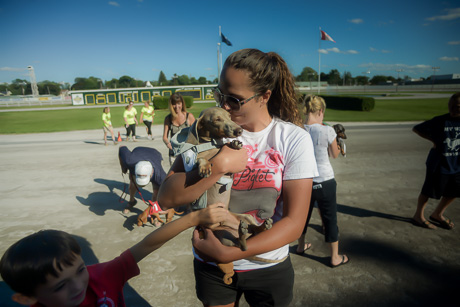 Press release from Batavia Downs
The third time racing in the annual Batavia Downs Wiener Dog races sponsored by Genesee Feeds was the charm for Heidi Kaiser's dachshund "Piglet." He cruised to a comfortable victory defeating nine other fleet-footed wiener dogs in the champion final.

Ten elimination heats were conducted to determine the final field.

Sarah Farley's "Ruby" rallied on the far outside to out finish Adrienne Pender's "Pablo" for second. "Pablo" was the most impressive heat winner and appeared to be the dachshund to beat.

The owners of top three finishers all received gaming free and Clubhouse buffets. All participants received a doggy bag from Genesee Feeds.

The beautiful day included a first time ever visit by harness ambassador Sydney Weaver. The 15-year-old, known to everyone in North American harness racing, and her parents Lisa and Don Weaver were special guests of Batavia Downs.

Attendance for the dog races, the final piece of Fun Family Day was estimated at 3,200.
Photos by Howard Owens.