Originally published in The Batavian June 26, 2013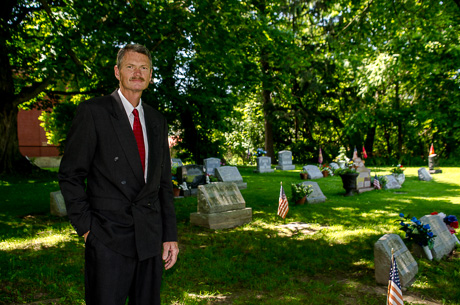 From being a middle school teacher to being a County Coroner for Genesee County, to being a Sheriff's deputy, Vern Falcone, a native of Le Roy, has had a long and diverse career.
"While I was training to become a Sheriff's deputy, I met a fellow deputy who was also a funeral director. That got me interested in it, so I went to school, got my license and worked part-time in a funeral home in Le Roy, while also working as a full-time Sheriff's deputy," Falcone said. "I like working with people and I'm good at dealing with people, as well as helping families in difficult situations."
When Vern retired in 2007, after 22 years with the Sheriff's Office, he became a full-time funeral director in Le Roy. In April of this year, Falcone opened Falcone Family Funeral & Cremation Service, Inc., at 8700 Lake Road, Le Roy.
Falcone is a tall, soft-spoken man with a calm demeanor, quite suitable for a career in the funeral business.
He had the brand-new facility built to resemble a home. He and his wife, Debra, did the painting, decorating and landscaping.
"If we knew anything about construction, we would have built it ourselves", Falcone said with a laugh. "We wanted a new and up-to-date building, with a relaxing family atmosphere."
There is a fireplace to greet you when you enter, along with a cozy living room.
"I tried to create a relaxing atmosphere, like being in your own home," Falcone said.
There are soft colors and low lights, with music playing in the background.
"I wanted to get away from the traditional funeral home look and make the facility feel more comfortable," Falcone said. "I want people to walk in and feel at home in a difficult situation. I want their experience here to be as easy and comfortable as possible."
"We built a children's room for children to play in while adults are focusing on grieving. They don't need to worry about children being underfoot," Falcone said.
There are large screens to display video memorials in the grieving room. The room seats 125 people comfortably, with room for overflow. The room can also be divided in half to accommodate more intimate gatherings.
"I am very accommodating to people and I am happy to meet them at different hours, or even go to their home for a meeting," he said. "This is a service-oriented business and I am here to provide service to our guests. I don't like answering services, so I always answer the phone myself and it will either be myself, or Debra, who greets visitors at the door."
The couple's two daughters also help with the business and his oldest daughter is currently going to school to become a funeral director herself.
"I anticipate that this will be a self-supporting family business and we appreciate the support we've gotten from the community," Falcone said.
If you have questions or would like a personal tour of the facility, call Vern Falcone at 585-768-2400.