Original Source: The Batavian
Originally published in The Batavian September 1, 2016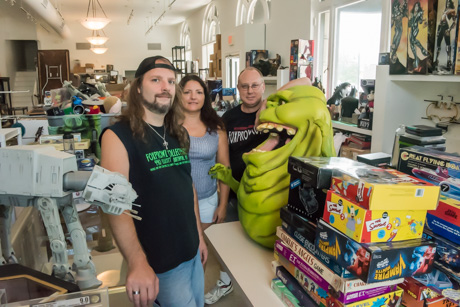 It's a lot of work moving thousands of collectible toys along with 40,000 comic books, but that's what Bill Hume, along with his wife, Joy, staff member Wayne Stahler along with helpers and friends have been doing for the past few days.
Hume opened Foxprowl at its new location at Main and Jackson, downtown Batavia today, even though not everything is unboxed or on the shelves yet.
We've covered Foxprowl from its opening on Ellicott Street over the years and watched the business grow. The store expanded, added inventory and Hume hosted a convention in Batavia last year (it will return this year; details to be announced).
Several other small businesses have come and gone in Batavia in that time, but Hume has persisted and succeeded. He said lasting and growing has had a lot to do with his passion for the business, his passion for collectibles and his willingness and enjoyment to work the long hours necessary.
Original Source: The Batavian
Originally published in The Batavian August 13, 2016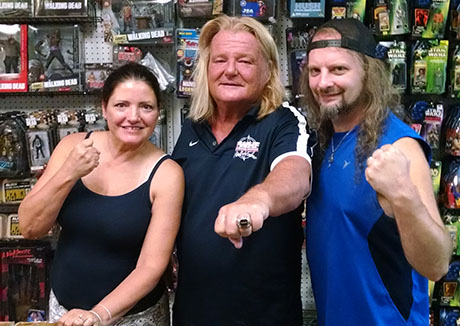 For the sixth-anniversary celebration of Foxprowl Collectables, wrestling legend Greg "The Hammer" Valentine made a guest appearance at the store yesterday afternoon.
Pictured with Valentine are Joy and Bill Hume.
Bill Hume said Valentine was really appreciative of his career and "really down to earth."
When Foxprowl opened on Ellicott Street six years ago, it was just one storefront but has expanded into a back part of its building, and even that space is getting tight, so Bill Hume said he's planning to move the business next month to the former Genesee Bank building at the corner Main Street and Jackson, giving Foxprowl greater visibility and putting it in walking distance of other retail stores Downtown.
Submitted photo.
Original Source: The Batavian
Originally published in The Batavian May 22, 2016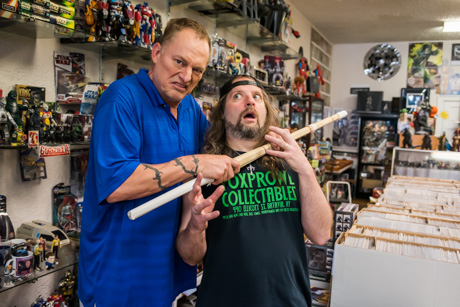 James "Jim" Fullington, better known by his professional wrestling ring name, "The Sandman," hams it up with Bill Hume, owner of Foxprowl on Ellicott Street, Batavia, during a visit to the store, where he met with fans yesterday.
Original Source: The Batavian
Originally published in The Batavian November 20, 2015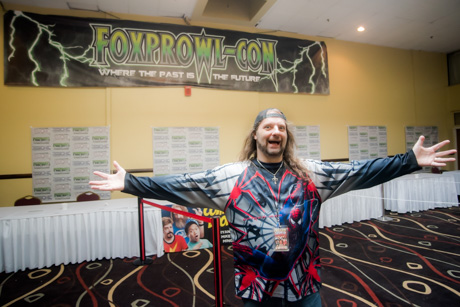 The Clarion Hotel in Batavia will be filled this weekend with superheroes, space aliens, monsters and robots, all gathering to partake in Foxprowl-Con, the first local comic and collectibles convention.
Bill Hume, owner of Foxprowl Collectables on Ellicott Street, is the lead organizer of the event, which he said could draw from 2,000 to 4,000 guests from all over the region.
The convention will feature more than 100 vendors and several celebrities from the world of comics and sci-fi/horror entertainment, including Mark Dodson, from Star Wars and Gremlins, Kevin Duhaney and Jeff Parazzo, from Power Rangers, Adam Minarovich from the Walking Dead, Steve Cardenas, from Power Rangers, and Tyler Green and Rashaad Santiago, from FaceOff, among others.
These photos are from this afternoon while vendors were setting up. The convention opens this evening and continues Saturday and Sunday. For more information, visit foxprowl-con.com.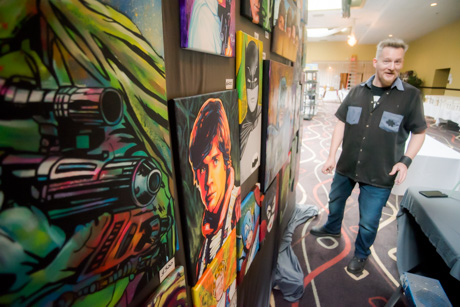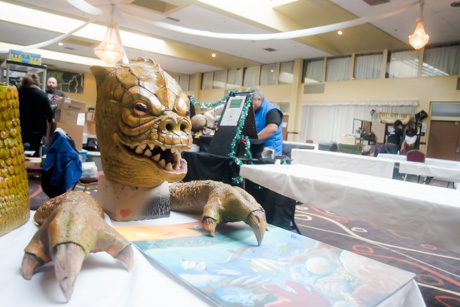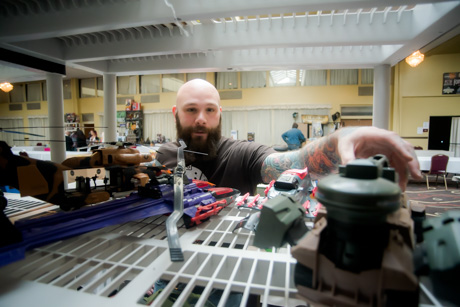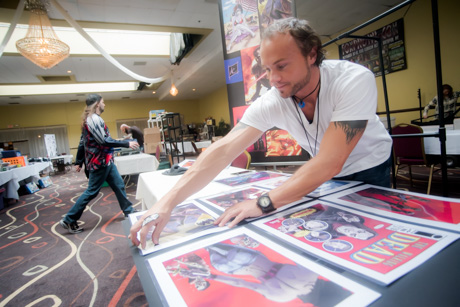 Original Source: The Batavian
Originally published in The Batavian October 4, 2015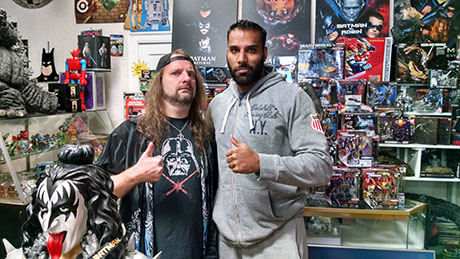 WWE wrestler Jinder Mahal made an appearance at Foxprowl Collectables, Ellicott Street, Batavia, yesterday, spending time talking with fans and signing autographs. Owner Bill Hume, pictured with Mahal, said the wrestler, a native of Calgary and graduate of the University of Calgary with a degree in communications and culture, was a really friendly guy who bantered about his time in WWE and the characters he's met as a professional wrestler.​
Original Source: The Batavian
Originally published in The Batavian August 8, 2015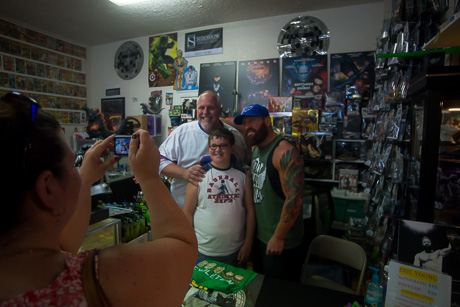 Brian Sandstorm and his son Luke pose for a picture with professional wrestler Eric Young today at the five-year anniversary celebration of Foxprowl Collectables on Ellicott Street.
In five years, owner Bill Hume has grown the inventory, the variety and the floor space of his store.
When I remarked, "you've come a long way," he said, "You know, passion and hard work. It's what I love."
In the seven-year history of The Batavian, this is the first time we've covered both the opening of a new business and its fifth anniversary.
Below, Hume with Young and Matt Troisi, owner of Limited Edition Collectables, who help Hume secure Young's appearance at Foxprowl today.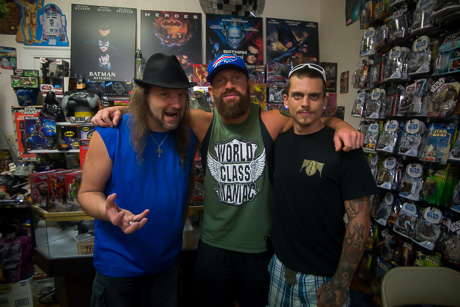 Original Source: The Batavian
Originally published in The Batavian March 18, 2014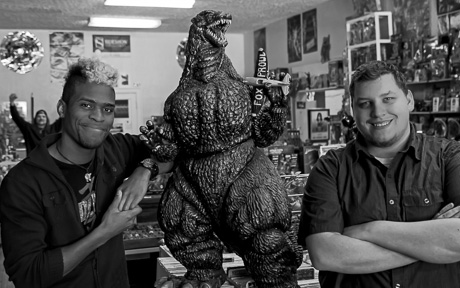 Godzilla's got a new home. At least for a few months. Right here in Batavia, New York.
He'll be hangin' with Rashaad Santiago and Tim Schiefer and their associate from Watertown, Greg Graves, while making a moving staring himself, the King of Monsters.
It's a small budget production -- less than $20,000 -- but much of the filming will be done in Batavia and involve some very talented people, such as Santiago, a costume and monster designer, and Christopher Bloomer, a visual effects expert.
It's mostly a labor of love made for the filmmakers' own enjoyment with an eye toward showing it in Chicago at the 21st annual G-Fest.
That's right, there's a whole festival devoted to the creature who terrorized Japan in the 1954 classic "Godzilla," and went on to star in more than 28 other feature films.
It's that G-loving community that brought Santiago, Shiefer, Graves and Bloomer together.
Right now, Santiago is kind of the star of the show. After signing on to the Godzilla movie project -- the title of the film is "Godzilla: Heritage" (here's the Facebook page) -- Santiago won a sport on the Sci-Fi Channel's reality series, Faceoff.
Originally from the Bronx, Santiago moved to Batavia a couple of months ago, first to work on the Godzilla project, but also because he thought Batavia would be a better place for his two children.
Santiago has had a passion for monsters ever since he saw the original Godzilla for the first time when he was was 5.
"Just seeing something different than a dinosaur, because I was a big dinosaur guy, so seeing something that was like a dinosaur, but different, and the size he was, really got my mind going on monsters," Santiago said.
Already of an artistic bent, Santiago started drawing his own monsters.
And his fascination with monsters grew as movies such as Alien, Predators, Tremors and Jurassic Park, came along.
He went from drawing monsters to building monsters.
People who saw his work encouraged him.
"I didn't know this was a career when I was younger," Santiago said. "As I got older, people would say 'why don't you sell this or why don't you get paid for doing this', and me, being naive and young, I didn't know, and now I'm doing it."
He said he dreams of owning his own monster studio someday.
Faceoff might be a jumping off point to that next career level.
He was selected for the show after an audition in Burbank (where all the filming took place).
The show airs Tuesdays at 9 p.m., and on those nights, Santiago is appearing at City Slickers to watch the show and answer questions from the fans who watch it with him.
Ken Mistler, owner of City Slickers, is giving a good deal of support to the local moviemakers. City Slickers will be a location in the film, as well as other Mistler properties, and his former gym location on East Main Street will be where the filmmakers build their sets and do all of their interior shooting (some filming will also take place in Watertown).
Shiefer said watching Santiago build the Godzilla suit for the movie is truly seeing a master at work.
"After three our four hours he had only the body outline and we're like, 'that's really impressive,' " Schiefer said. " 'This is only the outline. There's not any detail,' he said, and we were like blown away. Then he started detailing the head, making the little grains of the scales with tweezers. It's just the most impressive thing you can possibly see."
Shiefer said that anybody who tunes into Faceoff will be impressed with Santiago's work.
Santiago -- the monster expert -- is also working, appropriately, at Foxprowl, the collectables store on Ellicott Street. So if you want to meet him and miss him at City Slickers, there's Foxprowl on week days.
Original Source: The Batavian
Originally published in The Batavian August 24, 2010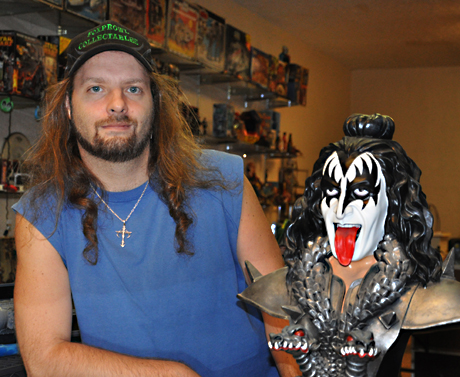 Bill Hume is living his dream.
What started with a Star Wars and KISS memorability collection when he was a child, has blossomed into his own retail store on Ellicott Street.
The 39-year-old entrepreneur started selling pop culture collectibles on Ebay in 1998, eventually had a 20x20 stall at Antique World in Clarence and now has 1,000-square-foot store at 440 Ellicott St.
"It's been progressively building and culminated in a store back in my home town," said Hume. "This was the ultimate dream, though I didn't know it would ever be feasible."
Hume benefited from a flexible landlord and the ability to buy all of his store fixtures cheaply.
The store, named Foxprowl, opened just over a week ago.
He said customers from Buffalo, who bought collectibles from him in Clarance, have already started showing up at his new location to browse his expanded inventory.
The story contains a wide variety of pop culture items, from figurines for Star Wars, KISS (of course), Star Trek, Spider Man, Superman and Austin Powers to toys and games tied to many of the most popular movies and TV shows of the past 30 years.
"I guess I was born at the right time," Hume said. "I just got sucked up into the whole pop culture thing in the late '70s"
He acknowledges that his kind of specialty retail store can find it hard to survive. But he's hoping with his ability to keep his expenses low, expansive resources for obtaining new inventory, and a loyal following from his previous years in business, he can make a go of it at his new location.
Original Source: YouTube
Welcome to FoxProwl Collectables, Located at 440 Ellicott St in Batavia NY.
Check out our huge selection of Vintage, New Release toys, & Pop Culture Collectibles, This place has everything including graphics novels, movie memorabilia, and over 30,000 comic books at the lowest prices.
take a blast from the past and browse thousands of classic Action figures, statues, & Star wars collectibles.
We carry all of your favorites like The Walking Dead, Dr. Who, Sideshow collectibles, Godzilla, & so much more.
You've got to see this place to believe it. It's like a giant toy museum you can get lost in for hours.
Allow our friendly and knowledgeable staff to help you find that perfect item, And enjoy shopping in a clean and well organized atmosphere.
FoxProwl Collectables can also special order anything you need.
Visit us on the web at FoxProwlCollectables.com for additional information.
Make sure to like us on Facebook to stay updated with Promotions and events.
Original Source: YouTube
Original Source: YouTube
Original Source: YouTube
This is our response video to Mark Callaway's video about how he got into X-Plus and general X-Plus collecting tip's!
Original Source: YouTube
Thanks for watching our debut commercial! If you like what you see, check us out on Facebook at www.facebook.com/Foxprowl-Collectables and now you know you GOTTA see us in person! 440 Ellicott Street, Batavia NY 14020!
Original Source: YouTube
Original Source: YouTube
Celebrating our 2nd commercial, and here's to more and more coming!
Original Source: YouTube
What do you do when just another day at the coolest collectibles shop on Earth turns into a long standing blood feud between the Jedi and the Sith?