Come to Alex's Place is a great place for lunch, eat-in or takeout.
Come to Alex's Place is a great place for lunch, eat-in or takeout.
Come to Alex's Place for quality, casual dining with some of the best ribs, steaks, prime rib and seafood around.
Originally published in The Batavian Feb. 19, 2014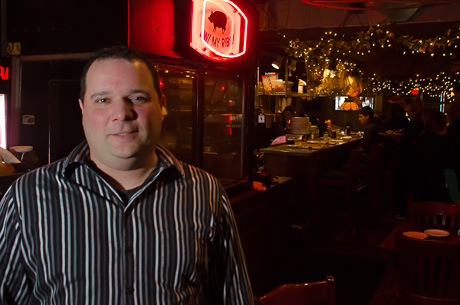 Alex's Place has been serving mouth-watering ribs, succulent prime rib, perfectly grilled steaks and fresh seafood, along with a blend of American steakhouse specialties and Italian classics to satisfied guests for 25 years.
The winner of the the NY Award at the Taste of Buffalo, the Democrat & Chronicle's Best of Rochester Award, Best Ribs at the Art of Ribs in Lewiston and the Best Ribs at the Roc City Ribfest for the last four years running, Alex's Place is the Genesee County Chamber of Commerce 2013 Service Business of the Year.
Owner Matthew Gray is humbled by the recognition and credits his employees with the success of the restaurant.
"My staff of 50, including an executive chef, eight cooks, four managers and a multitude of servers, bussers and hostesses are the ones who make the restaurant successful every single day," Gray said. "When I took over the restaurant in 2007, it was an easy transition for me because it was already run so well by the staff."
Alex's Place has built a loyal following by serving delicious food and providing excellent service. That winning recipe is key to their strategy for growth as they build upon the restaurant's reputation and recruit new customers in Buffalo, Rochester and beyond.
Since Gray, along with his business partner Matthew Boyd, purchased the restaurant, there has been major growth in all areas of the business, including sales. Gray, who handles the marketing, has aggressively marketed and advertised the business by participating in events like the Taste of Buffalo and Roc City Rib Fest. Billboard advertisements along the Thruway have brought customers into the community from all over Western New York.
His joint venture with more than 80 grocery stores throughout the region to sell Alex's Heat-N-Eat Take Home Ribs has been a huge success and has brought more customers into the restaurant and into the community. Their ribs are now available nationwide through their Web site at http://alexsribs.com as well.
The Curbside To Go service that began in 2009 has brought in customers who don't want the traditional sit-down restaurant experience.
Located at 8322 Park Road in the Town of Batavia, the small building started out as a "track" stop for Batavia Downs racers and players in 1988 as a one-room eatery offering classic comfort food. As it grew in popularity, the building became a 100-seat restaurant with an open-kitchen design, yet it has retained the comfortable and cozy atmosphere that diners have come to love.
There are 50 full and part-time staff who serve between 2,500-3,000 guests each week. Some of them have been there since Alex's Place started.
"I have a handful of staff that have been here for 20 years or more," Gray said. "One of my servers, Kelly McDonald, has been here for 26 years. That says something about the business, it's like family here."
Alex's Place is also dedicated to being a good neighbor and actively supporting the community. Last year they held fundraisers for a number of charities, including Hospice and the Russell Bugbee Memorial Culinary Scholarship.
Last April the staff had a fundraiser in which all the servers donated half of their tips from a busy Saturday night to the Justice for Children Advocacy Center, raising more than $2,500.
They support several nonprofit groups, including the WNY Aviation Camp, St. Joseph's School, the City of Batavia Community Garden and the Business Education Alliance. Alex's Place was awarded the 2013 Business Partner of the Year by the BEA. Managers are active members of Leadership Genesee and participate in the United Way Day of Caring as well.
"We are committed to getting the word out that Batavia is a destination for food and entertainment that is worth driving to," Gray said.
By using a combination of radio, TV, newspaper, billboard and online advertising, as well as working with festivals in Buffalo and Rochester, 60 percent of Alex's guests are now from outside of Genesee County.
Photos by Howard Owens