Original Source: The Batavian
Originally published in The Batavian September 3, 2011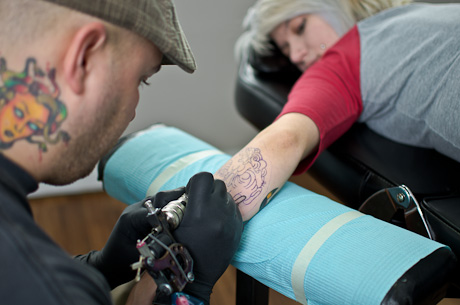 If you're an artist, even if you get your degree in graphic arts, there aren't many opportunities to do what you love.
Especially in a small town.
Mark Fanara got his degree from SUNY Brockport, just a few years after he got his first tattoo.
It didn't take him long to figure that maybe body art was a way he could avoid being a penniless artist or getting tied down by a suit and a tie.
He made a career decision -- to open his own tattoo parlor in his hometown, Batavia.
The start of the 21st Century turned out to be a good time to open up a tattoo business. People like Dennis Rodman and Brian Setzer helped make tattoos into a mainstream symbol of individuality.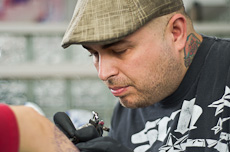 "There a lot of people who have tattoos that you would never know they have them," Fanara said.
From soccer moms to police sergeants, tattoos aren't just something only drunken sailors get in San Diego or Honolulu or bikers use to advertise their outlaw aspirations. They are no longer just dancing hula girls, red hearts dedicated to mom or anchors emblazoned with "USN." A good tattoo is a complex work of art.
There are whole magazines now devoted to covering the latest trends in skin art.
And Fanara and his staff can give anybody the kind of tattoo they want -- from a simple rose on the back of a shoulder, to a complex and detailed eagle with wings spanning a chest.
High Voltage Tattoo opened Ellicott Street in 2006 and about a year ago Fanara moved his shop to 110 West Main St., Batavia, giving him a high-profile location and a completely remodeled and modern parlor.
A week ago, The Batavian hung out at High Voltage while 36-year-old Fanara applied an ornate zombie face to the back of an arm of one of his apprentices, 18-year-old Ashli Hill, of York.
Hill, who does body piercing for High Voltage and is learning how to tattoo, said she's always loved art and was attracted to tattoos because her dad had them.
"I just remember my dad having this crappy looking panther and I just thought it was the coolest thing," Hill said.
The zombie face was a drawing Hill found online and decided it was a theme she would like to develop in her own body art.
"I love scary movies," Hill said. "I love zombie movies. I decided that's a theme I would like to build on."
She also said she likes tattoos on her arms because, "it makes me feel like Popeye."
Fanara said he gets all kinds of people coming through his door, from the accountant looking for just a little something only his friends on weekends will see, to hardcore tattoo addicts who are looking to add a new work of art to their bodies.
"The classics never go out of style," said Fanara. "The heart with 'mom' will never go out of style."
Of course, many of his clients are repeat customers.
"It's one of those things where once you get one (tattoo), you just want more," Fanara said.
"It's really a mainstream art now," he added. "It's a way to personalize your skin and it's a way to express your personality."
Safety
While we talked, Fanara brought out a surprising issue: Genesee County is one of the few county's in the state that doesn't regulate tattoo parlors. NYS has some regulations, but in most counties, the health department conducts monthly inspections of tattoo parlors, and Fanara thinks in the interest of public safety, Genesee County should do the same.
Fanara said he follows all of the safety and cleaning recommendations common in the industry, from sterilizing his autoclave to using disposable needles, but he believes the public should be assured that all tattoos are applied with the same safety standards.
One danger he warned against is the tattoo applied by the hobbyist at the kitchen table.
"They just know nothing about safety," he said.
Licensing and inspections might help reduce the number of tattoos that aren't applied in a safe environment.
"It would be a good idea," Fanara said. "It would make it safer for everyone. I don't want to pay another fee or pay for a license, but it would just make getting a tattoo safer."
Original Source: The Batavian
Originally published in The Batavian July 18, 2012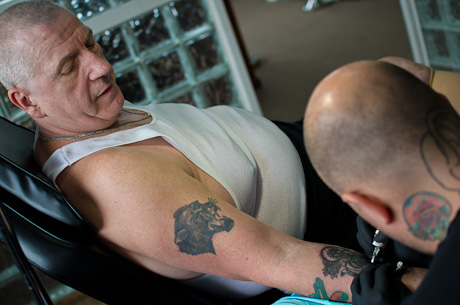 His uncles told him, "Bernie, when you get to Hawaii, you need to look up Sailor Jerry and get a tattoo."
So Bernie Thompson, originally from Brattleboro, Vt., but a 30-year resident of Batavia, found Sailor Jerry and after a little effort, got his first tattoo.
Some 45 years later, the panther on his right arm is a little faded, but as far as Mark Fanara sees it, "it's the same arm Sailor Jerry worked on."
And that's pretty cool.
"The first time I worked on his arm, I was almost a little intimidated," said Fanara, who owns High Voltage Tattoo on Main Street, Batavia.
As far as Fanara knows, Thompson is the only person he's ever met, let alone given a tattoo to, who has the work of the legendary artist on his body.
Born Norman Collins in California in 1911 (he died in 1973), Sailor Jerry eventually settled in Hawaii where he skippered a schooner, played saxophone and gave young sailors tattoos. Eventually his fame spread the world over and he is considered the most transformative tattoo artist of the 20th Century.
"He's an American tattoo legend," Fanara said.
Thompson joined the Navy out of high school and because a friend of the family was a local recruiter, he was able to get himself sent to San Diego for basic training.
He was at the Navel Training Base in October, November and December of 1967.
He figured if he was going into the Navy in the winter, training in San Diego was preferable to the Great Lakes.
"And wouldn't you know it," he said. "It snowed while I was there. (It did in fact snow in San Diego in 1967). I was 6 years old. I barely remember it, but I do know it happened."
Thompson had two uncles in the Navy. One was a captain and the other had a few tattoos completed by Sailor Jerry, including a mural on his back which Thompson said he always admired.
As soon as he hit port in Hawaii in 1968, Thompson went to Sailor Jerry's shop.
Collins immediately asked for Thompson's permission slip.
"Permission slip?"
It turns out, and Thompson didn't know it, that a seaman in 1968 needed written permission from his commander to get a tattoo.
Two days later, Thompson was back in Sailor Jerry's shop with his permission slip.
After looking through Sailor Jerry flash, Thompson settled on a panther, but he said Collins drew in some variations to make the tattoo unique. There is no other panther tattoo by Sailor Jerry that has the quite the same design or color.
It was Thompson's first tattoo.
Sailor Jerry told him, Thompson said, "If this is going to be your first, I can tell you it won't be your last. I can guarantee you that.'"
Today, Thompson has 17 tattoos and Fanara is the seventh tattoo artist to ink him.
One of the most memorable was the 90-year-old Chinese man who gave Thompson a tattoo with bamboo in a parlor over an opium den in Hong Kong.
Getting a tattoo with bamboo was his uncle's suggestion.
"I could have killed him when I got home on leave," Thompson said. "It was one of the most painful ordeals I've ever been through."
Today, the 63-year-old Thompson was in High Voltage to have Fanara cover over one of his youthful tats, a pinup girl on his right forearm (see photo supplied by Fanara below).
In the coming months, Fanara will cover over one of his other tattoos and then complete a mural on his back started by a tattoo artist who has left Batavia.
Thompson said he discovered Fanara after stopping into his old shop on Ellicott Street some years ago.
The Red Sox had just won the 2004 World Series, but Thompson had been in an induced coma at Strong Memorial Hospital for the entire playoff and world series run. He wanted a tattoo to commemorate the victory, though.
Fanara, Bernie said, reminds him the most of Sailor Jerry because of his artistic touch and his professionalism.
"I came in and I was talking to Mark," Thompson recalled. "I said, 'I'm not sure my doctor wants me to get one yet because of the blood situation.' He said, 'That's good.' This is where he reminded me of Sailor Jerry. He said, 'I wouldn't tattoo you anyhow unless you had a slip,' and it dawned on me, slip, Navy, needed it. So I came back six, seven months later, we put (on) the Red Sox tattoo."
Previously: Tattoos gain acceptance as body art, statements of individuality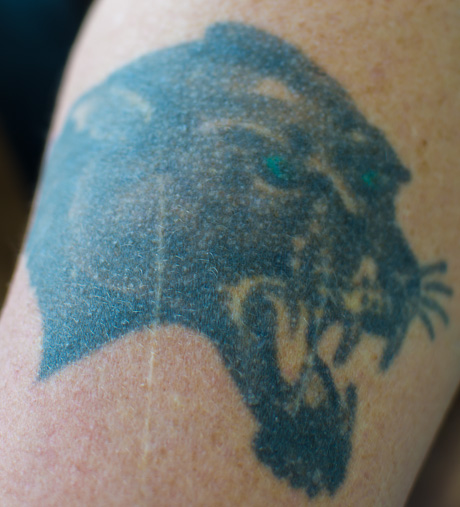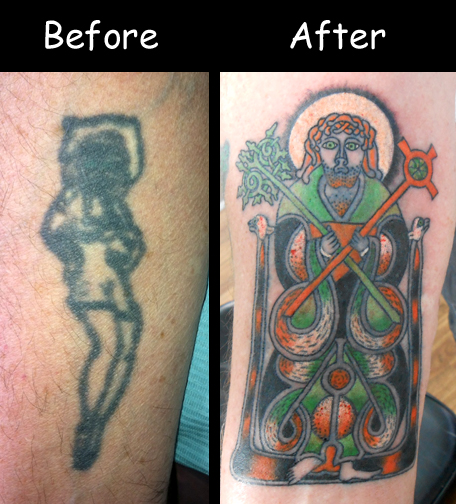 Original Source: The Batavian
Originally published in The Batavian October 15, 2015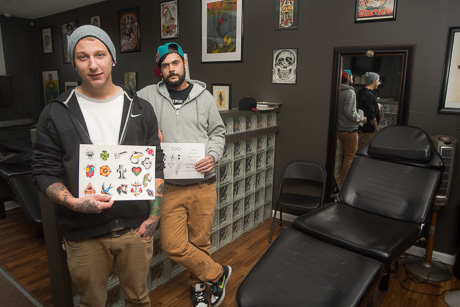 Four years ago Mark Fanara, whose Batavia tattoo business High Voltage had become very successful, thought he should do something to give back to the community that had nourished him his entire life, so he decided to hold a charity tattoo event and donate the proceeds to local community groups. The event was so popular and raised so much money for local charity that he decided to do it again the next year, and the next, and the next.
This year, Mark needs the community's help. Hospitalized with lymphomatoid granulomatosis, a rare cancer, the father of little two boys has only limited means to deal with his illness.
To help him out, two of his employees, Andrew London and Jeremy Fridman, are holding their own three-day event of tattoos and piercing to benefit Mark. The event is from 11 a.m. to 8 p.m. Oct. 23 through Oct. 25. Customers can select from a specific set of designs for a small tattoo for $30. Piercings are $15. Proceeds benefit Mark Fanara.
High Voltage is located at 110 W. Main St., Batavia.
There will also be a spaghetti dinner at 1 p.m. Sunday, Nov. 1, at the Alexander Fire Hall. Live music with Nix Vega starts at 6 p.m.
Original Source: The Batavian
Originally published in The Batavian December 6, 2012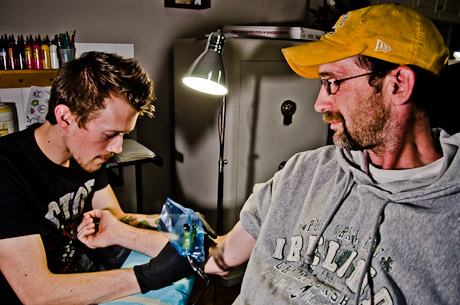 There was a long line of people waiting for tattoos this morning at 10 when High Voltage Tattoo and Piercing opened its doors for its second annual fundraising event.
The event continues on Friday from 10 a.m. to 8 p.m., with patrons being able to choose from a set of predetermined designs for $30 per tattoo and piercings for $20 (includes jewelry).
All proceeds benefit Don Carroll's Toys for Kids and Golisano Children's Hospital.
High voltage is located at 110 W. Main St., Batavia.
Above, Kenny McCarthy inks John Veitch with a four-leaf clover.
Original Source: The Batavian
Originally published in The Batavian December 17, 2011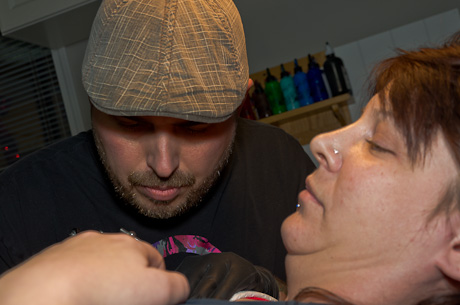 By 4 p.m., Friday, there was a three-hour wait for tattoos and piercings at High Voltage on Main Street, Batavia.
People were lining up for $25 tattoos and $15 piercings with all of the proceeds going to Community Action of Orleans and Genesee.
Owner Mark Fanara posted on Facebook this morning that the event raised more than $2,000 and the crowd didn't clear out until 11 p.m.
Tattoos and piercings were provided by Fanara, Kevin Lockwood, below, and Lisa Vokes.