Originally published in The Batavian February 11, 2016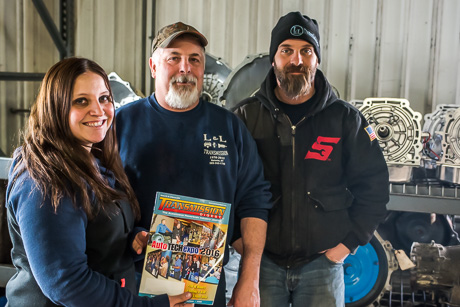 f you play basketball or baseball, you hope to get a write-up in Sports Illustrated, a musician, Rolling Stone, a chef, Cook's Illustrated.
If you're a mechanic, a three-page spread in Transmission Digest puts you at the top of your game.
The folks at L&L Transmission were elated yesterday when the latest edition arrived and there they were on page four.
"It's pretty exciting for us to be featured in a nationwide magazine," said Danyell Selapack.
The article begins where Leon Selapack began, at 14, working in an automotive shop in Williamsville.
In 1978, he returned home to Batavia and opened a single-bay shop on the Southside. In 1998, he moved the business to its present location on Route 98.
The article also covers his inventions, including a two-piece plastic gear for Ford three-speed transmissions. It was a replacement part for a Ford-built part that often broke. The repair involved removing the entire transmission and tearing it down. With the new invention, the transmission could remain on the car and the new part easily slipped in.
Ford eventually fixed the problem.
"If I had invented it five years earlier, I would still be in Tahiti," Leon said.
To read the full story, click here.
Pictured, Danyell, Leon and Cameron Selapack.