Originally published in The Batavian January 4, 2017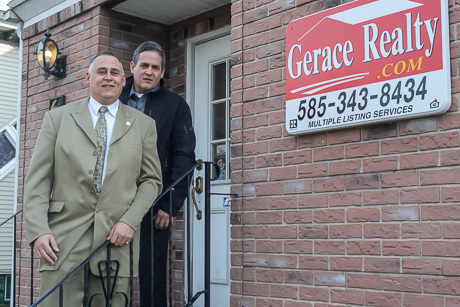 The Gerace family is returning to their locally owned roots in real estate in Genesee County.
Two years ago, Joe and Lois Gerace sold Bob Harris Realty to Realty USA, a Buffalo-based company, but in July, the CEO of Realty USA sold his company to Pennsylvania-based Howard Hanna Company and when John and Robert Gerace got word that new owners wanted to consolidate offices, that just didn't make sense to them.
"It doesn't make sense to say you're local and then have a business card with Lancaster or Depew on it," John said. "Are you local or aren't you? I think it was confusing."
The new company will be Gerace Realty. The new website is geracerealty.com. Like Bob Harris, and RealtyUSA, the new logo is red, white and black.
Lois, who has 40 years experience in real estate, will be part of the new company along with John and Robert. Much of the staff will be the same as it was for years when the company was Bob Harris.
The new signs, on the same converted house on Ellicott Avenue that was home to Bob Harris Realty when Joe and Lois bought the company in 1986, went up yesterday while the transition is still underway.
John Gerace said managers at Realty USA were supportive of their decision to go back to being a locally owned office and the relationship with staff there remains good and Gerace Realty will be able to tap into the larger company's network of bankers and attorneys as needed.
Howard Hanna also acquired Nothnagle, and both John and Robert see an advantage being outside of Rochester and Buffalo as a smaller, locally focused company.
"You're dealing with experienced agents," Robert said. "This is something we do full time. You're not dealing with somebody who is part time. This is what we do."
John thinks more and more people value that local connection. He compared it to smaller hardware store surviving in the face of competition from Home Depot and Lowe's.
"There's great service when you walk in," John said. "They know you by name. I think people want that back."