Originally published in The Batavian May 9, 2014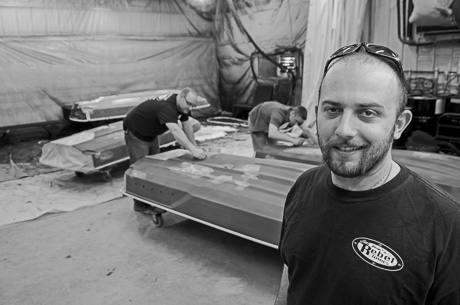 You wouldn't necessarily associate artistic flare with pickup truck bedliners, but the ability of Nate Fix to precisely spray protective coating helped him land a contract spraying liner on a new model of search and rescue watercraft.
Bombardier designed the new craft to meet the needs of fire departments involved in all types of water rescue and developed very exacting specifications for the hulls of the craft.
Fix, an art major in college and owner of Rebel Liners, on West Main Street Road, Batavia, is spraying coating on 100 boat bottoms for the Canadian-based company.
Fix is an emergency dispatcher for the county and assistant chief with the Town of Batavia Fire Department, so the contract hits another sweet spot for the lifelong Batavia resident.
The boats use Bombardier's Ski-Doo snowmobile platform.
The SARs (search and rescue) crafts are suitable for surf and white water rescue as well as bodies of water that are only eight-inches deep.
Rebel Liners was the fifth or sixth company that was contacted by Bombardier and the first that could assure the manufacturer of a coating application that would meet spec. The coating can't vary in thickness from stem to stern, from port to starboard, by more than 2.6 to 3.2 millimeters. Any greater variation would inhibit the proper water intake of the craft's engine as well as affect steering.
"I've been spraying for a little over 10 years now and when you get into bedliner equipment and machinary -- and being that I'm a speciality guy and I spray $50,000 and $60,000 trucks and I have to make them look pretty -- I was the only one in the country they could find who could do the job," Fix said.
When Fix was first approached about the project, however, he was skeptical. In fact, at one point, he was going to turn it down.
The project was at that time top secret.
"I couldn't know what it was about or who it was for," Fix said. "It went on for two months and got to the point where I told them, you know what, I'm not interested. I don't even know who I'm doing this for."
Then he received the CAD plans and notice the copyright down in a lower corner. Bombardier.
"Then I realized it wasn't just mom and dad making a couple of boats and wanting to see if it would work," Fix said. "I realized this was big time."
The coating fix uses is by SPI, a K5 polyurea. It's the same coating he sprays into pickup trucks. It protects the hull of the rescue crafts if they hit rocks or buried tree stumps. Fix said Bombardier tested one of the boats he sprayed and dropped it 17,000 times.
"If it was just the fiberglass, it would have cracked," Fix said.
That's art.