Originally published in The Batavian January 15, 2017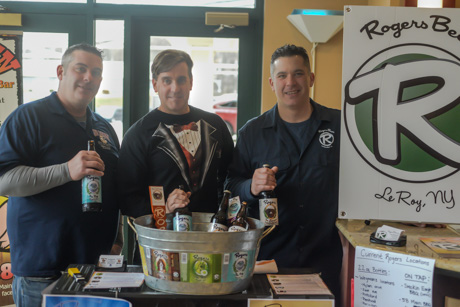 Marc Marcello, Jay Beaumont and Jon Marcello, owners of the Smokin' Eagle BBQ & Brew in Le Roy were at the bridal show at Terry Hills today with their microbrew, Rogers Beer.
The story of Rogers Beer begins about seven years ago with Al Rogers, a brewer in Rochester who started his own brewery, eventually selling his beer in 12 Wegmans and 30 bars and restaurants in the region.
After the birth of a second child, he needed to give up his sideline business and he walked into 58 Main in Brockport and told Marc Marcello he was giving up the business.
"He delivered the news he was walking away from it and my brother wouldn't take that for an answer," Jon Marcello said. "We got together and over a few lunch sessions with Jay and Marc, we put an offer in and he accepted. A few days later he called and asked if he could stay on a brewmaster and we told him, 'we don't know how to make the beer, so that's perfect.' "
Rogers Beer is now based in Le Roy, though the beer is currently brewed at a facility in Honeoye Falls, but Jon said the goal is to build up the business enough to open a brewery in Le Roy.
The beer is made with 20-percent New York ingredients with the goal of achieving 100-percent New York-grown ingredients within five years.
The five flavors of beer are all on tap on the Smokin' Eagle and at 58 Main and 22-ounce bottles can be purchased for carryout.
The dog icons on the menu below were all drawn by a local artist featuring dogs from Le Roy.
There will be a kickoff party sometime in February at the Smokin' Eagle for the newly based in Le Roy Rogers Beer. Watch The Batavian for details.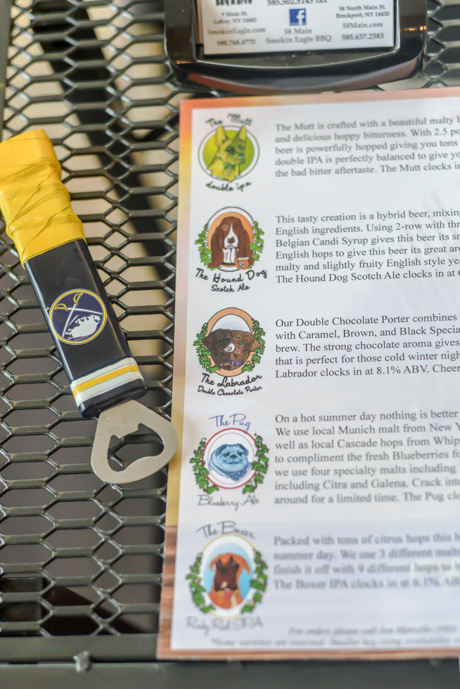 Originally published in The Batavian December 30, 2016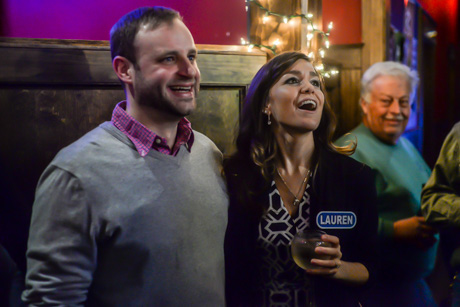 Lauren Fritz doesn't have regrets about that one spin. She knew she could solve the puzzle. The answer was obvious to her. "The National Mall in Washington." But she played an aggressive game and flicked the wheel around one more time. She hit the big black "Bankruptcy" card on the big wheel on Wheel of Fortune.
"I've thought about it a lot," Fritz said. "I thought about it on the plane ride back, but I wouldn't change a thing."
Appearing on Wheel of Fortune was a lifelong dream for Fritz. As soon as she turned 18, she started applying. When the online application was just putting in her name, she applied. When she had to write a paragraph, she applied. When they started asking for pictures, she applied. When they required a video submission, she applied.
She's not embarrassed to admit, she said, that she's applied hundreds of times, more times than she can count, and during some periods in her life, she's applied every single day to get on the Wheel of Fortune.
She finally made it this year and last night, the episode where she played and hit that bankruptcy aired. The Smokin' Eagle BBQ & Brew in Le Roy hosted a viewing party for Fritz, her future in-laws, friends and anybody else who showed up, and a lot of people showed up.
She thought it was pretty awesome that her adopted hometown, where she hasn't even lived for that long yet, came out to cheer her on.
And the crowd cheered. They cheered when her face first appeared on the six or seven TV screens in the bar and she was introduced as a resident of Le Roy, NY, which meant more cheers, and they booed when the other contestants were introduced. They cheered when she solved the opening phrase. They moaned in anguish when she hit that bankruptcy.
She won $17,000, which includes a $6,000 trip to North Carolina. That's good enough for Second Place.
The First Place winner on the episode pocketed $60,000 after qualifying for, and winning, the bonus round.
The way the game played out, Fritz thinks the guy would have made it to the bonus round even if she hadn't hit the bankruptcy. If she hadn't taken one more spin, she would have claimed only a few hundred dollars if she had solved the puzzle at that point.
"I was very happy for him," Fritz said. "It was something I always wanted to do, my lifelong dream. I wish I had made it to the bonus round, obviously, but he has a young family and like anybody, he can use the money, so I was very happy for Lou."
The whole experience was great, said Fritz, who is originally from Grandhaven, Mich. Pat Sajak, Vanna White and the whole Wheel of Fortune crew were super nice, she said. It was touching how they opened their hearts, the studio and the set for two youngsters who spent the day at the studio as part of their Make-a-Wish Foundation wish.
The excitement and fun of the TV show appearance was enhanced, she said, by the getting the support she did from the Le Roy community at the Smokin' Eagle last night.
Fritz is engaged to Jake Whiting, son of Reid Whiting. Lauren and Jake met at the University of Michigan Law School. They will be married in September. Fritz is now an attorney in Rochester and Jake Whiting works with his brother in his father's law firm in Le Roy.
The couple will settle in Le Roy, she said.
"I appreciate everything everyone has done for me," she said. "It feels like my hometown. Everyone has been so nice."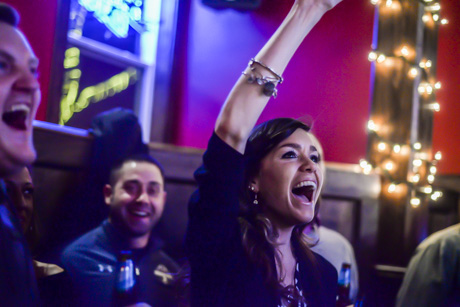 Originally published in The Batavian June 4, 2015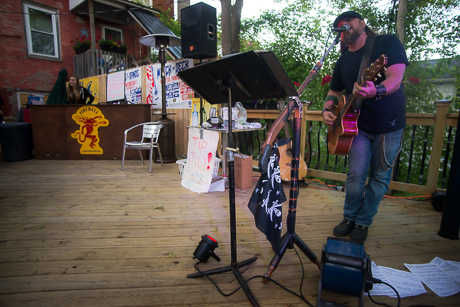 The Smokin' Eagle BBQ & Brew in Le Roy kicked off a summer series Battle of the Bands on Wednesday night.
For each of the next 10 weeks, 10 bands will compete to move on to the next round. One band each Wednesday is playing from at least 8 to 9 p.m. (the period of judging, the bands may play longer).
The series kicked off with a performance by JP Shaggy, from Syracuse.
There will also be bands in the competition from the local area as well as Buffalo and Rochester, said Jimmy B, from Jimmy B entertainment, who is organizing the event with Smokin' Eagle co-owner Jon Marcello.
There is a panel of five judges. They will judge the bands on stage presentation, time management, sound quality, band synchronization, band enthusiasm, and attitude and audience response.
The top six bands move onto the semi-finals. Round 2 will be three weeks of two bands each week, top seed vs. bottom seed.
The finalists will compete Sept. 19, which is a Saturday, from 2 to 10 p.m. That event will be a fundraiser for a charity yet to be selected. There will be other entertainment along with raffles and drawings.
JP Shaggy is Jason Krueger. To find out more about him, visit his Facebook page.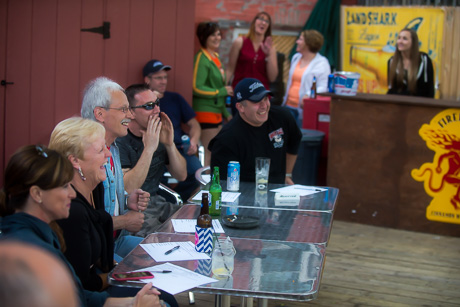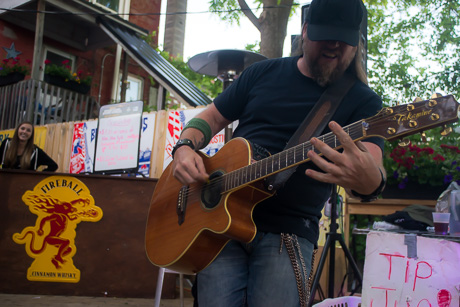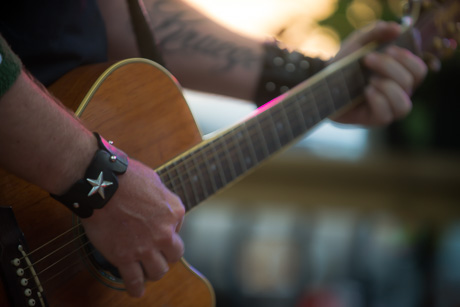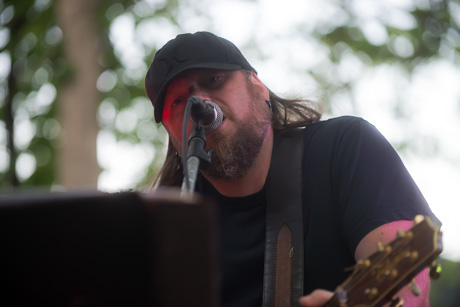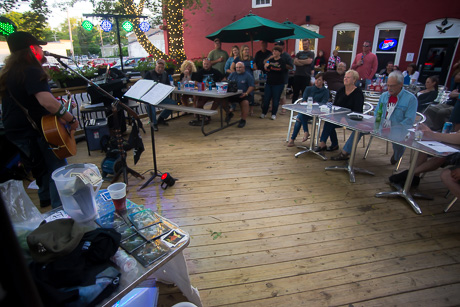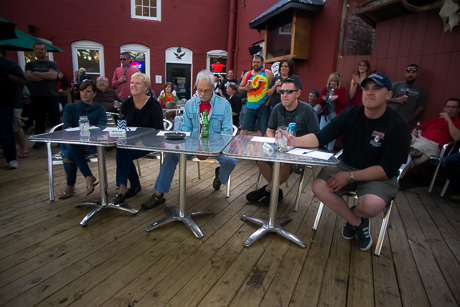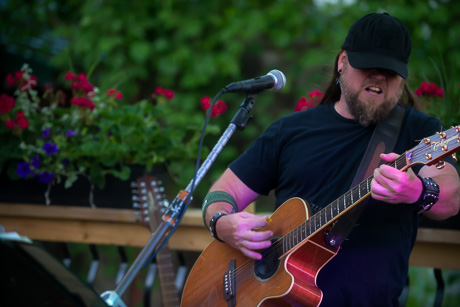 Originally published in The Batavian January 12, 2013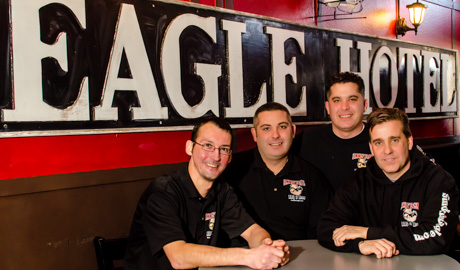 The Eagle Hotel in Le Roy may have 200 years of history behind it, but that doesn't mean it doesn't have a next chapter in life.
The landmark building has fallen into the hands of four young men who have a vision for it that should make it a go-to place for people looking for a good time and good food for many years to come.
John Marcello, Marc Marcello and Jason Beaumont have partnered to transform the Eagle into the Smokin' Eagle BBQ and Brew. They've hired Le Roy resident Shane Burger as their general manager.
"I think the concept, this building, the entertainment, the BBQ, it all kind of goes together," John Marcello said.
Jason Beaumont grew up in Le Roy and first tried to buy the building 10 years ago. It didn't work out, but when the previous owners decided to sell in 2012, Beaumont took another stab at it.
"I grew up there, and this building has so much character that you don't get in a lot of places," Beaumont said.
Since Beaumont had no experience in the food business -- his background is in the mortgage industry and has been investing in residential properties and doing property management for the past few years -- he started asking his friends John and Marc about how to run the restaurant side of his new building.
The Marcello brothers own 58 Main Street in Brockport, which is a BBQ and brew sports bar and have owned the business for 13 years.
One day, John told him, you know, we're thinking of expanding.
It didn't take long for the old friends to strike a deal on a new concept for the Eagle. The brothers would bring their experience with BBQ and beer and Beaumont would be in charge of the building.
Then they needed to recruit a general manager.
Through mutual friends, John found Shane, who has been a food and hospitality manager for the Holiday Inn and Batavia Downs.
According to John, Burger was a little skeptical at first, and John understood.
"It's his reputation on the line," John said. "He doesn't want to walk into a place that is just a bar and grill that's been here for 200 years wasn't going to change. He wants something different and he brings a lot to the table."
Once Burger understood the concept, he was sold.
" It was one of those things where I thought, 'why didn't think of that?' " Burger said. "It fit. It's a different niche here in Le Roy and I think it's being well received so far."
Since the Eagle once had a reputation for being a little on the rough side, the owners have hired big security guys for Friday and Saturday nights, installed security cameras and made it clear certain behavior won't be tolerated.
"It's about setting expectations and putting the right atmosphere right out there right out of the gate," Marc said. "The one guy who causes trouble might spend 50 or 80 bucks in a night, but he costs so much more money in the long run."
They intend for the Smokin' Eagle to be a family-friendly atmosphere. To help enhance that, they're going to open up the foyer so people coming in just for dinner can walk straight into the dining room instead of passing through the bar.
The bar itself is the same grand old hardwood counter it's always been (probably from the days when it was a pharmacy), but instead of just eight beers on tap, there are now 20.
Burger has also started booking in more live music as well as comedy acts.
"Le Roy has been starving for something like this," Burger said.
Burger has a lot of plans for the building, from removing the drop ceiling in the bar to restoring the ballroom upstairs.
"I think everybody can look forward to more changes at a slow and steady pace where everybody can feel comfortable," John said.
And then there's the issue of the third floor. It probably can't be returned any time soon to apartments or hotel rooms, but the ambiance is right for a haunted house come October.
A friend of Beaumont's has run a haunted house for years and they've always wanted to do one together, so now Beaumont has the space.
There may already even be a ghost in residence to give guests a little extra fright.
The ghost is known as "Charlie" and according to Beaumont the previous owner and previous employees have told stories about him.
Is Charlie for real? John laughed and said, "I've had some experiences when we first got here. I'm not going to go way into it, but some really creepy stuff, yeah."
As for the food, the menu features smoked pork, either pulled or ribs, and there's pulled-pork potato boats and egg rolls for a little different approach to BBQ. The two-page menu has a variety of other items and side dishes.
John and Marc Marcello started in the food business in high school, working as bus boys at the Village Diner in Brockport. When they moved to Irvine, Calif., they opened a restaurant with their father.
Then about 13 years ago, they wanted to return to WNY and heard their former employer was ready to sell, so they bought the restaurant and changed the name to 58 Main Street.
Five or six years ago, a very popular BBQ joint in Brockport was shut down and the brothers hired a few key employees. They taught them the BBQ business and BBQ became a staple of 58 Main.
John, Marc and Jason have, over the years, traveled to various BBQ competitions, entering their own dishes. At the competitions, they found other chefs were quite willing to share their own experience and techniques, so they've been able to improve and refine their own smoking skills.
"It's a learning experience every day," Marc said. "Every day we learn something new or we tweak something and do it a little differently."
Based on what Billie and I have sampled so far, the brothers and their cook staff -- Chris Miller and Brian Canale -- have learned their lessons well.
Photo: From left, Shane Burger, Marc Marcello, John Marcello, Jason Beaumont.