Originally published in The Batavian May 28, 2016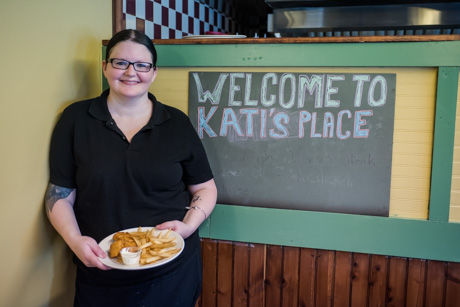 Most people, perhaps, in Kati Mancuso's position wouldn't choose the circumstances of her life as a time to open a new business, especially one as emotionally and physically demanding as a restaurant.
But this week, that's what Mancuso did, opening Kati's Place at 40 Oak St., Batavia.
Even though Mancuso now lives in Rochester, she came back to Batavia because this is where her friends and customers are. She started in the restaurant business at 16 at Scooter's in Batavia, moved on to Scooter's in Le Roy, and eventually opened Kati's Place in Le Roy.
She had to close that restaurant after a drunken driver slammed into her car and she suffered a broken back.
She wanted to get back in the business, but took time off for the birth of her son.
"I could have opened a restaurant in Rochester and started over, but I'm so close to so many people and so many customers and they've been like my family over all these years so I wanted a place they could come to, so that's why I came out to Batavia to do it," she said.
After her son was born, she found a pencil-size lump on her arm. It turned out to be a rare form of melanoma. She had a 9.7-millimeter tumor removed. She's had all the lymph nodes on her right side removed. She went through six weeks of chemo, five days a week, and then five weeks of chemo for three days a week. She's had five major surgeries and two minor surgeries.
The original prognosis was a 16-percent chance of surviving past a year.
She's not giving up.
"I felt like I was either going to lay there and die or do something that I love," Mancuso said. "This keeps me busy and keeps me moving and I think I just have to keep a positive attitude and know that I'll be all right. I know the diagnoses isn't good, but it's OK."
Mancuso said every day is hard, but she has her seven employees to help her out and her customers to keep her spirits up.
"These people have been like my family and it gives them someplace to go and enjoy good food that is homemade, that's not fast food," Mancuso said.
Kati's Place is open seven days a week, from 7 a.m. to 8 p.m., Monday through Thursday, to 9 p.m. on Friday and Saturday, and to 3 p.m. on Sunday. It's a diner with about a dozen tables and take-outs are available. The phone number is (585) 250-4483.