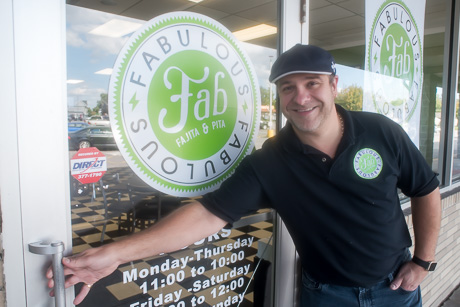 Photo by Howard Owens. Story by Billie Owens
An array of fresh, healthy, tasty salads, wraps, fajitas, pitas and "fun food" like Jersey Shore "Disco fries" is offered at a new eatery on West Main Street in Batavia's Valu Plaza.
Fab Fajita & Pita is a place where you can "Wrap up some WOW!" The menu boasts a moveable feast that spans the globe: Mexico, Italy, Sicily, Greece, Asia with options to build your own or suit to your liking.
If you have a sweet tooth, you'll appreciate the flaky, honey-laden baklava, moist cookies and hefty brownies -- all made from scratch.
"What we offer is fresh, high quality, afforable food," said owner Victor Canastraro, who lives in East Amherst and would like his first foray into the restaurant business to be successful enough to grow into several locations.
Crafting the menu and trying out different combinations and flavor profiles took time. The result is a range of uncommon fare prepared in a spotlessly clean kitchen for diners in a spotlessly clean, spacious eating area.
Some menu items that "just hit" and just right, too:
One appetizer is the Red Eye Fries ($4.25) -- fries topped with two eggs sunny side up and a spicy Sriracha sauce that "will make your eyes pop!" The Asian Salad ($5.95) is made up of a fresh spring lettuce mix with mandarin oranges, Roma tomatoes, fresh strawberries, sliced almonds, served with sesame ginger vinagrette, topped with crispy Asian noodles.
"The Greek" ($5.95) is a traditional pita filled with gyro meat -- a mixture of beef and lamb perfectly seasoned, with lettuce, tomato and feta cheese, topped with a snappy Tzatziki sauce. "The Sicilian" ($6.50) features succulent calamari, wrapped with lettuce, tomato, lemon juice and topped with a special homemade sauce.
At Thanksgiving time, they plan to offer a wrap and/or pita that will include turkey, stuffing and gravy.
"We experimented," Canastraro said. "We wanted something that explodes in your mouth. I enjoy making flavor. I pride myself on being creative."
He has some experience in the flavor department. For the better part of the last decade, he has grown a successful chain of electronic cigarette shops, and flavor is mighty important to e-cig consumers. He has two stores in Rochester, one in Irondequoit, one in Gates, one in Depew, and two in Florida.
The 43-year-old also knows the food business can be "a nightmare" -- his dad was in the restaurant business. But he's up to the challenge of building something from the ground up after an official with Valu Plaza convinced him that a specialty restaurant would be a good fit for the location.
Getting it ready to open was "a hell of an awakening."
He spent $80,000 on new equipment that included refrigerators and freezers, new paint, new tables and chairs. He took some solace in at least not having to buy a new heat and fire-suppression system. That was, until an inspector came out and found two holes on the sides of the existing system (used at this former restaurant site) and said it, too, would have to be replaced.
Done.
A week ago Monday, some friends and family and a few others stopped by for a training day, which ended up being quite busy and prompted some additional equipment purchases. Fab Fajita & Pita officially opened Sept. 30.
His credits his father, the son of Sicilian immigrants, with teaching him the value of hard work.
"My father was the kind of guy who always had a full-time job, plus a part-time job," Canastraro said. "He always told me 'If you want anything in this world you have to work for it.' "
One lesson was learned when the younger Canastraro became a new father at age 20 and money was tight. His utility bill came due and he needed money to pay it. He asked his dad for help. His dad said "Are you hungry? Come over and I'll feed you a bologna sandwich. You need a loan? Go to the bank."
"It was the best thing he could have taught me," Canastraro says in hindsight.
Eventually, the grandson of Sicilians got into the mortgage and finance business and succeeded. He's lived in Fort Lauderdale and West Palm Beach, Fla., and in Colorado.
In sensing the economic climate and the state of the real estate business in 2007, he convinced his wife, Dawn, to sell their assets in 2007 and move back to Buffalo in 2008. It was a fortuitious move.
"I like Buffalo," says its native son. "People drive a Chevy Impala if what they can afford is a Chevy Impala, not a BMW."
Dawn is the baker in the family. He credits her with the ability to make "50-pound brownies" that will have you "grinning from ear to ear."
"It's all about love," Canastraro said, noting he is "blessed with an unrivaled faith in God." "Take care of people. If you do that -- the guy upstairs -- whatever you want to call it -- takes care of us."
To that end, he said he hopes to grow with the community in Genesee County, which he believes is uniquely poised for growth, and be charitable, especially to first responders, the disabled and veterans.
Fab Fajita & Pita is open Monday through Thursday from 11 a.m. to 10 p.m., Friday and Saturday from 11 a.m. to midnight. Closed Sunday. The address is 4125 W. Main Street Road. (www.fabfajita.com).