Originally published in The Batavian August 24, 2010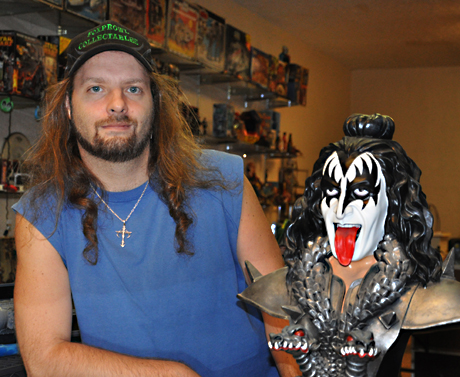 Bill Hume is living his dream.
What started with a Star Wars and KISS memorability collection when he was a child, has blossomed into his own retail store on Ellicott Street.
The 39-year-old entrepreneur started selling pop culture collectibles on Ebay in 1998, eventually had a 20x20 stall at Antique World in Clarence and now has 1,000-square-foot store at 440 Ellicott St.
"It's been progressively building and culminated in a store back in my home town," said Hume. "This was the ultimate dream, though I didn't know it would ever be feasible."
Hume benefited from a flexible landlord and the ability to buy all of his store fixtures cheaply.
The store, named Foxprowl, opened just over a week ago.
He said customers from Buffalo, who bought collectibles from him in Clarance, have already started showing up at his new location to browse his expanded inventory.
The story contains a wide variety of pop culture items, from figurines for Star Wars, KISS (of course), Star Trek, Spider Man, Superman and Austin Powers to toys and games tied to many of the most popular movies and TV shows of the past 30 years.
"I guess I was born at the right time," Hume said. "I just got sucked up into the whole pop culture thing in the late '70s"
He acknowledges that his kind of specialty retail store can find it hard to survive. But he's hoping with his ability to keep his expenses low, expansive resources for obtaining new inventory, and a loyal following from his previous years in business, he can make a go of it at his new location.