Originally published in The Batavian March 18, 2014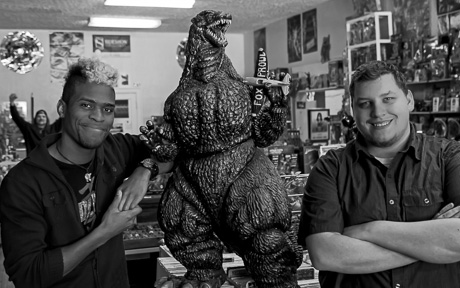 Godzilla's got a new home. At least for a few months. Right here in Batavia, New York.
He'll be hangin' with Rashaad Santiago and Tim Schiefer and their associate from Watertown, Greg Graves, while making a moving staring himself, the King of Monsters.
It's a small budget production -- less than $20,000 -- but much of the filming will be done in Batavia and involve some very talented people, such as Santiago, a costume and monster designer, and Christopher Bloomer, a visual effects expert.
It's mostly a labor of love made for the filmmakers' own enjoyment with an eye toward showing it in Chicago at the 21st annual G-Fest.
That's right, there's a whole festival devoted to the creature who terrorized Japan in the 1954 classic "Godzilla," and went on to star in more than 28 other feature films.
It's that G-loving community that brought Santiago, Shiefer, Graves and Bloomer together.
Right now, Santiago is kind of the star of the show. After signing on to the Godzilla movie project -- the title of the film is "Godzilla: Heritage" (here's the Facebook page) -- Santiago won a sport on the Sci-Fi Channel's reality series, Faceoff.
Originally from the Bronx, Santiago moved to Batavia a couple of months ago, first to work on the Godzilla project, but also because he thought Batavia would be a better place for his two children.
Santiago has had a passion for monsters ever since he saw the original Godzilla for the first time when he was was 5.
"Just seeing something different than a dinosaur, because I was a big dinosaur guy, so seeing something that was like a dinosaur, but different, and the size he was, really got my mind going on monsters," Santiago said.
Already of an artistic bent, Santiago started drawing his own monsters.
And his fascination with monsters grew as movies such as Alien, Predators, Tremors and Jurassic Park, came along.
He went from drawing monsters to building monsters.
People who saw his work encouraged him.
"I didn't know this was a career when I was younger," Santiago said. "As I got older, people would say 'why don't you sell this or why don't you get paid for doing this', and me, being naive and young, I didn't know, and now I'm doing it."
He said he dreams of owning his own monster studio someday.
Faceoff might be a jumping off point to that next career level.
He was selected for the show after an audition in Burbank (where all the filming took place).
The show airs Tuesdays at 9 p.m., and on those nights, Santiago is appearing at City Slickers to watch the show and answer questions from the fans who watch it with him.
Ken Mistler, owner of City Slickers, is giving a good deal of support to the local moviemakers. City Slickers will be a location in the film, as well as other Mistler properties, and his former gym location on East Main Street will be where the filmmakers build their sets and do all of their interior shooting (some filming will also take place in Watertown).
Shiefer said watching Santiago build the Godzilla suit for the movie is truly seeing a master at work.
"After three our four hours he had only the body outline and we're like, 'that's really impressive,' " Schiefer said. " 'This is only the outline. There's not any detail,' he said, and we were like blown away. Then he started detailing the head, making the little grains of the scales with tweezers. It's just the most impressive thing you can possibly see."
Shiefer said that anybody who tunes into Faceoff will be impressed with Santiago's work.
Santiago -- the monster expert -- is also working, appropriately, at Foxprowl, the collectables store on Ellicott Street. So if you want to meet him and miss him at City Slickers, there's Foxprowl on week days.