Originally published in The Batavian August 19, 2013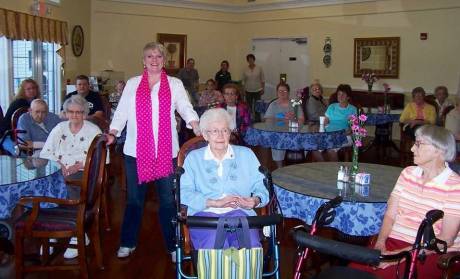 Information and photos submitted by Kevin Robertson.
Actress Alison Arngrim, who portrayed nasty Nellie Oleson on the '70s television series "Little House on the Prairie" recently made a visit to the residents at The Greens in LeRoy.
The Greens of LeRoy is an independent senior living community and Arngrim was in town as part of the festivities at the Genesee Country Museum's Laura Ingalls Wilder weekend.
The actress took time out of her busy schedule that weekend to give a presentation at The Greens.
"Little House on the Prairie" is a favorite of the residents and Arngrim spoke to them about working with Michael Landon, what it was like to be on a televison show, its longevity and popularity and answered any questions that the residents had.
Following her presentation, Arngrim took time to visit with the residents, take pictures and sign autographs. One resident invited the actress to her apartment afterward to show her an 1800s wheelchair, one very much like the ones used on the series.
Kim Pasquale, director of The Greens organized the visit and said that residents thoroughly enjoyed Arngrim's presentation and were thrilled that the actress stopped by while she was in town.