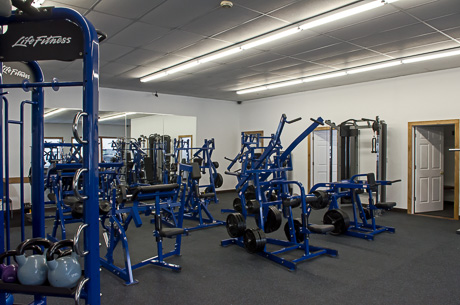 More space and more equipment are part of an expanded Oakfield Fitness and Cross-Training Center after the business moved just down the street to 116 North Main St., Oakfield.
The gym has moved from a location where there was only 1,800 square feet and equipment was distributed among several small rooms, to one with 3,600 square feet and three large rooms.
There is one room for strength equipment -- Hammer Strength machines from Life Fitness -- a room of cardio machines, including Life Fitness treadmills and bikes as well as rowing machines, and a cross-training room with free weights and various training aids.
The gym is open 24 hours a day, seven days a week and a basic membership is $30 per month (no other costs, no annual contract).
For those who are interested cross-training, a certified Cross Fit trainer, Steve Wakefield, is available from 5 a.m. to 8 a.m., Monday thru Saturday, and 6 to 8 p.m., Monday through Thursday.
Cross-training is $80 per month, which includes a basic gym membership and workouts with Wakefield and other cross-trainers. Use of the cross-training room is limited to cross-training members.
Oakfield Fitness will host an open house Thursday from 6 to 8 p.m. and Saturday, 10 a.m. to noon. Attend either open house and receive two days of free use of the gym at no obligation to join.
For more information, visit OakfieldFitness.com.