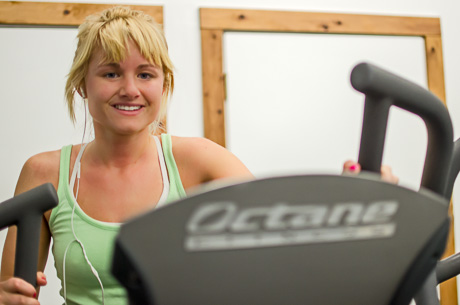 A busy MBA student at St. John Fisher, Katie Joslyn, needs to make sure never has an excuse for missing a workout.
The 22-year-old Oakfield resident said Oakfield Fitness and Cross Training Center, at 116 N. Main St., is perfect for her. It's right in the village, is open 24/7, and has all the cardio and weight machines she wants to use.
"I've seen it grow," said Joslyn, who has been a member since the gym first opened at a smaller, store-front location. "It's really become something. It's a lot better than it used to be. I love coming here."
Oakfield Fitness moved just a few weeks ago, going from 1,800 square feet and multiple small rooms, to three logically organized rooms in 3,600 square feet. There's a room for weight machines, a cardio room and a cross-training room.
All of the equipment is quality Life Fitness machines.
A basic gym membership is $30 a month with no other fees and no annual contract. Cross-training members pay $80 per month and have access to the cross-training room and a cross-training coach during scheduled times.
For more information, visit OakfieldFitness.com.