Originally published in The Batavian August 26, 2013, photos and story by Luke Cullinan.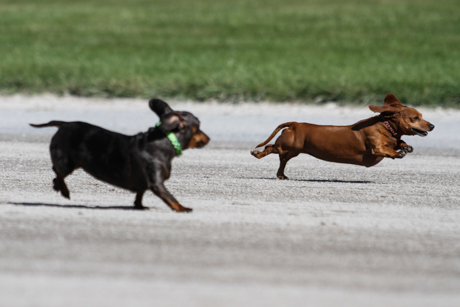 Gordon, owned by Lindsay Ryan, notched a three-peat today in the annual Wiener Dog Race at Batavia Downs.
Gordon bested a field of 72 wieners that converged on the Downs from all over WNY.
The grand prize was a $100 free play at Batavia Downs Casino.
Lindsay Ryan, extremely happy with Gordon's victory, was hinting of retirement for her fleet-footed canine.
"He's going to be seven next year and we will have to see what happens, maybe it's time for Gordon to retire. I'd like to give someone else a chance to win," Ryan said.
Finishing second, two-dog lengths behind Gordon, was Daisy owned by Vernon Marzolf while Max owned by Chris Cummings and Isabella owned by Victoria Small tied for third.