Originally published on The Batavian July 20, 2015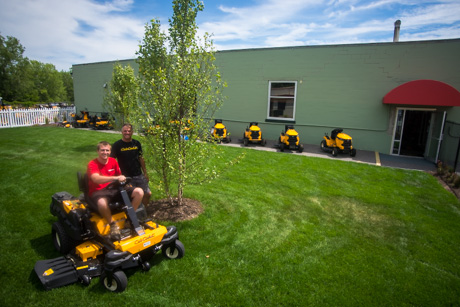 Guy Clark Jr., owner of Cedar Street Sales and Rentals, said that as far as he knows, he has the only test-drive lawn for lawnmowers in the area.
Over a period of months, Clark and his sons Connor (pictured with Guy) and Adam transformed what had just been a strip of weeds next to the store's building into a well-manicured lawn where customers can test drive the complete line of Cub Cadet riding mowers.
Clark went all local in designing and building the test drive area. Jon Ehrmentraut of Le Roy designed the yard. The grass came from Batavia Turf. Tri-County Glass and Armor Building Supply provided materials for a new door from the shop into the yard. Sterling Tent made the awning over the door, and the landscaping was purchased from local nurseries.
Clark figures the little park-like addition to his business will also be suitable for community after-work parties.
Originally published on The Batavian March 1, 2013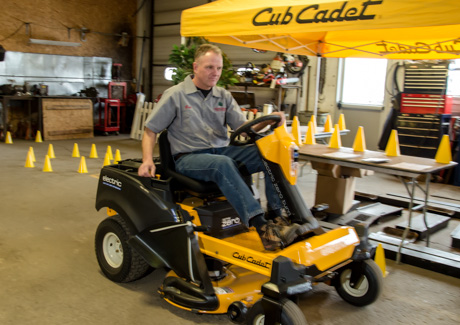 It's all about relationships, says Guy Clark Jr., owner of Cedar Street Sales and Rentals.
Clark's business turned 20 today, and he said the enterprise has lasted because the people of Genesee County have trusted him and his staff.
"We owe a big thanks to the community," Clark said.
Raised in Stafford, Clark opened his first tool shop in Le Roy in 1985. He described it as an under-capitalized one-man operation, and he struggled, but he also started to gain a good reputation.
As the calendar flipped to 1993, the people at Cummings & Bricker, a Batavia-based wholesaler of farm equipment, approached Clark about opening a rental business on Cedar Street. Cummings and Bricker already owned the property, so they along with Clark and Ricky Palermo joined forces and opened Cedar Street Sales and Rentals March 1, 1993.
After a few years, Cummings and Bricker pulled out because both businesses shared the same peak seasons, Clark said, and that caused a little tension.
Another partner entered the picture for a few years, but seven years ago, Clark became sole owner of the business and has operated it successfully since, despite a recession and increased competition from the likes of Home Depot and Lowe's.
Clark said Home Depot went after the local rental business pretty hard a few years back.
Whatever Clark set as his rental price, Home Depot would offer the same tool for $1 less.
"They were attacking us pretty hard, but then they closed (the rental business) about three years ago," Clark said. "I was thrilled for that. I was proud of that."
Cedar Street has become one of the top Cub Cadet dealers in the nation, but there was a time when Clark didn't sell lawn mowers.
A persistent salesman kept trying to get him to stock a few, until finally, Clark recalled, the salesman said, "Look, let me put six in your store and if they don't sell by fall, I'll take them back, no hard feelings."
Clark added, "That was about 5,000 lawn mowers ago."
Clark was all smiles during the 20th-anniversary party at his store today and said he does feel like he's accomplished something getting this far, even if you don't always notice the time sliding by.
"You don't think about it, and I didn't start thinking about it until I started looking at a calendar," Clark said. "Until people start coming in and saying, you've been here a long time, and you think, 'hey, I have been here a long time,' you don't think about it. You just go to work every day and never give it much thought."
Originally published on The Batavian March 6, 2010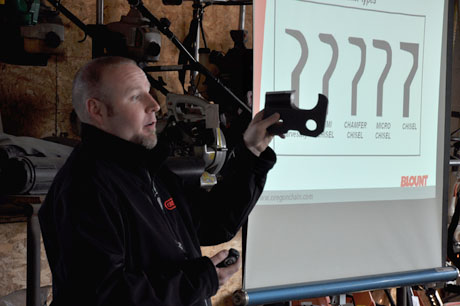 Don Desjarlais, a representative of Oregon Cutting Systems out of Raleigh, N.C., talks about the differences in chainsaw teeth during a chain saw safety clinic at Cedar Street Sales and Rentals.
The annual clinic provides area highway department workers and others who use chainsaws frequently detailed information on the operation of chain saws and their safe use.
Cedar Street Sales and Rental's indoor test course with the first Cub Cadet ELECTRIC Zero-Turn mower!! Celebrating 20 years in business!!!