Originally published in The Batavian July 25, 2012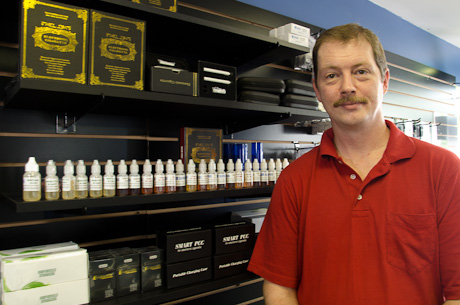 The way Russ Walker sees it, the day is coming when the government bans the internet sale of electronic cigarettes, just as the state has done with tobacco cigarettes.
When that happens, Walker said, storefront locations offering the modern alternative to tobacco-based products will be in a good position to grow.
A couple of weeks ago, Walker opened R.W. Vapors at 224 Ellicott St., Batavia.
E-cigs are cigarette-shaped devices that are designed to deliver the sense of smoking. They contain a liquid that is heated and vaporizes. The liquid can be flavored and may contain nicotine in varying amounts, from none to a heavier concentration, depending on the preference of the consumer.
"I can't make health claims about e-cigarettes," Walker said. "It is an alternative to tobacco. You're not getting all of the carcinogens. There's no combustion."
Typically, e-cig smokers are people who want to get away from smoking tobacco or use the product as a bridge toward quitting cigarettes.
While Walker sells novelties as well in his store, he said he won't knowingly sell his product as a novelty to somebody just looking to experiment with e-cigs.
"This isn't for anybody who isn't already on some form of nicotine," Walker said. "I don't recommend starting a nicotine habit if you don't already have one."
Walker also won't sell to minors, even though a state law regulating the sales of e-cigs based on age won't go into effect until January.
As for the liquid, Walker said he mixes all of the liquid himself.
"It's not imported from China," he said. "It's all made locally."
Walker said he sells a variety of flavors and can make custom-order mixes.
As for the novelties -- what he carries in his shop are decidedly old-school pranks and jokes. He said he knew his shop would need to offer a variety of products besides e-cigs so he picked a product line he said he's always enjoyed.
The store also carries some jewelry -- charms and bracelets.
Originally published in The Batavian November 26, 2012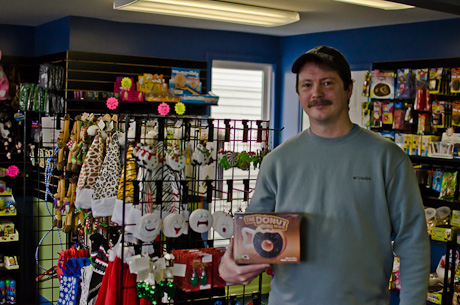 Ross Walker, RW Vapors.