Originally published in The Batavian December 23, 2016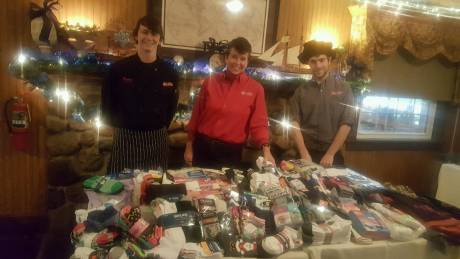 Steve Foster and Tim Adams, owners of the Red Osier restaurant, dedicated the month of November to charity for the local community.
The restaurant has always been closed on Thanksgiving, but this year, they opened for business, with many staff members donating their time to work; all the proceeds from meals served that day were donated to local charities.
During the month, the restaurant also raised $7,965 for Genesee Cancer Assistance. Foster and Adams added their own money to the pot and today turned over a $10,000 check.
Red Osier also donated two truckloads of food to the Le Roy Food Pantry.
Above, Red Osier staff members with some of the clothing items, including socks and underwear, collected for local donation.
Originally published in The Batavian November 1, 2016
Press release:
The Red Osier has a goal to become as community-orientated as its owners, Steven Foster and Tim Adam. Together with their staff, they have decided to rename November "Lovember" with a month of promotions to give back to the local community.

In November, bring in a bag of nonperishable goods or new clothing and you will receive a $10 gift voucher toward your next dinner visit. All food will be donated to the Le Roy Food Pantry, while the clothing will be donated to the local homeless community.

Bring in a package of new undergarments and socks during November, receive a complementary chef dessert. All items will be donated to restaurant employee Wendy Cappoli-Frongetta's grassroots organization "Spirits and Skivvies" that donates underwear and garments to local less fortunate throughout the community. Her goal is to restore dignity and comfort to the fellow human one pair of underwear at a time. There is an auction of donated items this Sunday from 12 to 5 p.m. at the Byron Fire Hall where all proceeds will support "Spirits and Skivvies."

On Thanksgiving, the restaurant will be open 12 to 5 p.m. This is the first year in the history of the restaurant that it has been open on this holiday. All -- 100 percent -- of the sales proceeds from the day will be split between Genesee Cancer Assistance and The Stafford Monument Committee, which is erecting a monument at the Stafford Four Corners to honor the past and present military personnel from Stafford. Throughout the month, we will have our annual buy a $50 gift certificate and receive a complementary $20 gift certificate as well.

It is extremely important to get our local businesses and their staffs involved in the holiday spirit. If we can make a small difference one can of vegetables or a package of underwear at a time, that's what we will do. We hope that our spirit of "Lovember" will resonate to other businesses within our area.
Originally published in The Batavian April 19, 2016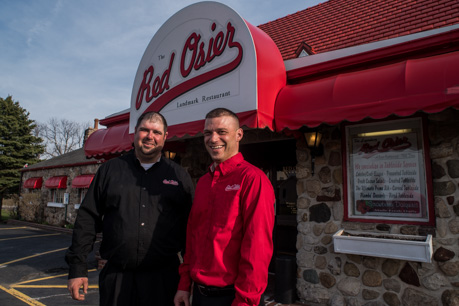 Bob Moore said he feels bittersweet about stepping away from the business he and his wife Noreen opened together 37 years ago, but he couldn't be happier with the new owners.
Tim Adams and Steve Foster become owners tomorrow afternoon of the Red Osier Landmark Restaurant in Stafford.
Already business partners with Adams Welding and other business interests, Adams and Foster said not only did the restaurant business interest them, they couldn't stand the idea of an outside buyer taking over a local tradition.
"There's no place like it," said Adams, who was named Geneseean of the Year for 2013. "It would have been a shame to see it shut down or turned into a Chuck E. Cheese. That's what people have been saying, it could have become a Chuck E. Cheese, or somebody could have moved it to another location and we would have had another empty building here. It's a special place so it would have been a shame to have it lost."
Foster started working at the Red Osier 20 years ago, straight out of high school, first as a server and working his way up through the ranks as a bartender and in the kitchen before becoming manager 10 years ago.
"The Red Osier is just a special family," Foster said. "We're all family."
Adams and Foster will retain the restaurant's 70 employees.
Moore said he's not retiring, just stepping aside from owning and running his own restaurant. He will serve as a consultant to Adams and Foster as well as his son, who owns another branch of the Red Osier brand, based in Rochester.
He's excited to see what Adams and Foster will bring to Red Osier.
"That's what we need, young guys, like we were 37 years ago," Moore said. "They're like my wife and I were, full of piss and vinegar."
There won't be substantial changes, but Foster said there is definitely a magic about the Red Osier to be recaptured and they hope to do that with some decor changes to start -- new uniforms, new white table clothes, a regional wine display, historic pictures of the restaurant are a start.
Moore approves.
"These guys are full of ideas," Moore said. "I want to help them implement as much as I can. The place looks beautiful. Wow! What a facelift."
There were eight or nine other potential buyers who looked into the restaurant before Adams and Foster approached him, and he immediately thought they would be a perfect fit to take over his business.
Noreen agreed.
"We couldn't have done better," she said.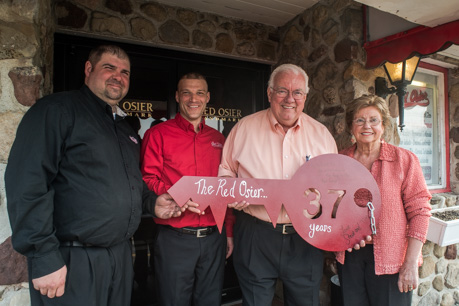 Originally published in The Batavian September 28, 2015
Press release:
After 36 successful years in business, Bob and Noreen Moore, owners of the Red Osier Landmark Restaurant in Stafford, N.Y., will retire and are seeking a buyer for the restaurant. The Moores are looking to sell their business to an experienced restaurant operator who will uphold their hard-earned reputation and continue employment for their qualified and dedicated staff. During the transition, The Red Osier Landmark Restaurant will remain open and will continue the wonderful quality service the restaurant is known for.

The Moores purchased the Red Osier Landmark Restaurant in 1979 in an effort to refocus their priorities and start a family business. Their sons, Robert and Michael, were 13 and 3 years-old, respectively.

"We moved from a four-bedroom home with an in-ground pool in Greece to a two-room apartment over the restaurant in the country," Bob Moore said. "We opened the Red Osier Landmark Restaurant and served 18 dinners the first Sunday we were in business. Today, we see 1,500 dinners through the kitchen doors each week, Tuesday through Sunday and one ton of beef each week."

The Red Osier Landmark Restaurant quickly became famous for prime rib dinners, hand-carved tableside, and served to any temperature of the customer's choice. The restaurant is also known for its Caesar salad, lobster/crab bisque, and banana foster flambé, each presented and prepared tableside. Today, it is the only restaurant in the Greater Rochester Area to offer this dining experience.

The Moore brothers became engrained in the family business early on, with Michael bussing tables by age 10 and serving as general manager as an adult. The eldest, Robert, also immersed himself in the business and successfully owns and operates Red Osier kiosks and concession stands as well as Red Osier Ridge Road Catering.

Red Osier kiosks and concession stands including The Greater Rochester International Airport, Total Sports Experience, Frontier Field and Red Osier Ridge Road Catering are not for sale and will continue their operations.

For years the Red Osier Landmark Restaurant has hosted a popular annual "Christmas in November" promotion, selling gift certificates as "buy $50 and get $20." In light of the transition, the Moores will temporarily suspend the promotion this year as well as the sale of all gift certificates.

The Moores' retirement and the sale of the business is bittersweet for a family who has spent nearly four decades serving the Greater Rochester area, but according to Bob Moore, it is time.

"We are incredibly grateful to our employees, many of whom we consider our extended family, our loyal customers and the community for their support, friendship and patronage over the years," he said. "But after 36 years in business and 52 years of a happy marriage, it is time for Noreen and me to enjoy our retirement with our family."

The Moores look forward to another busy fall season ahead. With the exception of gift certificate sales, the Moores' intend to continue with business as usual until an experienced restaurant operator expresses interest in buying the business.
Introducing New Owners Steven Foster and Tim Adams continuing the Tradition of Western New York's' Premier Dining Destination