Original Source: The Batavian
Originally published on The Batavian December 5, 2016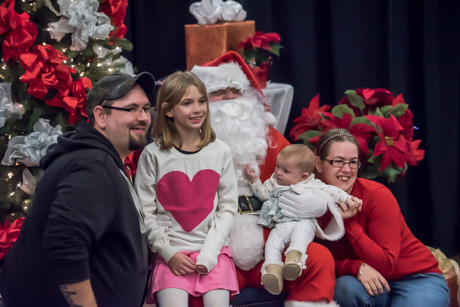 Batavia Downs hosted its first ever Winterfest on Sunday and more than 2,000 people turned out.
Attractions included pictures with Santa, mini-golf, a ride on a horse-drawn carriage and a holiday movie.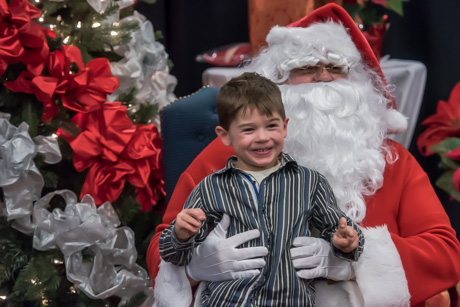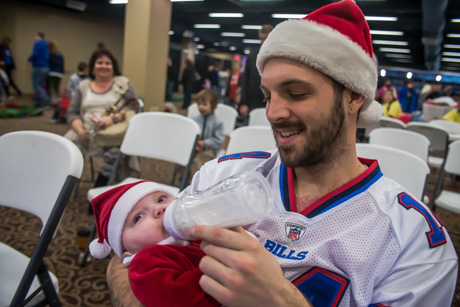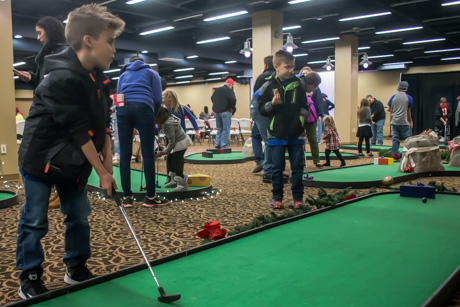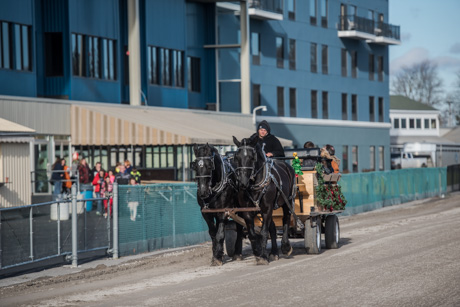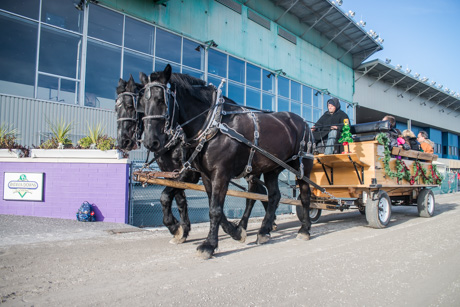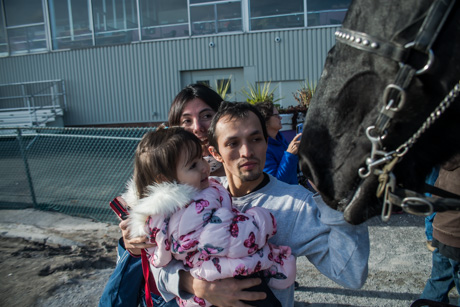 Original Source: The Batavian
Originally published on The Batavian October 31, 2016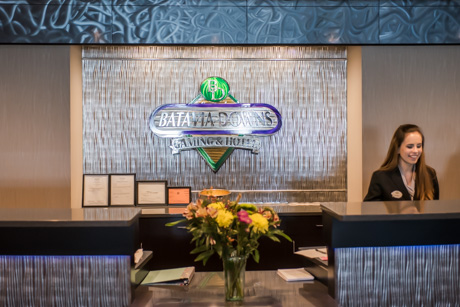 If Batavia is a ring that holds a precious gem, that diamond is now the new Batavia Downs Hotel, said Hart Hotels Sales Manager Shane Draman during a tour Friday of the new facility with the hotel's General Manager Richard Likus.
Both were brimming with pride as they showed off the hotel's amenities, boasting of the subtle details that they believe will earn a four-diamond rating from AAA.
"We're a destination now," Litkus said. "We have a racetrack. We have a casino. We have four beautiful restaurants in the casino that do room service to our rooms. It's not like we're a hub where people are passing through. This is where people are going to come and spend a weekend or spend their anniversaries or spend the holidays. It's going to be something special."
The finer points include free Wi-Fi, refrigerators and Keurigs with Tim Horton's coffee in all 84 rooms, 310 thread-count sheets and goose-down pillows, hardwood floors and open-air drawer racks (both are more sanitary than carpet and wooden drawers), and spacious rooms with a turn-down service between 5:30 and 8:30 p.m. (which includes a small piece of chocolate left on your pillow).
"People won't remember what you said," Draman noted. "People won't remember what you did. People will always remember how you treat them. I think when you take a look at that, how we treat people, the little nuances that are here, the little special things, people pick up on."
There are 40 rooms in the hotel with king-size beds, 40 with double queens and four two-room suites that have a wine cooler the size of a mini-fridge, a refrigerator and sink area with a dining table. There is also a balcony overlooking the racetrack.
Hart Hotels already operates four four-diamond hotels in Watkins Glen, Clayton, Thousand Islands, and Portland, Maine,
Key members of Batavia's new staff were sent to these locations to train.
"Our goal is to be the leading hotel in Batavia and the surrounding area," Litkus said.
The hotel has already hosted several guests, including a convention of 300 members of Rotary clubs from throughout the state and Draman said the feedback so far has been as great as they had hoped. He said people use words like "wow," and "fantastic," when describing the hotel.
From the outside of the hotel, you would never guess how spacious the hotel is, an observation made by several guests, Draman said.
"We've received emails were people have said it's the best hotel they've stayed at," Draman said.
The ribbon cutting for the new hotel will be at 5:30 p.m., Wednesday, and Thurman Thomas will be on hand for the ceremony. He was a professional football player, a running back, who spent most of his National Football League career with the Buffalo Bills.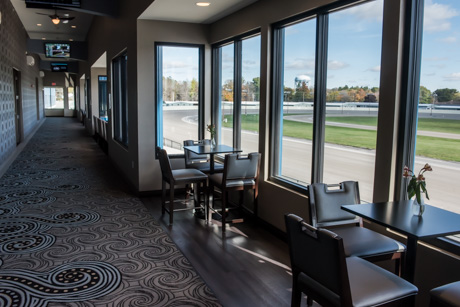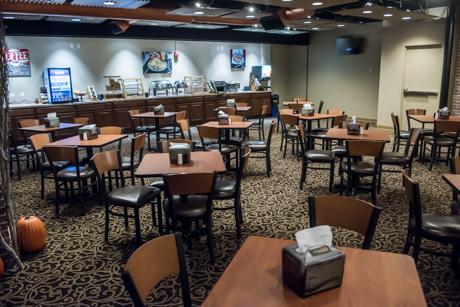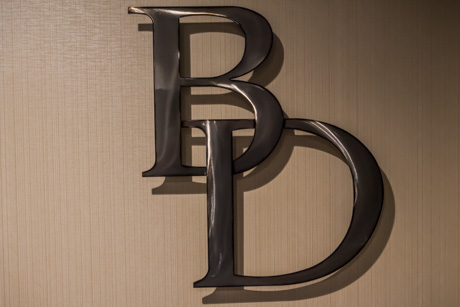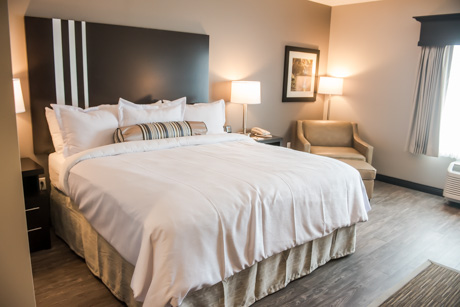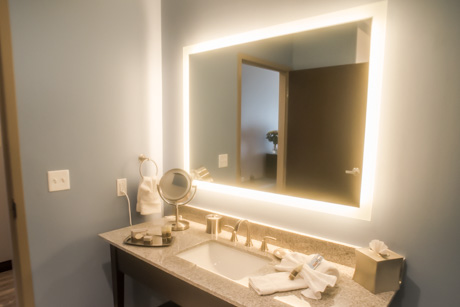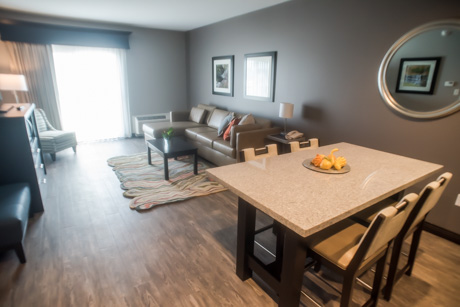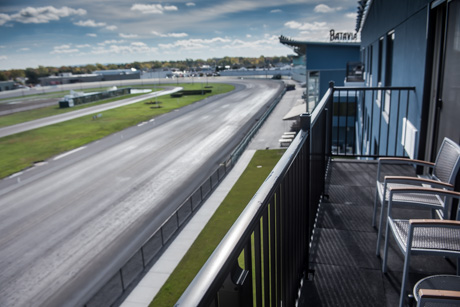 Original Source: The Batavian
Originally published on The Batavian October 13, 2016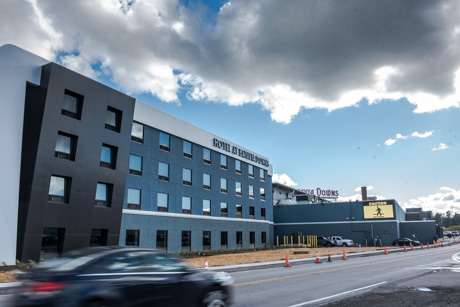 Original Source: The Batavian
Originally published on The Batavian September 25, 2016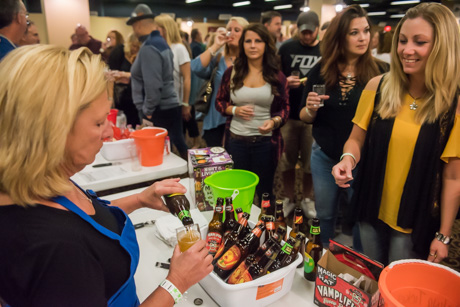 Several hundred people were at Batavia Downs on Saturday night for the Batavia Rotary Club's annual Octoberfest.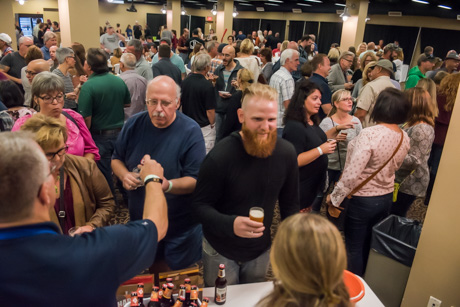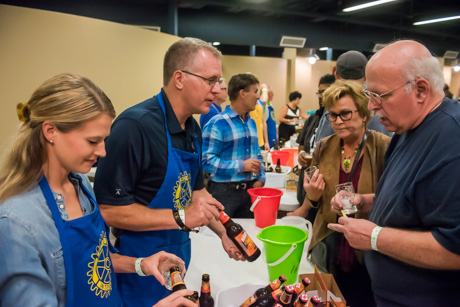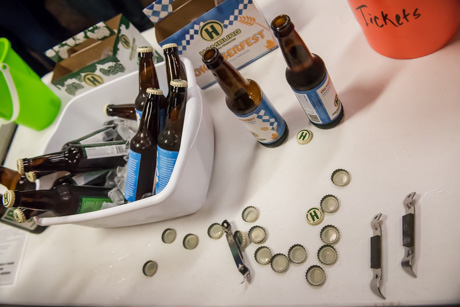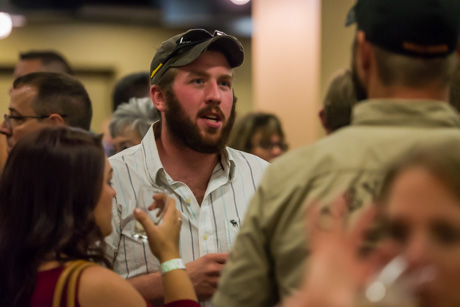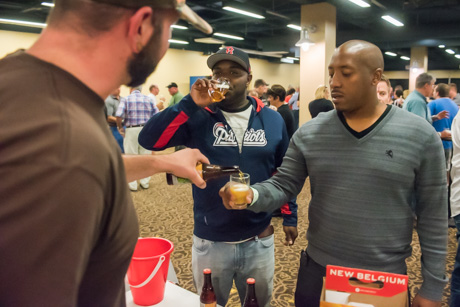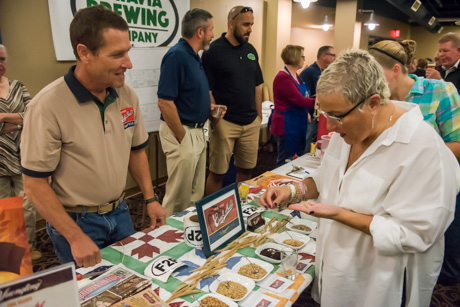 Original Source: The Batavian
Originally published on The Batavian October 19, 2015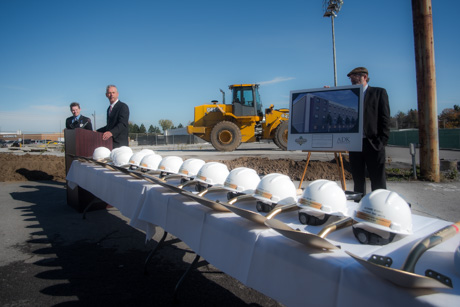 Dignitaries, politicians and business leaders gathered at Batavia Downs today for an official groundbreaking ceremony for a new $5.4 million hotel being developed by ADK Hospitality, a company from Buffalo that reached an agreement earlier this year to build the hotel on land formerly owned by Western OTB.
The project turns the land from tax-free acreage to tax-generating acreage and is expected to create 25 full-time equivalent jobs in the 82-room facility. To help finance the project, Genesee County Economic Development Center has granted more than $600,000 in tax relief. Once open, hotel guests with balconies will be able to watch harness racing from their rooms.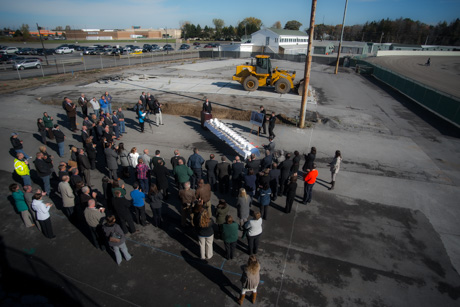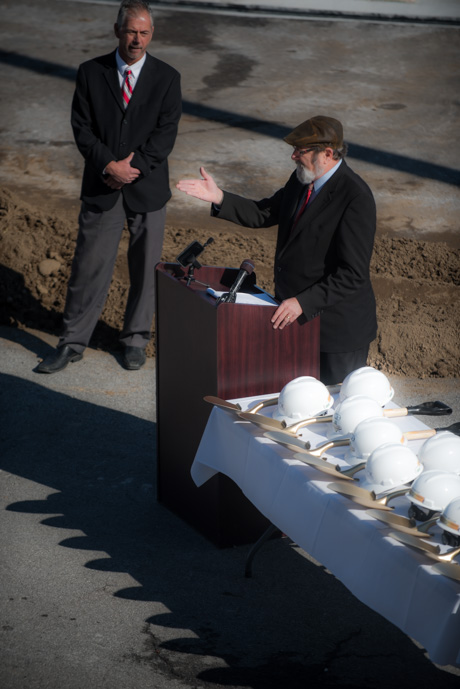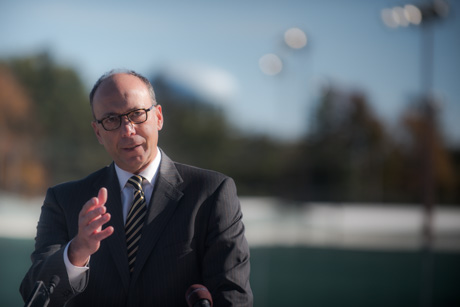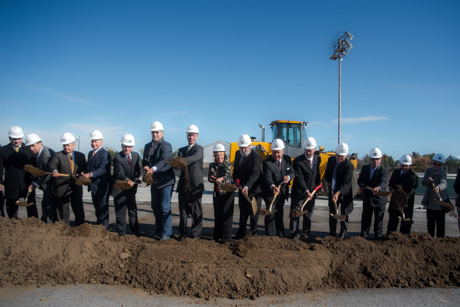 Original Source: The Batavian
Originally published on The Batavian October 6, 2015
Press release from Batavia Downs:
Jerome J. "Jerry" Grasso has been named the recipient of Batavia Downs Gaming's annual Italian-American of the Year award. Jerry Grasso will be honored with this accolade on Monday (Oct. 12, Columbus Day) with a special trackside ceremony after the seventh race.
Joe Gerace, the first recipient of this award, will act as master of ceremonies.
"Jerry is a wonderful individual. In addition to being a good family man, he has been an asset to our community for many years and is truly deserving of this award." Gerace said.
Mr. Grasso, who resides in Batavia, is a current trustee of the Knights of Columbus (Monsignor Kirby Council #325) where he was also a past Grand Knight. He is a faithful navigator of the Knights of Columbus 4th degree, Batavia Assembly #0755.
Aside from his involvement in the K of C, Mr. Grasso was a volunteer at Notre Dame High School for 25 years where he contributed his time heavily to sports and scholarships.
Besides his efforts for the school, Mr. Grasso has also spent countless hours volunteering and assisting in fundraising for multiple organizations, in and around Batavia.
He has been a Eucharistic Minister in the Catholic Church since 2001, taking particular pride in giving Holy Communion to those unable to attend church services.
Joining Mr. Grasso in the winner's circle for the presentation will be past Italian-American award winners Chuck Zambito, Ray Cianfrini, Joe Teresi, Charles Ruffino, Russ Romano and Laurie Napoleone.
Original Source: The Batavian
Originally published on The Batavian August 24, 2015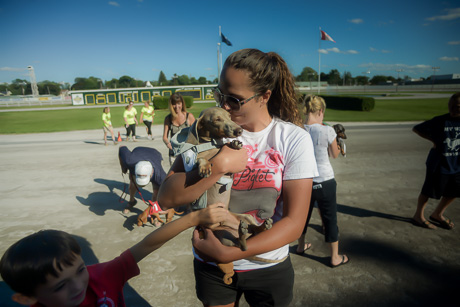 Press release from Batavia Downs
The third time racing in the annual Batavia Downs Wiener Dog races sponsored by Genesee Feeds was the charm for Heidi Kaiser's dachshund "Piglet." He cruised to a comfortable victory defeating nine other fleet-footed wiener dogs in the champion final.

Ten elimination heats were conducted to determine the final field.

Sarah Farley's "Ruby" rallied on the far outside to out finish Adrienne Pender's "Pablo" for second. "Pablo" was the most impressive heat winner and appeared to be the dachshund to beat.

The owners of top three finishers all received gaming free and Clubhouse buffets. All participants received a doggy bag from Genesee Feeds.

The beautiful day included a first time ever visit by harness ambassador Sydney Weaver. The 15-year-old, known to everyone in North American harness racing, and her parents Lisa and Don Weaver were special guests of Batavia Downs.

Attendance for the dog races, the final piece of Fun Family Day was estimated at 3,200.
Photos by Howard Owens.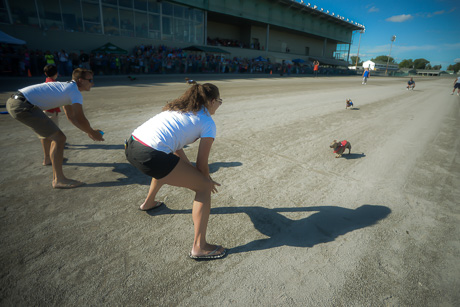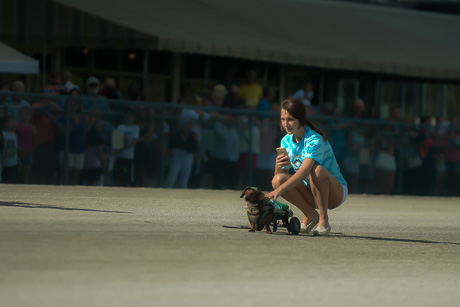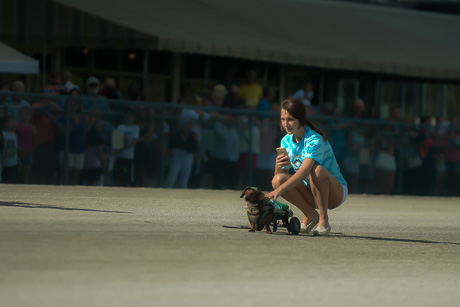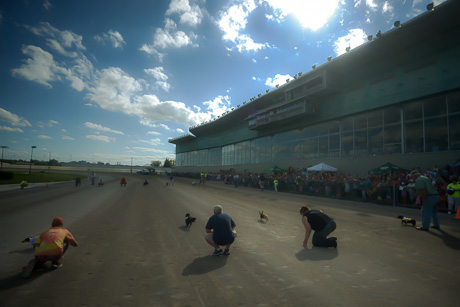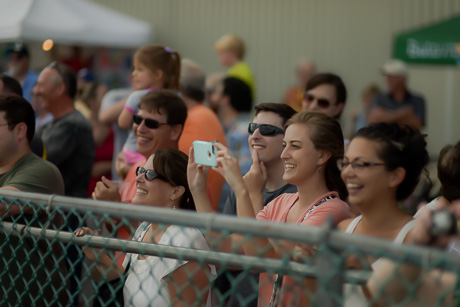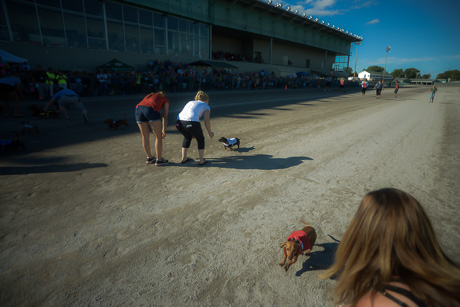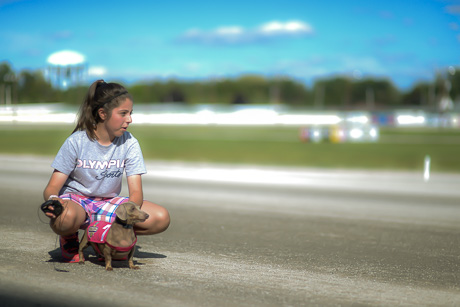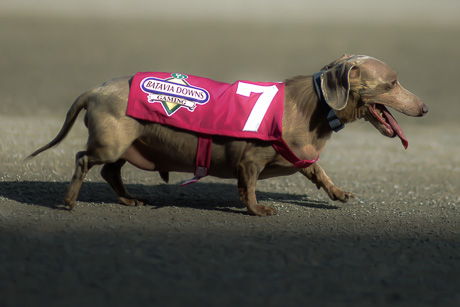 Original Source: The Batavian
Originally published on The Batavian July 28, 2015

The first race of the 69th season at Batavia Downs turned into a coast-to-coast cruise by the #3 horse, Lima Playtime, with a career-best time of 2:00.4. Lima was driven by Rick Zeron and paid $4.20.
It should be both a fun and exciting racing season at the Downs, said Marketing Director Ryan Hasenauer. There are special promotions throughout the season, but the remodoled gaming floor is also bringing in bigger crowds, which generates more revenue, which translates into bigger purses for harness racing. The bigger payouts will draw even higher quality horses to the track.
"Better horses make for better races and better wagering, and bigger pools means bigger winners," Hasenauer said.
The track is in great shape, Hasenauer said, which also helps draw drivers and trainers throughout the season.
"We already have a great reputation among trainers and owners as one of the best-manicured tracks in the industry," Hasenauer said.
Promotional highlights this season include Craft Beer Fridays, running into August, and Sunday wine tastings, and starting in August, Dollar Days, with dollar drafts and dollar hot dogs.
"People really like getting a good dollar hot dog or a cold draft beer at a decent price," Hasenauer said.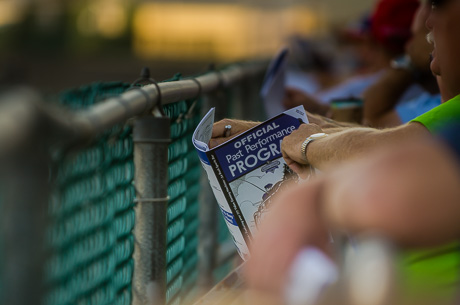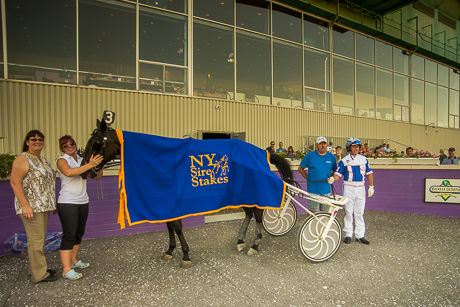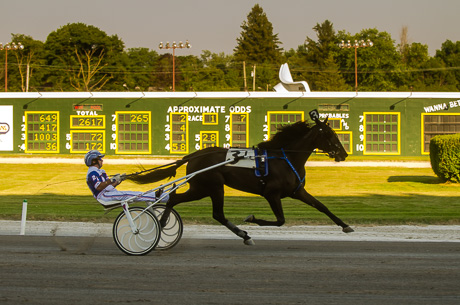 Original Source: The Batavian
Originally published on The Batavian December 22, 2014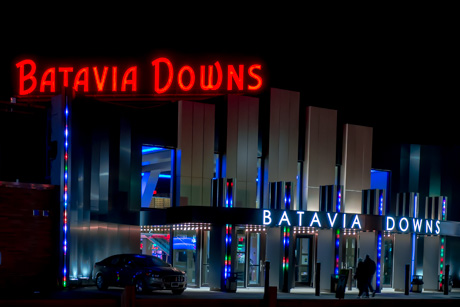 The new entrance and lobby for Batavia Downs is nearly complete and is open now.
There is some finish-up, "trim" work to complete, said Ryan Hasenauer, marketing director for Western OTB, but otherwise, it's good to go.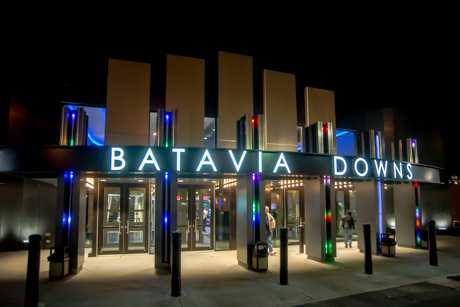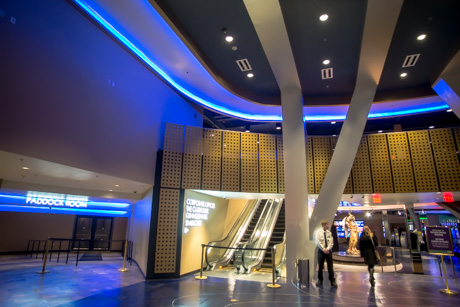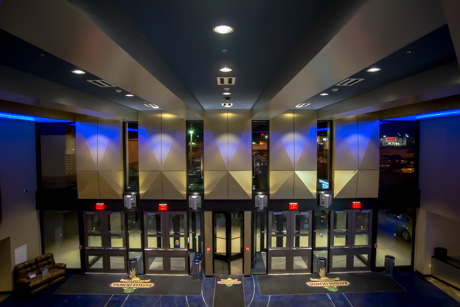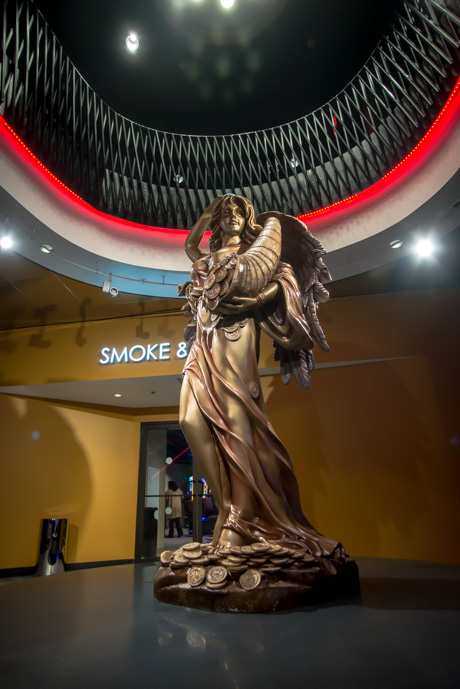 Original Source: The Batavian
Originally published on The Batavian February 21, 2015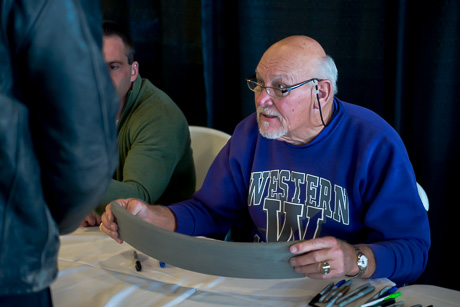 Batavia Downs hosted another sports collectibles show again today, and again the show included autograph sessions to sports stars.
Pictured in these photos are former Buffalo Bills and Hall of Fame inductee Billy Shaw, Heisman Trophy winner Charles White and pitching great Luis Tiant.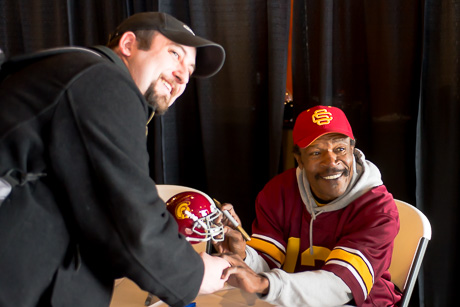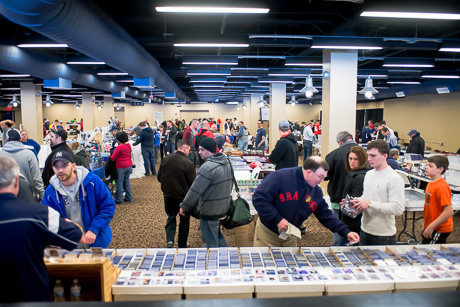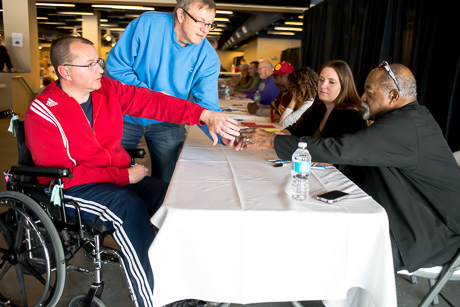 Original Source: The Batavian
Originally published on The Batavian May 29, 2015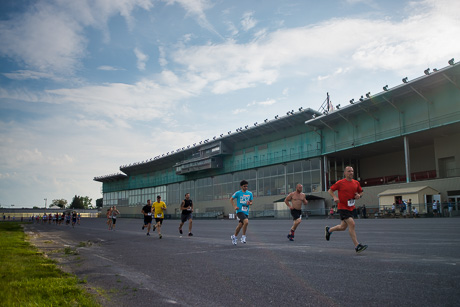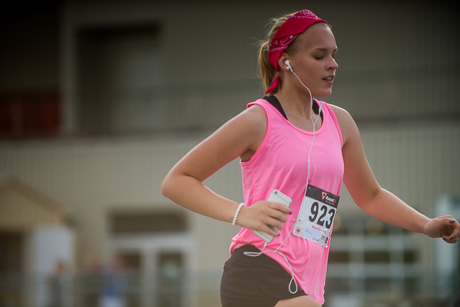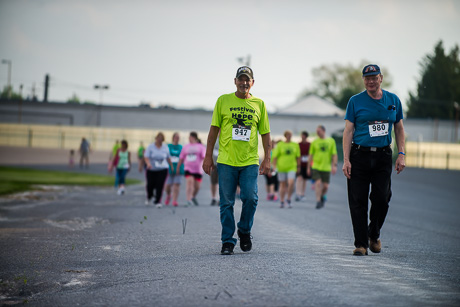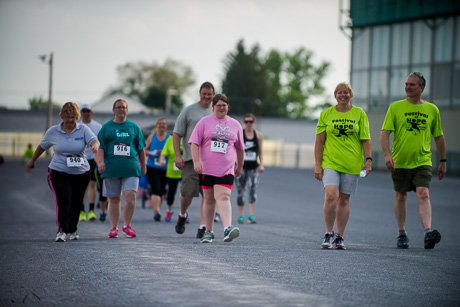 Original Source: The Batavian
Originally published in The Batavian October 11, 2014
Press release: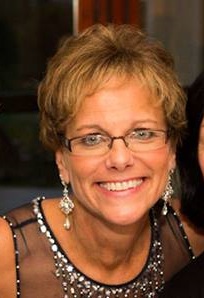 Batavia Downs Gaming is pleased to announce that Laurie Napoleone is the historic racetrack's recipient of its annual Italian-American of the Year award. Napoleone will receive her award on Oct. 13, Columbus Day, with a special trackside ceremony after the seventh race. Mr. Joe Gerace, the first recipient of this award, will act as Master Ceremony.
She'll also be joined by other past award winners, Chuck Zambito, Ray Cianfrini, Joe Teresi, Charles Ruffino and Russ Romano.
Laurie (Pero) Napoleone is the wife of Mark Napoleone and the proud mother of four children, Mark Jr., Ashley, Christen, and her angel, Michael. She is the daughter of the late Charles and Marien Pero, and the sister of Charles, David and Adelyn Pero.
Laurie earned her bachelor of science in Nursing from Niagara University in 1982 and started working as a registered nurse after graduation at Strong Memorial Hospital in Rochester. After her marriage to Mark in 1983, she returned to her hometown and began working at St. Jerome Hospital, where she stayed for 15 years. After playing a role in the initial stages of the merger between St. Jerome Hospital and Genesee Memorial Hospital, she decided on a career change into a school setting.
She worked for the Batavia City Schools as a school nurse / teacher at Robert Morris Elementary School. She earned a master's in Nursing from the University of Phoenix in 2004. Laurie then took her love for healthcare as well as teaching, and is currently employed by the Genesee Valley Educational Partnership. There she is an instructor in the Health Careers Academy, a program for high school seniors who are interested in pursuing a career in healthcare while gaining college credits.
Along with her husband, Laurie is the co-founder/member of the Michael Napoleone Memorial Foundation. After the passing of their youngest son, Michael, at the age of 8 to Burkitt's lymphoma, (an aggressive form of blood cancer) the Napoleones created a foundation in Michael's memory. It helps families facing the challenges of a pediatric cancer diagnosis, supports research efforts in pediatric blood cancers, and assists youth sports and youth activities in the community.
Laurie speaks on behalf of the foundation and is a strong advocate for the families; has lobbied in Washington for more support of research efforts; and is passionate about the Foundation's mission.
In her free time, Laurie enjoys entertaining with family and friends, Zumba, and writing.
Batavia Downs Gaming is proud to honor Laurie Napoleone as its 2014 Italian-American of the Year.
Original Source: The Batavian
Originally published in The Batavian September 21, 2014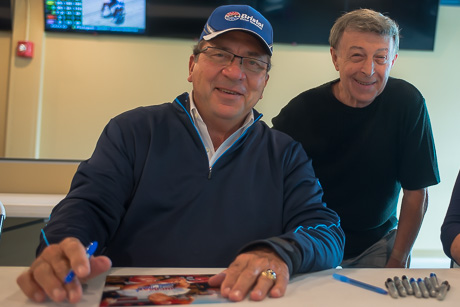 Johnny Bench was just a 19-year-old kid from a town of 600 people in Oklahoma when he arrived in Buffalo 47 years ago.
"I didn't venture much beyond the Kenmore District and North Tonawanda," Bench said during an interview Saturday at Batavia Downs when asked if this was his first visit to Batavia. "I was still trying to figure out who I was and who I was supposed to be."
His 98 games as a Buffalo Bison in 1967 helped answer some of those questions.
"I matured (in Buffalo)," Bench said. "I had older players I played with. They gave me a lot of guidance, worked with me, helped me along. It was a great stepping stone, more importantly for the Dom Zannis, the Jim Duffalos, the Steve Boroses, the Duke Carmels, the Frank Obregons and the Gordy Colemans, and there was Dick Stigman, a pitcher, too, and Rollie Sheldon. It was a maturation process. These guys had pitched before. I kept calling games and learning stuff and doing stuff and you had to get the most out them. I felt like I could paint the picture, but I had to pull it all out of them. That was the secret and the thing I learned the most and enjoyed the most here."
That list of former Bisons -- who, unless you were a Bisons' fan in 1967, you probably never heard of -- were all 30 years old or older. Bench was the youngest player on the team, and one of only six players who hadn't yet turned 23.
But through the years, Buffalo stayed with Johnny Bench. All those names, easily recalled. He turned a question about his legacy into remembrance of a time before he became rookie of the year, an MVP, won two home run crowns, 10 gold gloves and played on two world championship teams.
"We played at the old War Memorial Stadium, but then they had the riots," Bench said. "We had to go over to Niagara Falls and play on the old football field with the temporary snow fence. The yardage lines were still there on the infield."
Arguably -- and some of us would say it's beyond dispute -- Johnny Bench was the greatest catcher in baseball history.
We can talk about his 389 career home runs, his 1,376 RBI, his 3,644 total bases, as well as two home run titles and three RBI titles, but suggest he's best remembered as an offensive catcher and he's quick to rebuff the audacity of dwelling on how he swung a bat.
"The 10 gold gloves didn't hurt," says the man whom base runners feared and pitchers counted on to do a very basic thing time after time: catch the ball.
"That was my main job, getting a win for the pitcher," Bench said. "I took great pride in the fact that I wanted to get that pitcher a win and if we got a win for him, we got a win for the team. Individually, I could throw runners out, I could block the plate, I could get hits, I could call a great game, but calling a great game was the most important."
And it was guys in Buffalo, like Zanni, Duffalo, Obregon, Stigman and Sheldon, who taught him to call a great game.
Bench was in town for a memorabilia show at the Downs. So were Pete Rose, Tony Perez and George Foster, along with other sports stars.
It's worth noting, perhaps, that Bench, Rose, Perez, Foster, and the other stars were signing autographs for a fee. Bench and Rose commanded the highest price, especially on a jersey or bat, but they all got paid.
On the other side of the proverbial coin, of course, is that fact that as players, none of them were enriched the way today's stars are lavished with cash. Bench never earned as much as $500,000 in a season and Rose never made it to the million-dollar mark until his final year as a player-manager with the Reds.
So it's not surprising, perhaps, that these heros of so many youths so many years ago would travel to America's small towns, sit under bright lights on folding chairs at plastic tables and sign their names for fans and speculators for a fee.
While Bench was affable and at times chatty with patrons who came through his line about an hour after Rose had finished, Rose seemed detached from the parade of people pushing baseballs, bats, jerseys, baseball cards and 8x10s onto the table in front of him.
An assistant sternly rebuffed a fan who asked if Rose would pose for a picture. No, she said, but he could kneel in front of the table while somebody snapped a keepsake.
Rose didn't even look at the camera.
Rather than a smile, Rose wore the look of a man who seems beaten down by a decades-long wrestling match with the Lords of Baseball over his legacy.
In contrast, there sat a youthful, smiling Johnny Bench, with his Hall of Fame ring secure on his left hand, scanning the field and letting nothing go unnoticed.
"That's my jersey," he says to a woman with a camera standing off to the side waiting to snap a picture of a friend who will get an autograph.
As a man tries to get a picture of his friend with Bench as Bench signs a picture, Bench tells him to wait. "I'm not looking up," he says.
When the same photographer seems to move the camera before the shutter snaps, Bench says, "that one's not going to turn out," but the quick-release snapper has moved on without noticing.
Without being asked, he poses for another photographer with a bat at the ready.
When he meets a Batavia Muckdogs season ticket holder, he says as he signs, "I don't even know what a Muckdog's baseball hat looks like. I'd like to see one."
The 66-year-old Johnny Bench smiled and signed and kept chatting even in the face of a line dozens of people long. His massive hands -- hands that make grizzly bears stand up and take notice -- etched a beautiful cursive on whatever he was asked to sign.
Johnny Bench is always the team player.
"Winning an MVP award or rookie of the year, it's a fantastic honor, but there is nothing like the feeling though when I walked into the clubhouse after game seven of the '75 World Series and we were World Champions," Bench said. "That's when I knew what it was all about, because every player was a world champion. Every player, every owner, every sponsor, every equipment manager, and all the fans were world champions. That's when you can really share and realize the importance of what team sport is about."
Bench isn't without some pride over his individual accomplishments. When asked to sign a 1972 San Diego Padres game program with Nate Colbert on the cover, Bench smiled, "Old Nate," he said. "I hit five homers in the last week of the season to beat him for a home run title."
In 1972, Colbert had 38 dingers. Bench had 40.
To enjoy a career like Johnny Bench, that's one in a billion, but just getting the chance to go pro for today's young athlete is nearly impossible.
Bench, who went straight from high school to the Reds instructional league team at age 17 in 1965, said today's young athlete should take advantage of the wealth of college scholarship opportunities.
"When I played, only one in every 500,000 kids who played Little League baseball ever signed a contract," Bench said. "I don't know if they want to go up against the numbers, but the fact that there's so many scholarships out there available, I'll still push education every chance I get. Be a good student, study various things, find something you love and be prepared in case athletics doesn't work out."
If you do want to be an athlete, Bench said, work hard, practice, study the sport, prepare, understand the game. Watch the great ones to figure out what they do and how they do it.
"I think Ozzie Smith is a guy who taught kids how to play shortstop," Bench said. "I taught kids how to catch better."
Which brings us to Johnny Bench's final word of advice: Catch every ball.
"My theory in life is, 'catch every ball.' Somebody says, 'my kid wants to be a catcher, what do I tell him?' and I say, 'catch every ball.' If you learn to catch everything that comes your way, then people say, 'wow, you're a great catcher,' or 'you're a great shortstop,' or 'you're a great first baseman,' or 'you're a great businessman.' If they throw stuff at you and you have the answers, they're going to say, 'this guy really knows what he's doing.' People are going to rely on you and they're going to trust you and more things will come your way."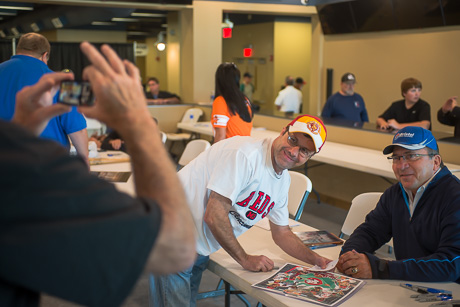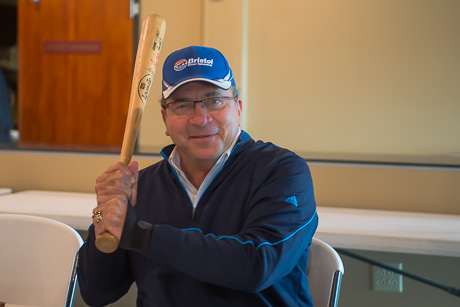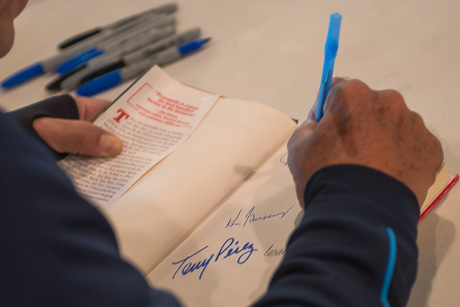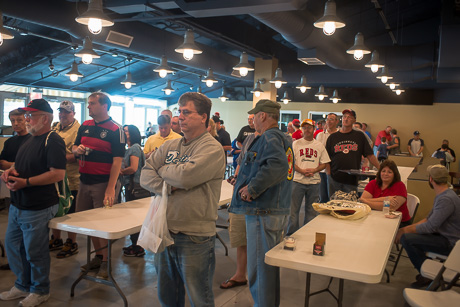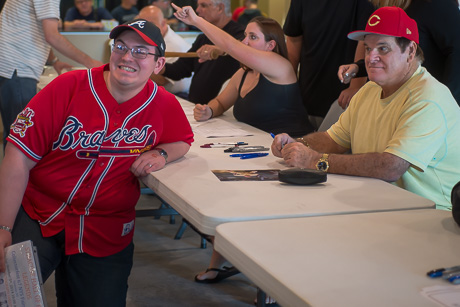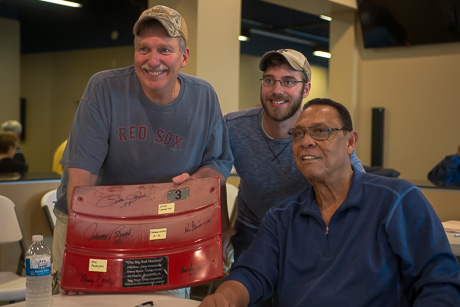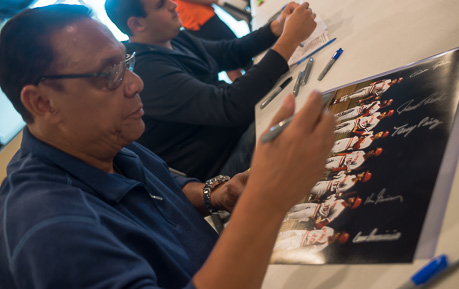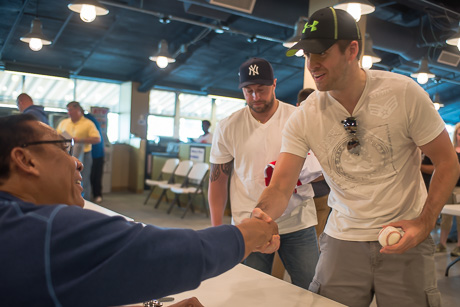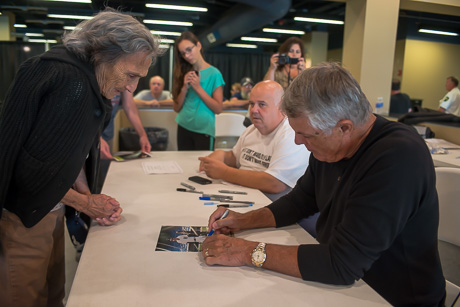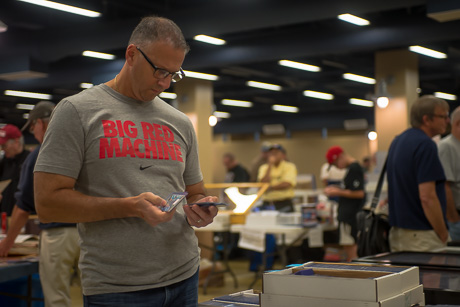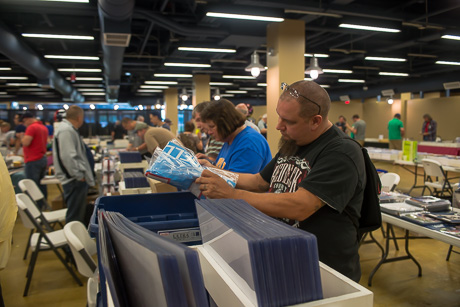 Original Source: The Batavian
Originally published in The Batavian May 3, 2014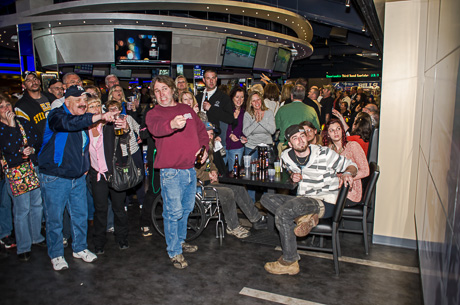 There was a big crowd for the big race at Batavia Downs.
The Kentucky Derby was won by California Chrome.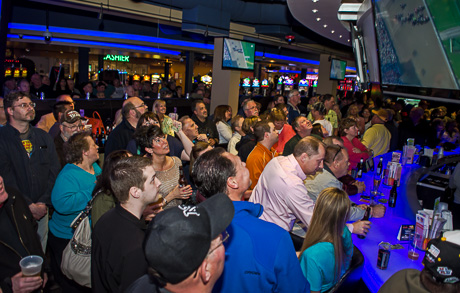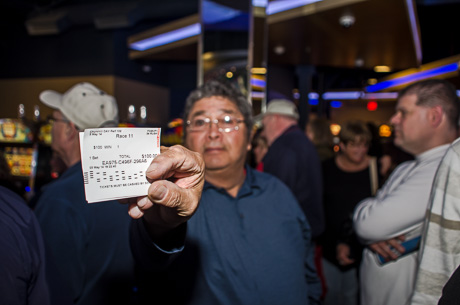 Original Source: The Batavian
Originally published in The Batavian July 23, 2013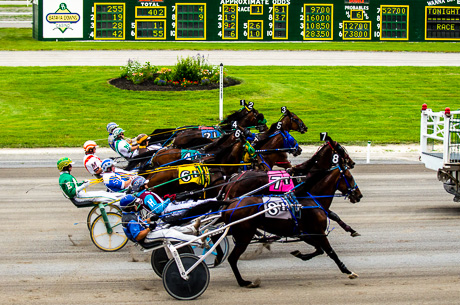 The 67th year of racing at Batavia Downs Race Track and Casino kicked off Batavia Downs on Monday evening and in a season when some of the dominant drivers of recent years are out for one reason or another, the competition for top driver in 2013 is wide open.
Especially after an opening night that saw eight different drivers trot into the winners circle.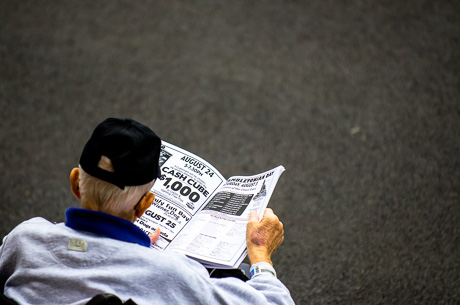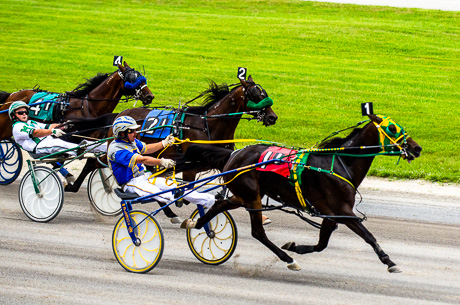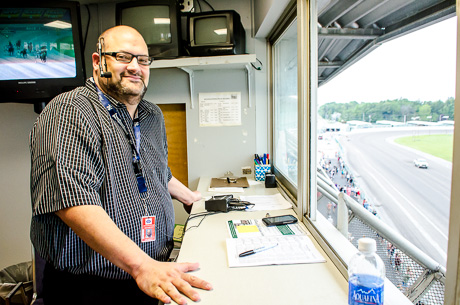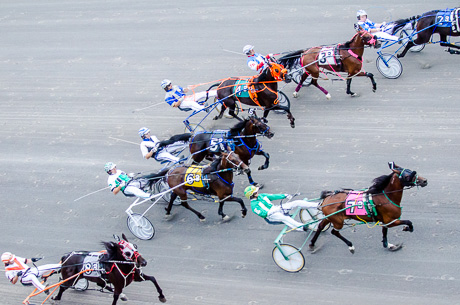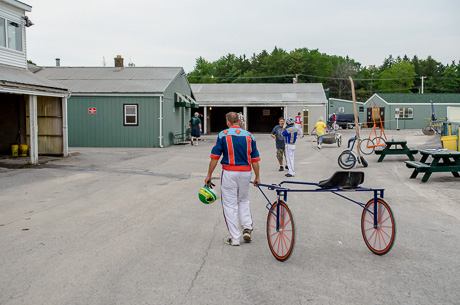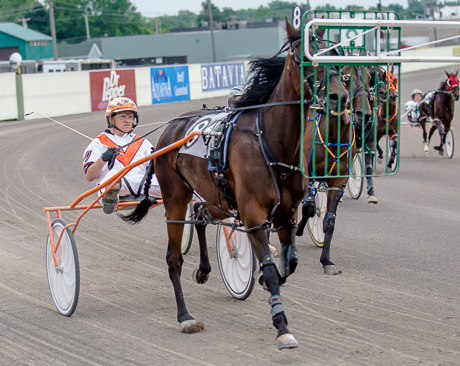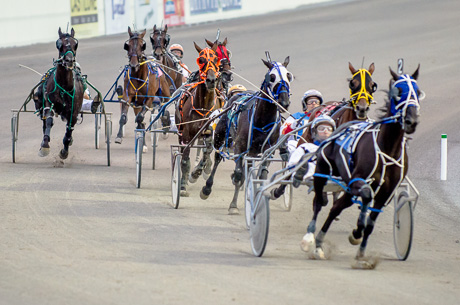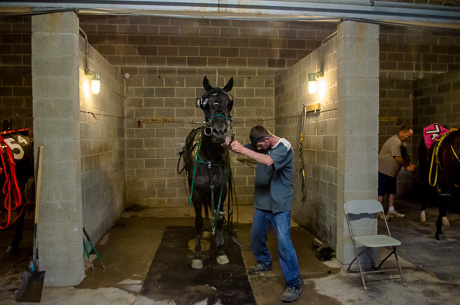 Original Source: The Batavian
Originally published in The Batavian August 26, 2013, photos and story by Luke Cullinan.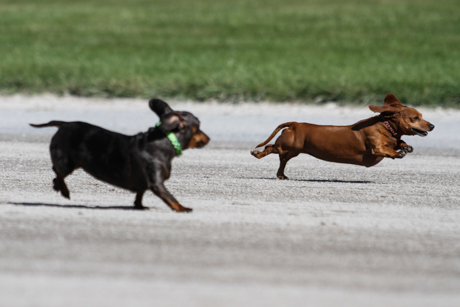 Gordon, owned by Lindsay Ryan, notched a three-peat today in the annual Wiener Dog Race at Batavia Downs.
Gordon bested a field of 72 wieners that converged on the Downs from all over WNY.
The grand prize was a $100 free play at Batavia Downs Casino.
Lindsay Ryan, extremely happy with Gordon's victory, was hinting of retirement for her fleet-footed canine.
"He's going to be seven next year and we will have to see what happens, maybe it's time for Gordon to retire. I'd like to give someone else a chance to win," Ryan said.
Finishing second, two-dog lengths behind Gordon, was Daisy owned by Vernon Marzolf while Max owned by Chris Cummings and Isabella owned by Victoria Small tied for third.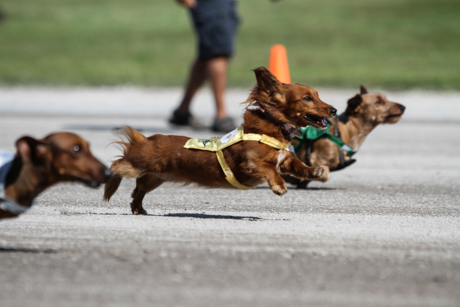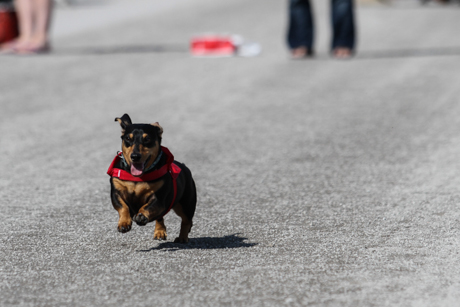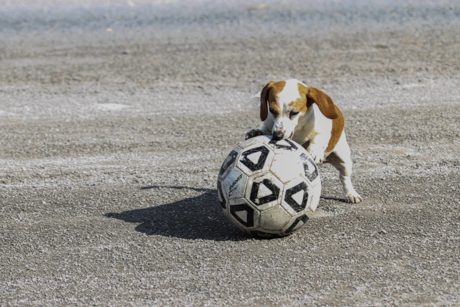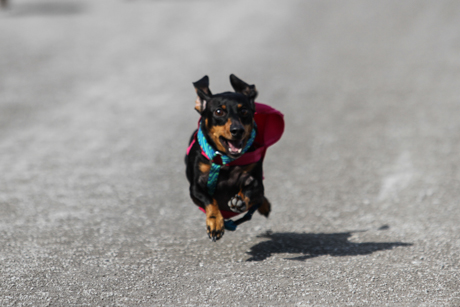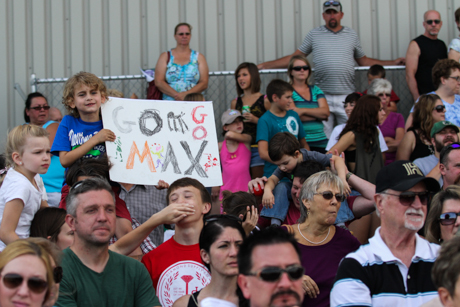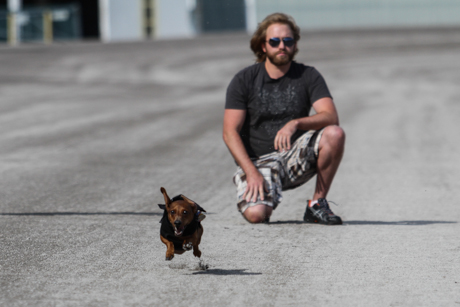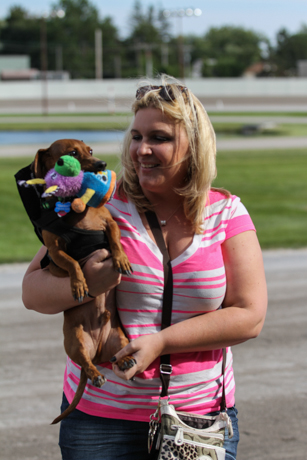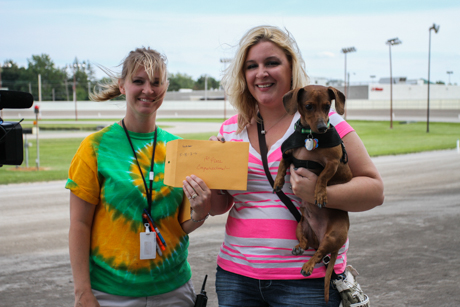 Original Source: The Batavian
Originally published in The Batavian October 17, 2013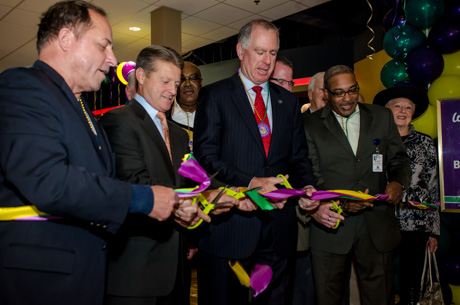 This afternoon, Batavia Downs hosted a ribbon-cutting and grand reopening of its casino room expansion on the first floor of the historic facility.
The new gaming area has been open for a week and that first week of revenue exceeded by 20 percent the previous record week for Batavia Downs, said Ryan Hasenauer, marketing director for Batavia Downs.
The expanded casino area also includes a new sports bar called Rush 34, officially hosted by former Bills great Thurman Thomas.
Ribbon Cutting: Assemblyman Steve Hawley, State Sen. Patrick Gallivan, State Sen. Mike Ranzenhofer and Maurice Gardner, representing the City of Buffalo.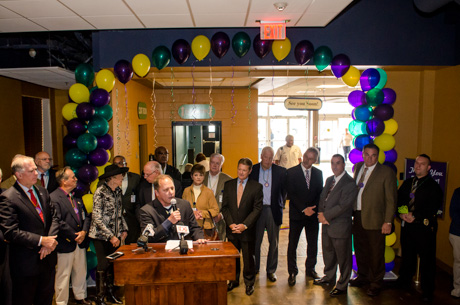 Original Source: The Batavian
Originally published in The Batavian August 26, 2012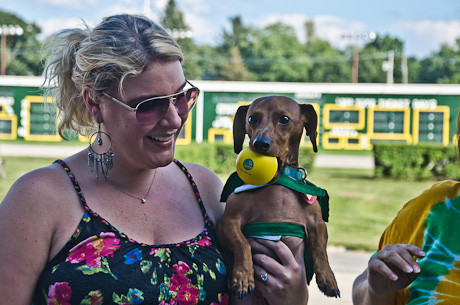 Press release:
For the second year in a row, Lindsay Ryan's "Gordon" proved he's still the fastest dachshund in Western New York, when he won Sunday's Petco Wiener Dog Races at Batavia Downs.
In front of the largest crowd ever to witness the annual event, 75 dogs squared off in 10 elimination heats with each elimination heat winner returning for the championship final.
The fastest 10 dogs left their handlers and roared by the historic half-mile tracks home stretch and after videotape review it was determined that "Gordon" had indeed narrowly crossed the finish line first.
Tom Grimm's "Isabella" was a very close second while Christopher Cummings "Max" finished right there in third.
"Gordon's" accomplishments earned her owner $200 in casino free play. Second and third place was worth $100 and $50 in casino play for their respective owners.
The wiener dog races are the final event of Family Fun Day at the races held each year on the last Sunday afternoon in August.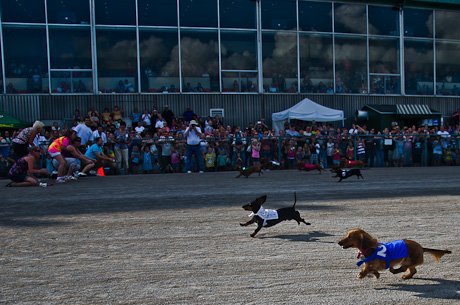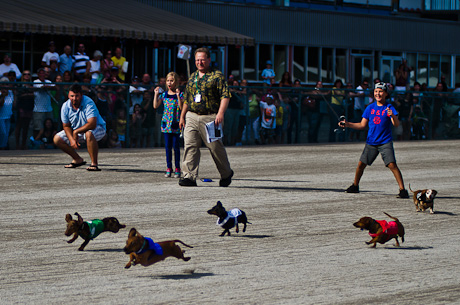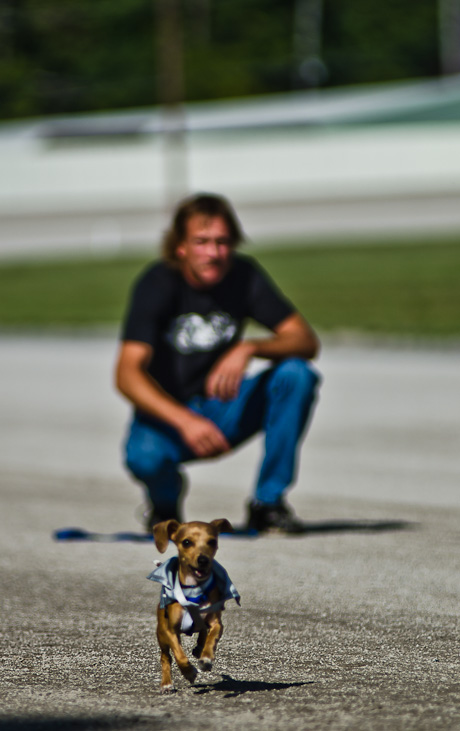 Original Source: The Batavian
Originally published in The Batavian June 21, 2012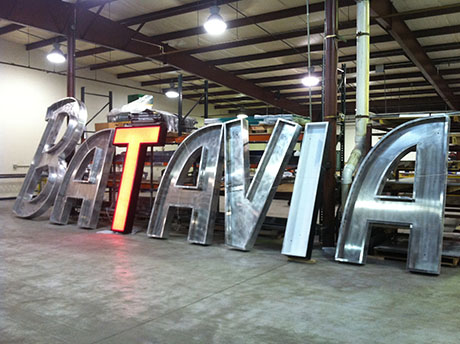 Officials with Western Regional OTB, Batavia Downs and invited guests were in Rochester today for a ribbon cutting and unveiling of the work done so far on the new marquee signs for Batavia Downs.
The work is being completed by Premier Sign Systems.
Ryan Hasenauer, director of marketing for Batavia Downs, provided the pictures.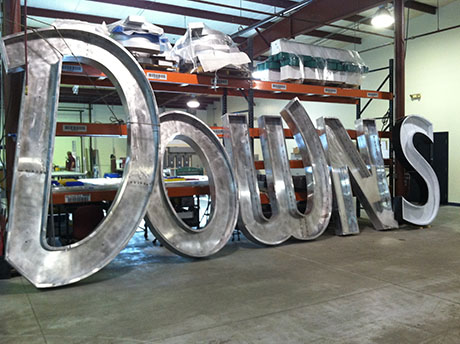 Original Source: The Batavian
Originally published in The Batavian July 9, 2012
Workers this morning carefully dismantled the landmark Batavia Downs sign atop the roof of the grandstand of the legendary racetrack.
The neon sign is being replaced with a more energy efficient and less costly LCD sign that has been fabricated to exactly match the lettering of the old sign.
Ryan Hasenauer, marketing director for Western Regional OTB, said officials plan to keep the B and the D from the old sign and display them in some manner on the property, but the future of the remaining letters of the sign has yet to be determined.
Bottom photo: The first two letters of the new sign, time permitting, will be fitted into place sometime today.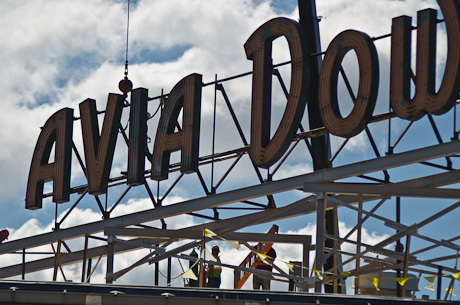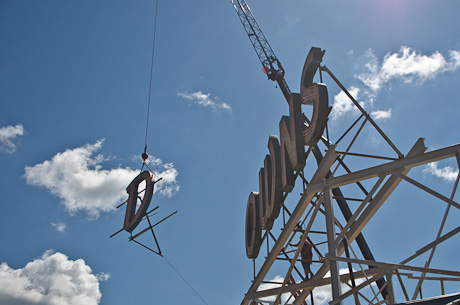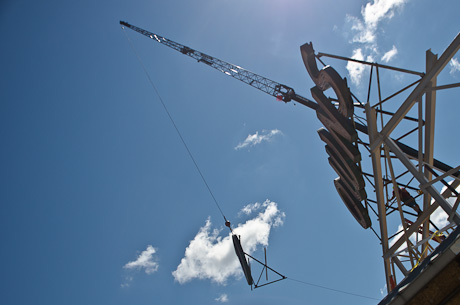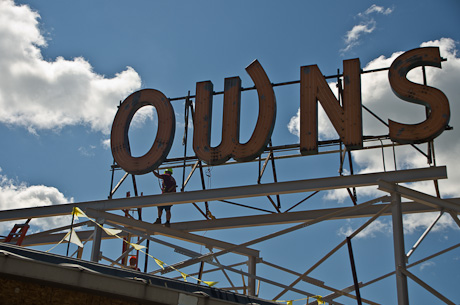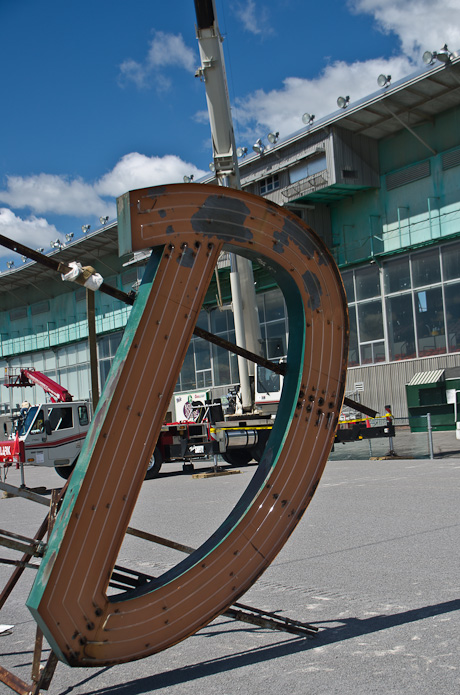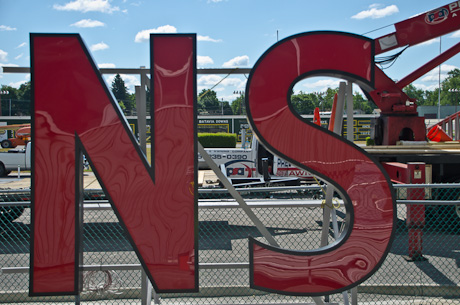 Original Source: The Batavian
Originally published in The Batavian on August 29, 2011
The new LCD-based sign, replacing the old neon sign, atop Batavia Downs was illuminated for the first time Thursday evening.
Original Source: The Batavian
Originally published in The Batavian on August 29, 2011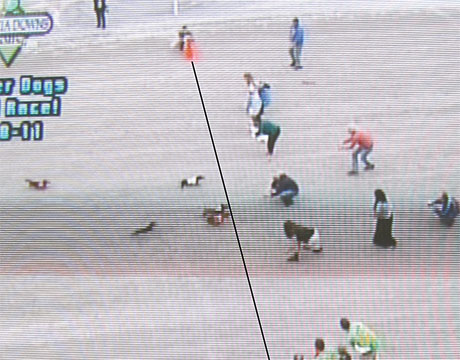 It's official -- it's a tie.
Batavia Downs officials announced late this afternoon that, after spending hours reviewing all available pictures and video of the 2011 Wiener Dog Race, the final match ended in a dead heat.
Lindsay Ryan, owner of first-year runner Gordon, will receive $200 in free play at the casnio.
After Sunday afternoon's race, when Jake Arnold, owned by Jane Smart, was declared the winner, Smart received the $200 in free play prize.
Hours after the race, evidence began to surface suggesting that Jake Arnold wasn't a clear-cut winner, leading Batavia Downs officials to delay certifying the race results.
A rematch is in the works, tentatively set for Sept. 24. Officials are waiting from confirmation from the Jake Arnold camp.
"It's simply too close to call," said Todd Haight, general manager of live racing. "I know there is video out on the Internet that appears to show Gordon in front, but our official photo-finish camera shows both dogs hitting the line simultaneously. So in all fairness a dead heat was the right way to go."
The rookie Gordon came a breath away from upsetting defending champion Jake Arnold.
In a statement released by Batavia Downs, Lindsay Ryan said, "We came to the dog races because we wanted to get my friend's mom, who has cancer, out of the house. We knew Gordon would run his heart out for her and he did. She had so much fun. I am so happy with how things turned out."
Original Source: The Batavian
Originally published in The Batavian on August 31, 2011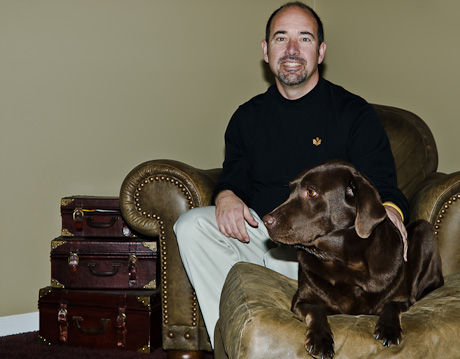 Batavia Downs announced today that Joseph Teresi Jr., one of Genesee County's most tireless volunteers, will receive the 2011 Italian-American of the Year award.
Not long ago, we were writing about Teresi as the 2010 Geneseean of the Year.
In the past he's also been named YMCA Volunteer of the Year as well as a two-time Lions Distinguished Service Award winner and a recipient of "Lion of the Year."
"I'm totally surprised," Teresi said. "With the number of people around here who are worthy of these awards, to be recognized twice in one year is very surprising."
Teresi is being recognized for all of his volunteer efforts, but most notably his effort to start the YMCA's Challenger Sports program and his work with the T.F. Brown's/Lion's Club annual Christmas dinner. He's also a member of the Notre Dame High School Education Foundation and past president of the Genesee YMCA and the Batavia Lion's Club.
"It's always nice to be recognized for your efforts," Teresi said. "I am proud to be an Italian-American and to enjoy the traditions of my heritage, so this award carries a special meaning."
Teresi was nominated for the award by Joe Gerace, who won the first Italian-American award from Batavia Downs.
"it's nice to be nominated by the first-award winner," Teresi said. "For him to recognize my efforts, some of the contributions I've tried to make to the community, it's nice, and I'm proud to follow people like Chuck Zambito last year and Ray Cianfrini the second year."
The award will be presented to Teresi on Sept. 9 at Batavia Downs. To make reservations to attend the event, call Sara Tenney at (585) 343-3750, ext. 309.
Photo: File photo by The Batavian.
Original Source: The Batavian
Originally published in The Batavian on December 8, 2011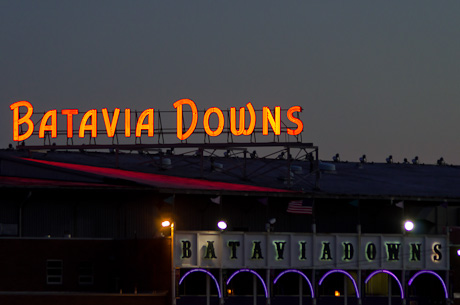 Photo by Howard Owens
Original Source: The Batavian
Originally published in The Batavian on July 24, 2012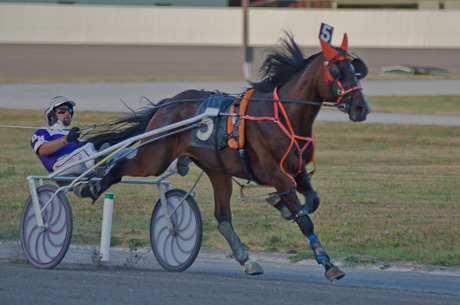 And they're off ... for the 66th season, there is live harness racing at Batavia Downs.
More than 3,000 racing fans turned out for opening night and they witnessed Shawn Gray, who captured Buffalo's 2012 driving title, notch three wins.
Two other of the nation's top drivers, Dan Noble and Jim Morrill Jr., were also featured on the night.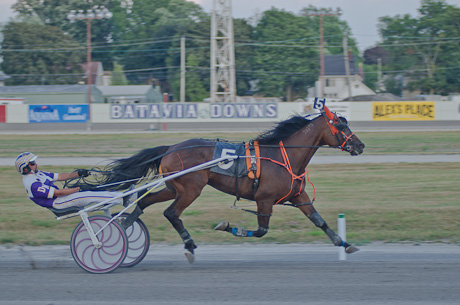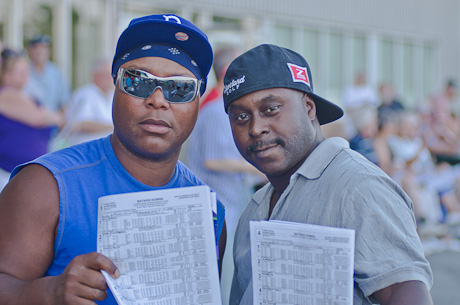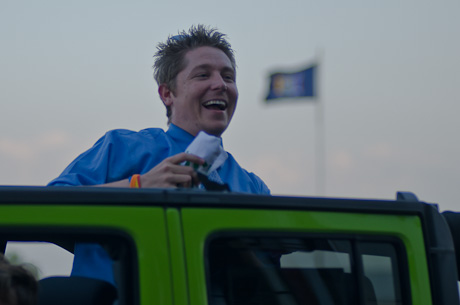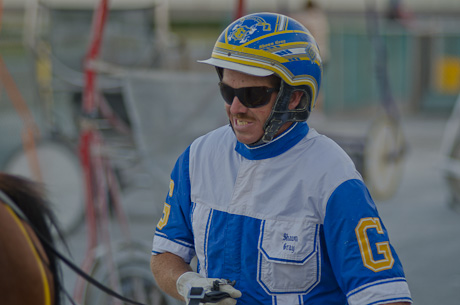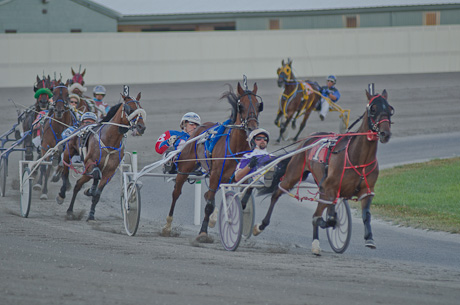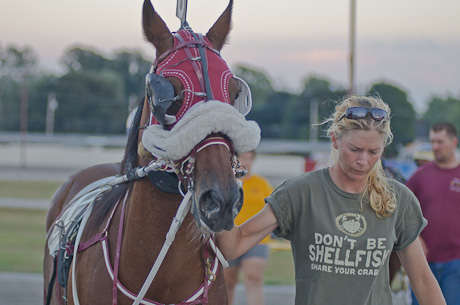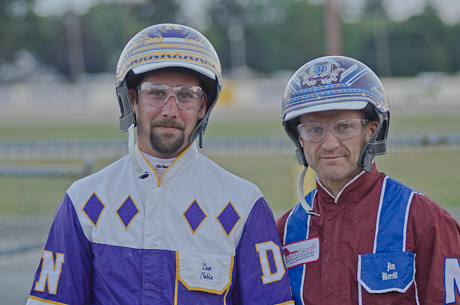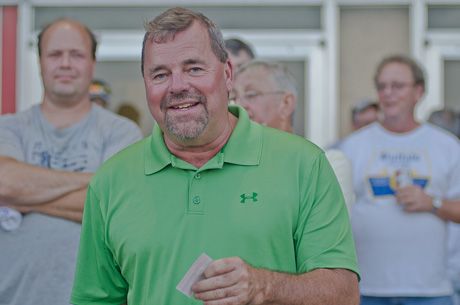 Original Source: The Batavian
Originally published in The Batavian March 25, 2012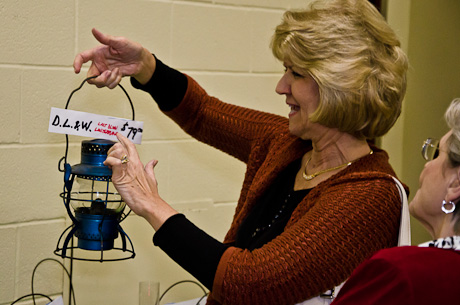 If your thing is trains, Batavia Downs was the place to be Sunday.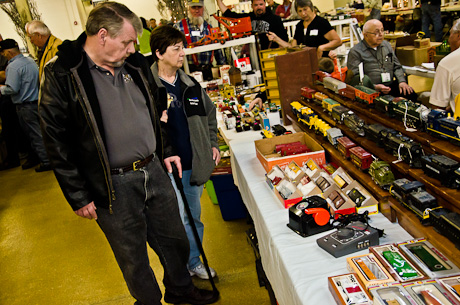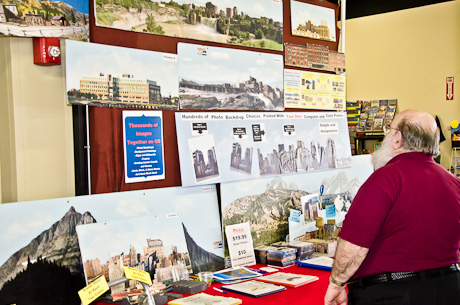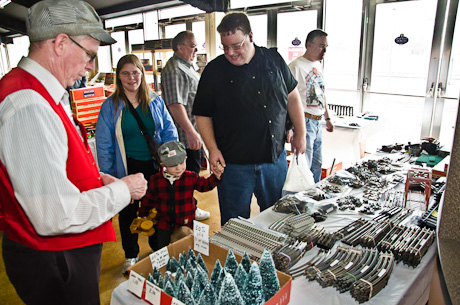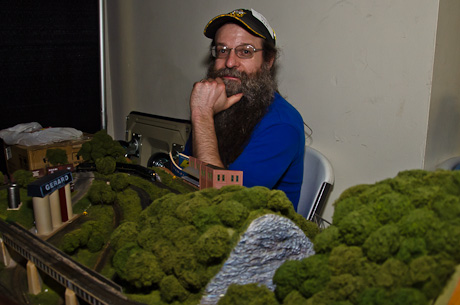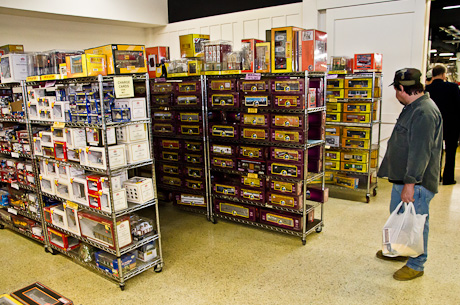 Original Source: The Batavian
Originally published in The Batavian July 16, 2011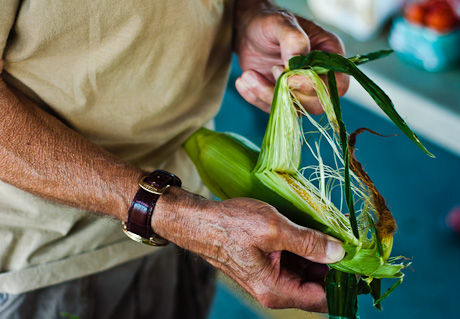 We've come into that part of the season where there is an abundance of fresh fruits and vegetables at the local farmers markets. Yesterday afternoon, I stopped by the Genesee Country Farmers' Market at Batavia Downs and took a few pictures.
The market is open Tuesdays and Fridays.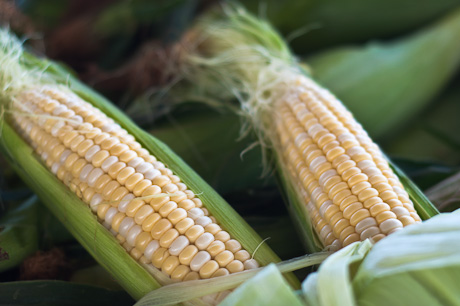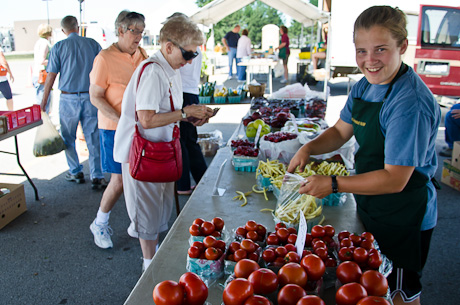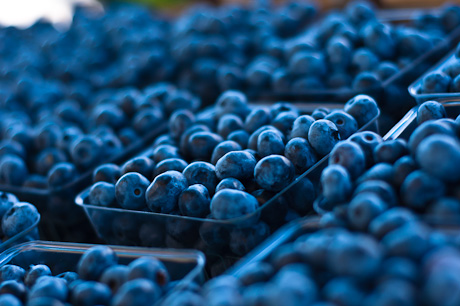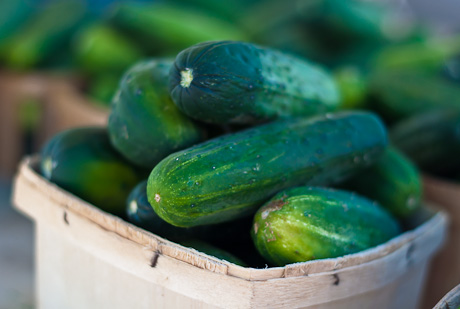 Original Source: The Batavian
Originally published in The Batavian July 26, 2011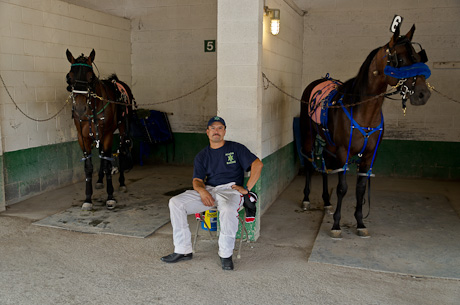 Monday, Batavia Downs opened its 2011 harness racing season. Like last year, I spent some time in the stables and the grandstands taking a few pictures of the big day.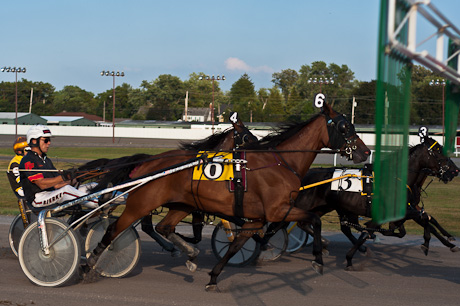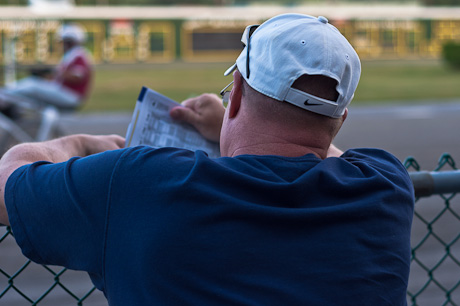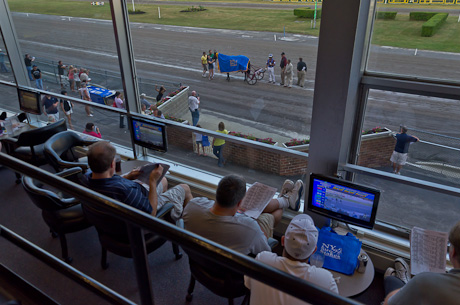 Original Source: The Batavian
Originally published in The Batavian on August 28, 2011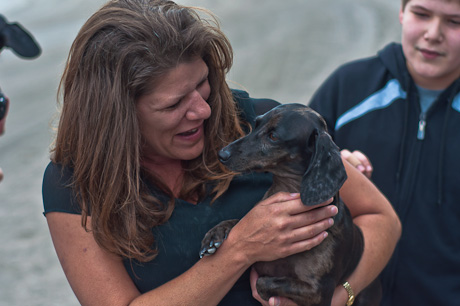 For the third-straight year, Jake Arnold bested a large field of eager wiener dogs -- and some not so eager -- to take the 2011 Wiener Dog Race championship title.
A large crowd of wiener dog race enthusiasts were on hand to cheer for their favorite hungry little dachshund.
Jake Arnold, a 4-year-old owned by Jane Smart, won the big race in a photo finish, beating out first-year entrant Gordon, owned by Lindsay Ryan, and long-time rival Rudy, an 8-year-old owned by Ron Schiller.
Rudy, a previous race winner, finished second to Jake Arnold for the previous two years.
In all, 63 elongated canines raced at the Downs on today.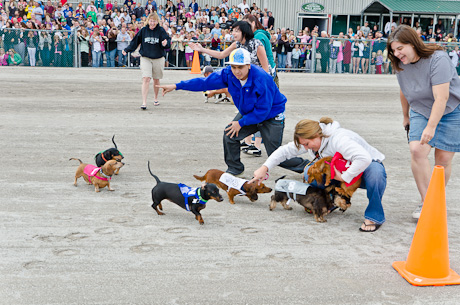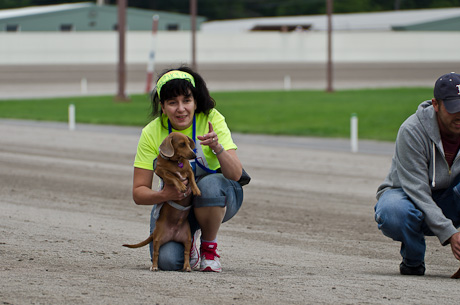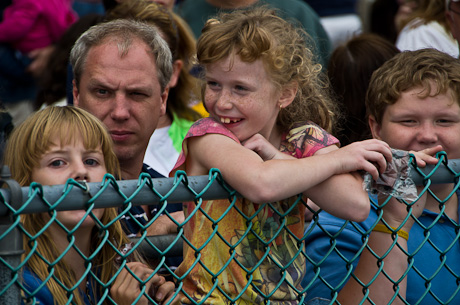 Original Source: The Batavian
Originally published in The Batavian on August 30, 2010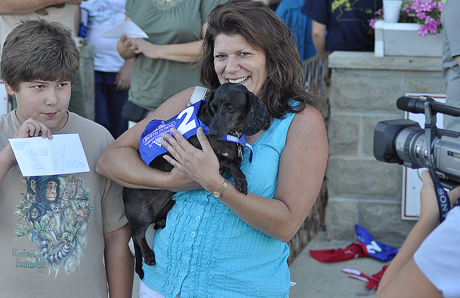 "Jake Arnold" is one fast dachshund.
For the second year in a row, the 3-year-old owned by Jane Smart has won the prestigious Wiener Dog Races at Batavia Downs.
"Jake Arnold" beat out 52 other entrants, some of whom never even crossed the finish line, before a packed house of 3,850 race fans.
Taking second and third in the final heat of Sunday's races were Ron Schiller's "Rudy" and Michael Tyrpak's "Sahlen."
From the Batavia Downs' press release:
While there's no doubt "Jake Arnold" loves bacon treats, the key to success is he simply gets nervous when Jane Smart isn't around.
"Since he's been a pup, as soon as he sees me, he runs as fast as he can towards me," said Smart, the winning dog's owner.
Thanks to "Jakes" good work, she received $100 to spend in the casino. And yes "Jake Arnold" will definitely be back next year.
For second-place finisher "Rudy," this may have been his final appearance at the Genesee County oval. Definitely a champion, "Rudy" won the 2008 races and has finished second behind "Jake Arnold" the last two years.
"He'll be 8 next year, we'll have to see how's he's doing," owner Ron Schiller said, but knowing Rudy, he'll be back.
"We want to thank everyone for coming out and Petco for sponsoring the races," said Todd Haight, promotional marketing specialist for Batavia Downs Casino and Western OTB. "It's amazing how big this event has grown since its inception in 2005. It was definitely great to see such a large crowd."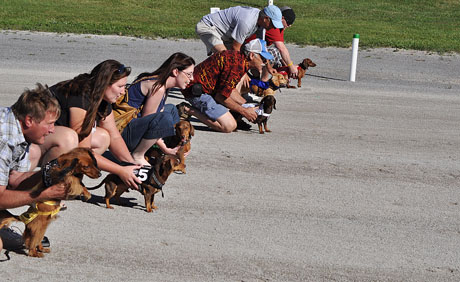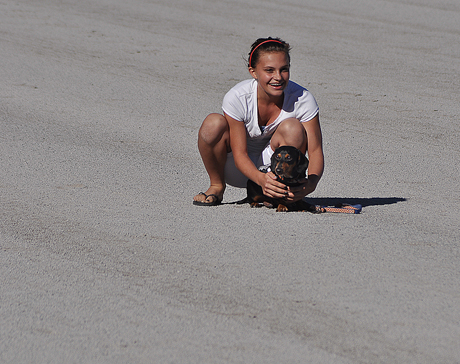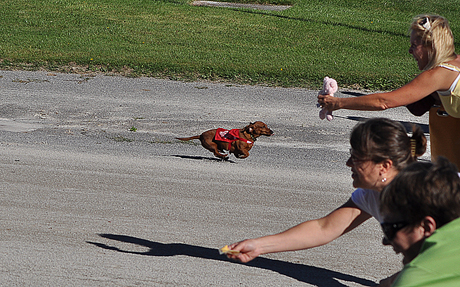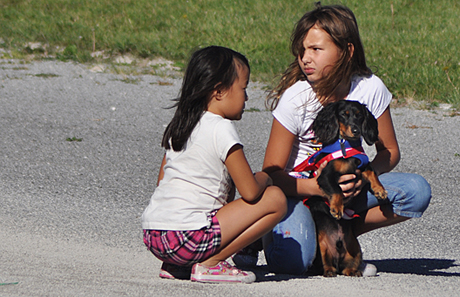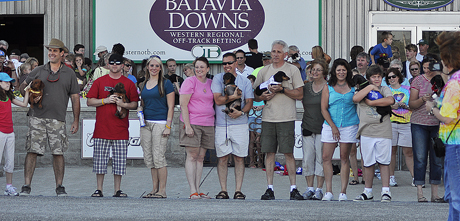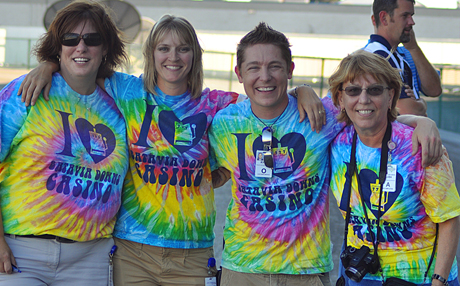 Original Source: The Batavian
Originally published in The Batavian on July 27, 2010

Yesterday, Batavia Downs opened its 64th harness racing season. Officials were kind enough to let me hang out in the stables and take pictures.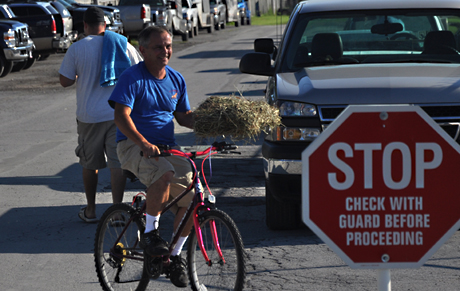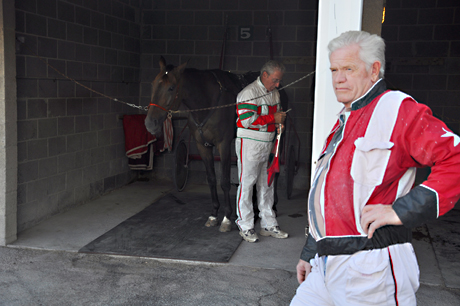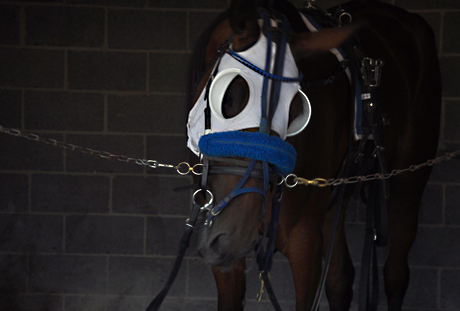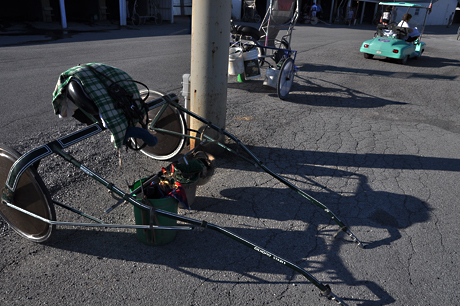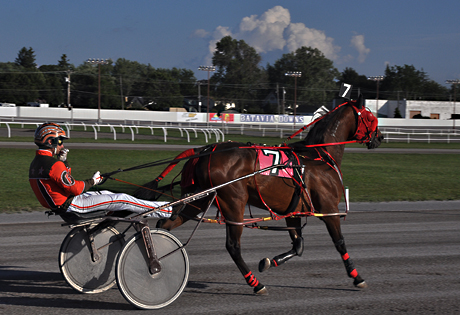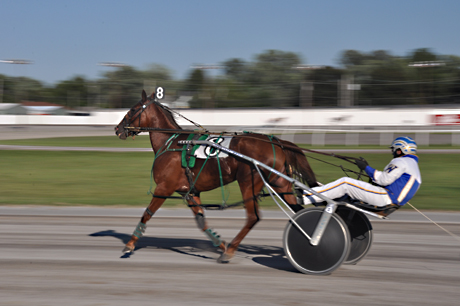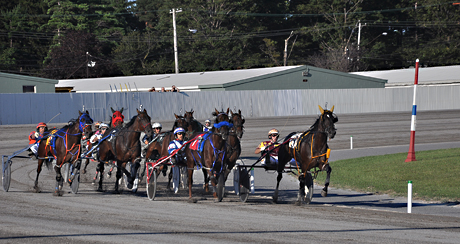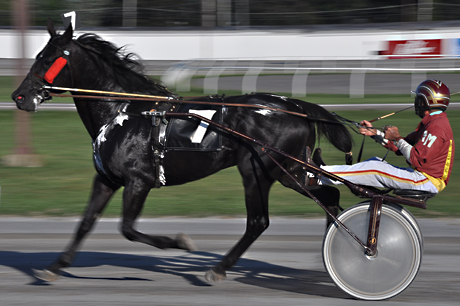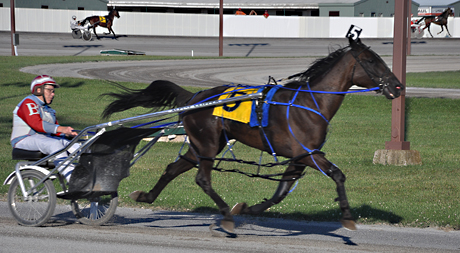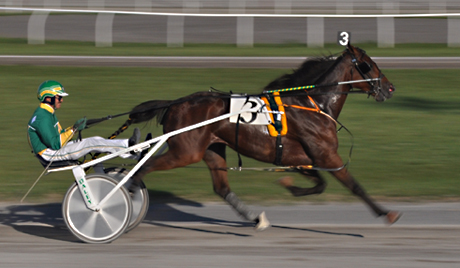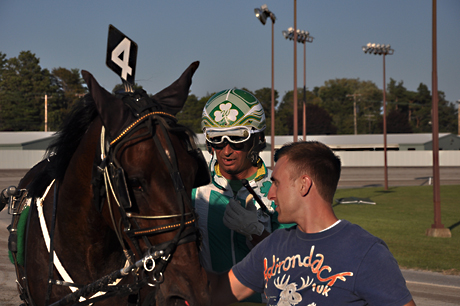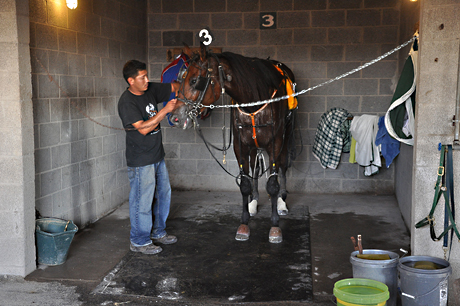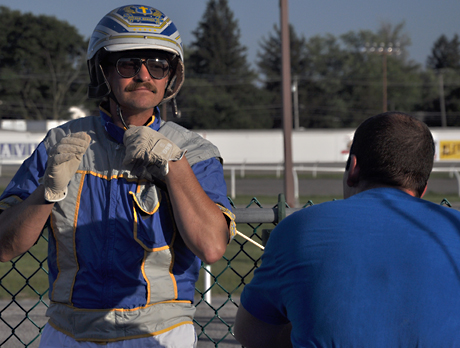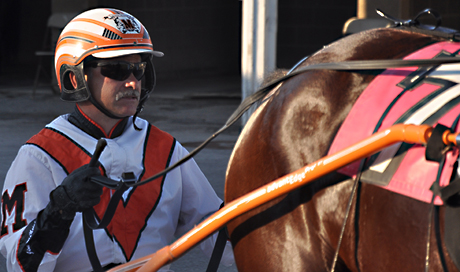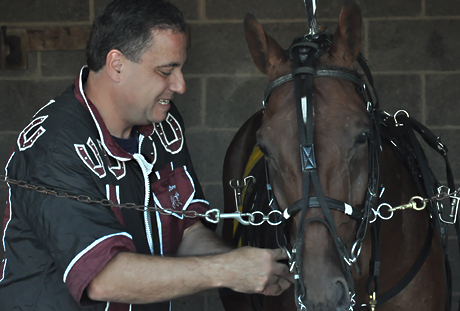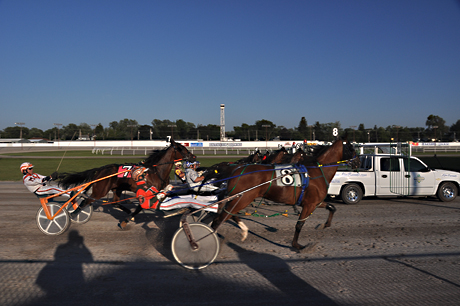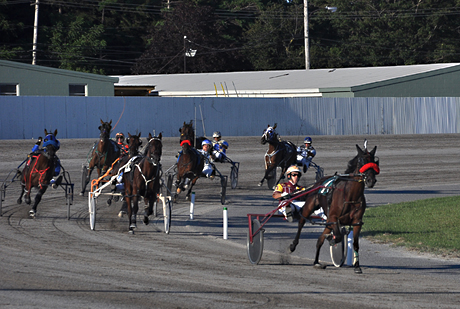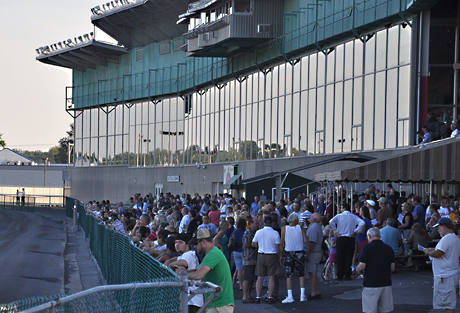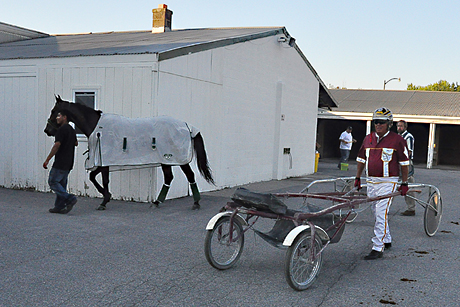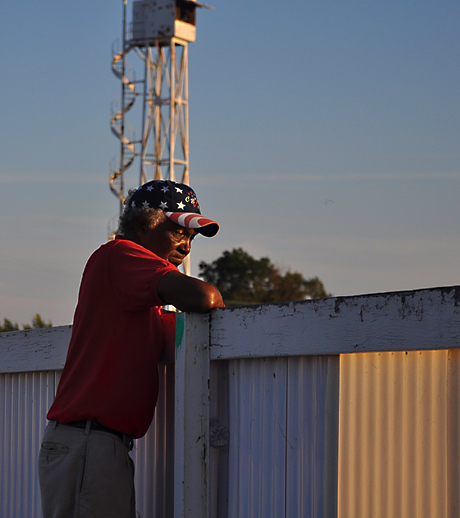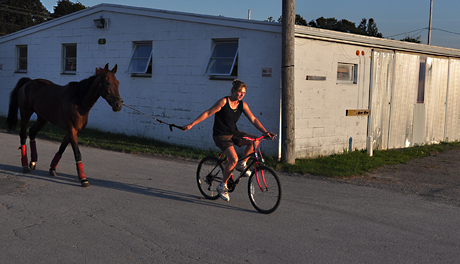 Original Source: The Batavian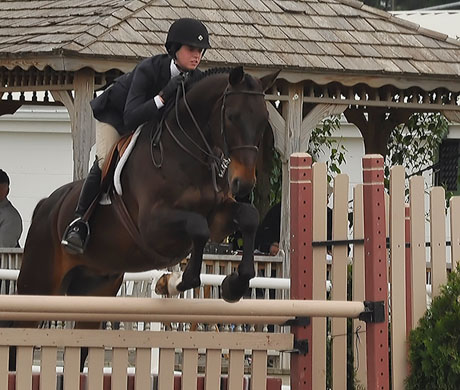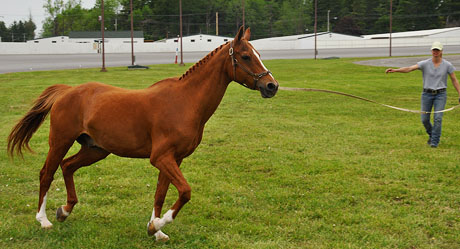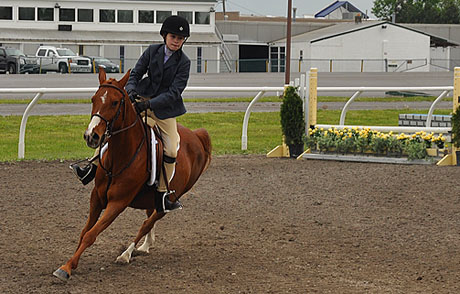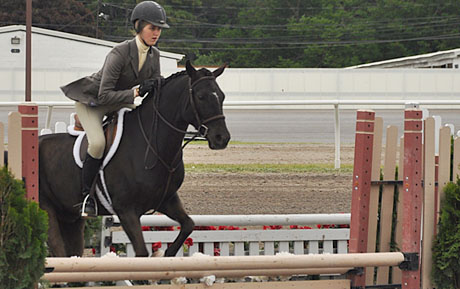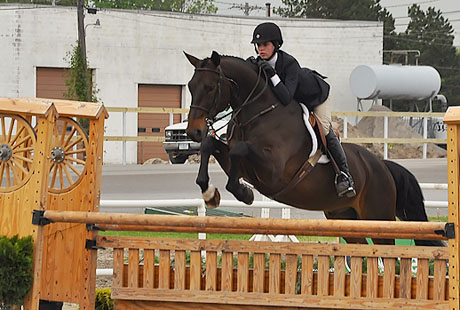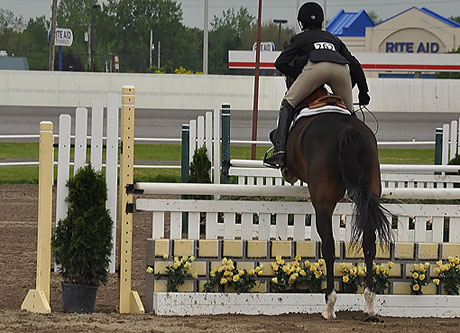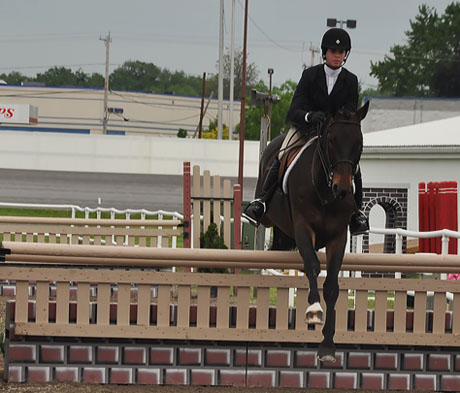 Original Source: The Batavian
Originally published in The Batavian June 5, 2010.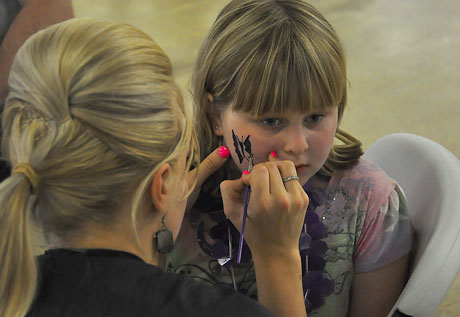 There was a large turnout Friday evening at Batavia Downs for the annual Festival of Hope to benefit Genesee Cancer Assistance.
GCA raised $30,000 this year.
The event featured a 5K walk/run, games for children, music, a Chinese Auction and haircuts and beauty treatments.
On left below, Paul C. Stomper poses with Dr. Kevin Mudd. Stomper was the keynote speaker Friday. The Batavia native has traveled the U.S. working with cancer patients and has authored a book, "Come Sunday, Inspiration for Living with Heart." Mudd is president of GCA. You can find out more about Stomper and his book at ComeSunday.net.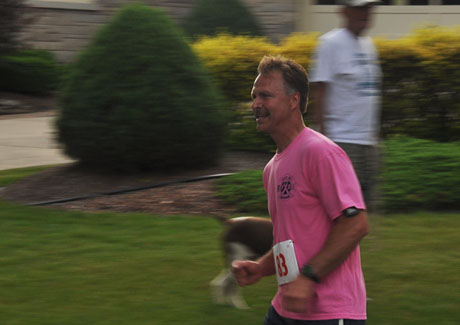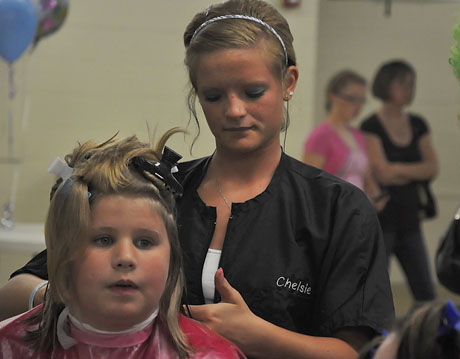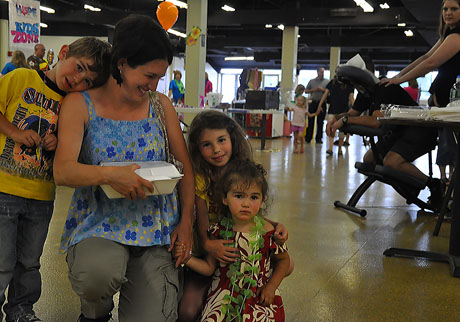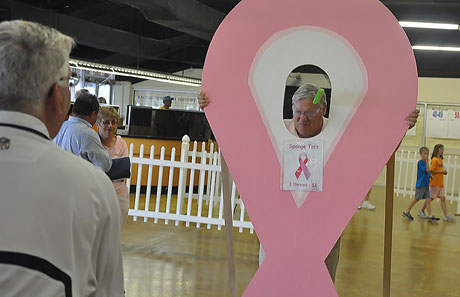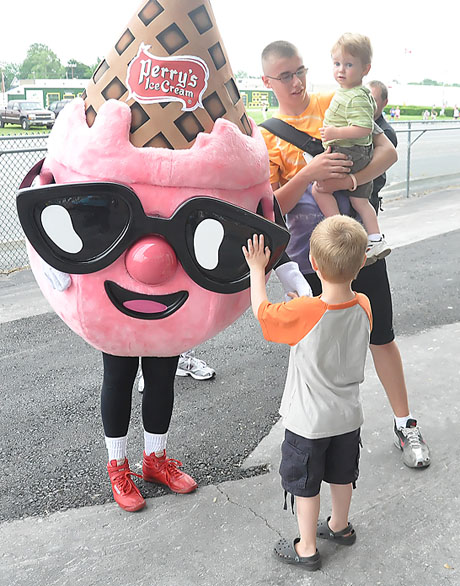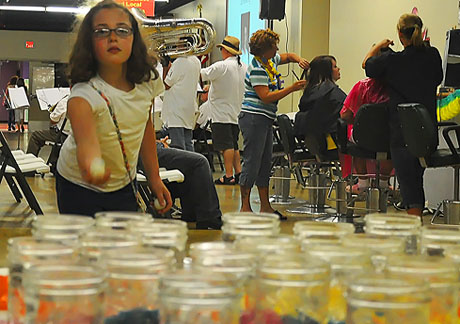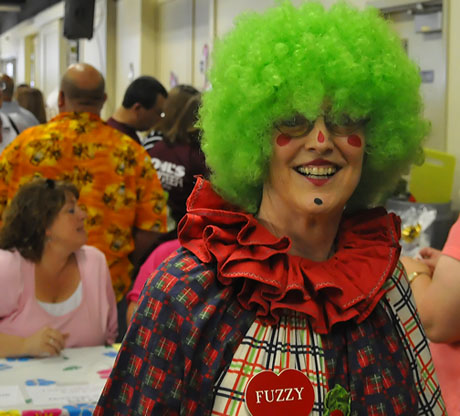 Original Source: The Batavian
Originally published in The Batavian June 19, 2010.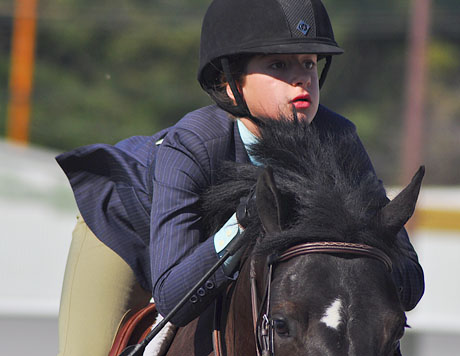 This weekend, horses and riders from throughout Western New York again converged on Batavia Downs for a horse show and riding competition.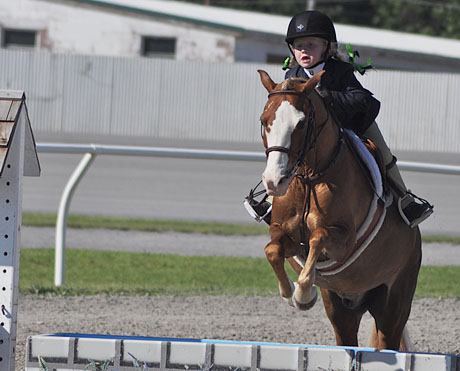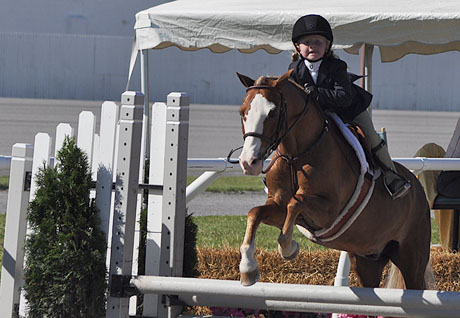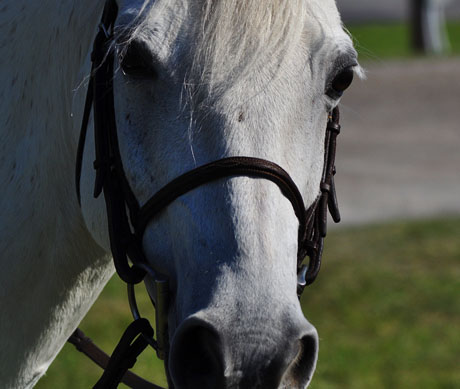 Original Source: The Batavian
Originally published in The Batavian Aug. 31, 2009.
The threat of rain didn't dampen enthusiasm yesterday for Batavia Down's annual Wiener Dog Race.
Todd Haight, spokesman for the Downs, pegged the estimated crowd at 3,000.
The winner was Jake Arnold, owned by Jean Smart.
Original Source: The Batavian
Originally published in The Batavian, August 14, 2008
HarnessLink reports that local barber Joe Gerace will be honored August 23 at Batavia Downs as "Italian-American of the Year."
This is the first such award given by Batavia Downs, and HarnessLink says the gaming facility and racetrack is planning other ethnic awards this year.
The life-long Batavia native is the 2008 Humanitarian of the Year for United Memorial Medical Center and the Jerome Foundation, 2006 City of Batavia Volunteer of the Year, Genesee County Chamber of Commerce Genesian of the Year in 1993 and was honored for his community service by the Paolo Busti Foundation Scholarship Committee.
The active 72-year-old grandfather of six is the former president of the Batavia Youth Bureau, co-chair of the Genesee County Cancer Society's Festival of Hope, a director of the Batavia Muckdogs (where he is also on the team's Wall of Fame), member of the Batavia Rotary Club and St Nick's Social Club and sat on the City of Batavia zoning board of appeals for 12 years.
Also, a licensed realtor and military veteran, Gerace and his wife, Lois, have been married 48 years and are the parents of three grown children.
That's an impressive resume.
Original Source: The Batavian
Originally published in The Batavian, Nov. 20, 2008, by Philip Anselmo.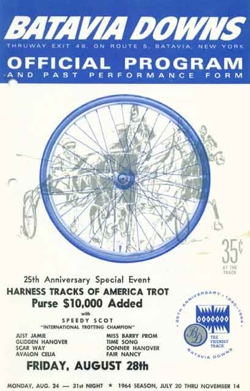 There's really no way to say it better than Pat Weissend:
"Traffic backed up at the New York State Thruway as thousands of people from the east and the west merged to spend their entertainment dollars on a chance to make more money at one of Genesee County's best known attractions: Batavia Downs!"
So it is that Batavia Downs lands at No. 8 in the Holland Land Office Museum's countdown of the 25 Things That Made Genesee County Famous.
The harness racing track is the oldest night-time pari-mutuel track in North America. Batavia Downs opened on Friday, September 20, 1940 at 8:20 p.m. to an estimated crowd of 2,500 people. A total of $629 was bet on the first race and over $10,000 was bet on the first card.

The opening was the dream of William "Lefty" Goldberg and others who, as shareholders in the Monroe - Genesee Breeders Association, chose Batavia because of its location between Rochester and Buffalo. The Monroe - Genesee Breeders Association is the predecessor of the Monroe - Genesee Racing Association. The first season's attendance was 25,935 people with a total bet of $310,790. The following year, attendance and betting doubled, but racing was canceled in 1942 and 1943 due to travel restrictions and gas rationings.
For more on Batavia Downs and how it made us famous, be sure to visit the Holland Land Office Museum Web site. While your there, you can peruse the other 17 "things" that have so far made the list. You can also hit up the museum's blog to leave your two cents about what should make it in the top seven.
Image of Batavia Downs program from 1964 taken from the Holland Land Office Museum Web site.